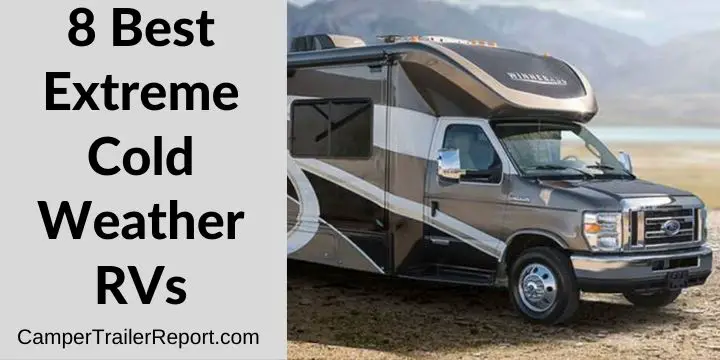 8 Best Extreme Cold Weather RVs
Do you want to enjoy your winter? You might not have time to winterize your RV. In that case, all that you need to do is to purchase a customized RV. It is good to keep in mind that cold weather RVs have been designed for driving in cold weather. They have been known to brave in extremely cold temperatures. Here are the best extreme cold weather trailers.
JAYCO REDHAWK
The beauty and warmth in this trailer make it one of the best trailers you will ever come across in the market. This trailer has been gaining a lot of popularity for the last couple of years. As for now, there are about five-floor plans in the market. What are the best features of this trailer? It comes with plenty of space. This means that you can have almost all your essentials in this trailer.
Video Overview: UPDATED 2019 Jayco 26XD Redhawk Class C Living & Bed Slide Motor Home
LANCE SEASONS TRAILER
Over the years, this trailer has emerged as a perfect choice when it comes to wintertime journeys. The manufacturer has included unique composite insulation. This means that the insulation will never rot. Also, this trailer has been designed with hatch covers. You can stamp these covers depending on the weather outside. This feature has been known to provide trailer users with extreme comfort.
Video Overview: Cold Weather Camping in the 2019 Lance 1995 Travel Trailer
> You may also like:Worst 5th Wheel Brands to Avoid <<
JAYCO EAGLE TRAILER
If you have been looking for an elegant and yet durable travel trailer, look for no more. This is the right time to purchase this product and join thousands of satisfied customers who are still praising its performance. Do you know that the latest model features an inbuilt refrigerator and washers? Away from that, you will also get a full bathroom when you purchase this trailer. As for now, there are several options like a power awning and glass windows.
Video Overview: 2020 Jayco Eagle HT 272RBOK XL Luxury Travel Trailer BOTH Interiors!
HEARTLAND BIGHORN
Have you ever used this travel trailer? You can agree with me that its performance allows it to be on this list. The mother company is one of the best and reputable trailer manufacturers in the market. They boast of extremely high-quality travel trailers. Over the years, they have been known to give the best to their esteemed customers. Therefore you should purchase this product simply because they don't compromise when it comes to quality.
Video Overview: Really different Fifth Wheel Floorplan! Big Horn 3925
KEYSTONE RAPTOR
Be guaranteed that you will get what you deserve when you purchase this travel trailer. It comes with all the crucial features you have been looking for. The arctic package is arguably the most unique feature in this trailer. You have the freedom to choose from eight-floor plans. Each of these plans is arranged differently. The automatic air conditioner is the most loved feature in this trailer.
Video Overview: My Favorite Toy Hauler Floorplan! 44 Keystone Raptor 423
WINDJAMMER TRAVEL TRAILER
Are you a beginner? You will have made a perfect move when you purchase this travel trailer. It is the perfect choice if you have a big family. This trailer can accommodate more than 6 people. It is not among the lightest travel trailers on the market. But that does not mean that you can't use this trailer anywhere. The manufacturer has included some additional features such as gas grill connector and outdoor awning.
Video Overview: 2018 Rockwood 3029V Windjammer Ultralite Outside Kitchen Rear Living Couple's Travel Trailer
> You may also like:45 RV Accessory Must-Haves for Your Travel Trailer<<
NORTHWOOD ARCTIC FOX
This trailer is among the very few travel trailers that have been designed with reliable chargers in the bedroom. What does this trailer features? It boasts of queen mattresses and carpeting. You can attest that it is quite hard to come across a travel trailer with a hideaway screen enclosure. You will have all these features when you purchase this amazing trailer. In addition, the manufacturer has used high-quality materials when manufacturing it. This means that it will serve you for life. In short, it will age beautifully. You will never regret purchasing this travel trailer.
Video Overview: Quick Tour Of The New Arctic Fox Classic 22G
KEYSTONE MONTANA
Do you know that this is the biggest seller for Keystone? It has proved reliable even when the temperatures drop into the negatives. What are the features behind this? This travel trailer has a dual thermostat. The thermostat is equipped with a remote sensor that has been manufactured with frame and wire. Also, this trailer comes with a heated underbelly that is not only insulated but also enclosed. It is unique from many common travel trailers because it has been manufactured with recent technology.
Video Overview: 2020 Montana 294RL or 295RL Full Time 34ft Keystone Luxury Fifth Wheel RV
> You may also like: 25 Best National Parks in the USA  <<