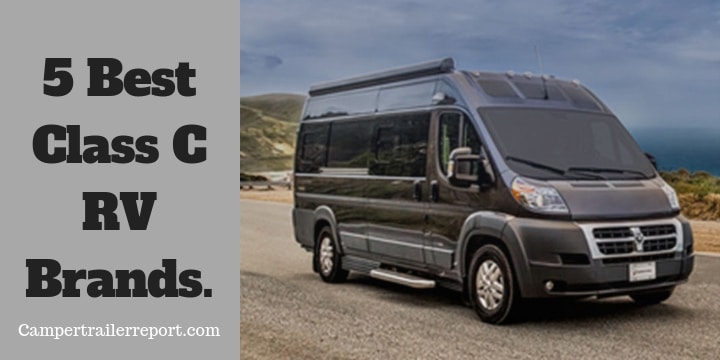 5 Best Class C RV Brands.
These are motorhomes built on a box van or a commercial truck. They are easy to drive and have lower initial costs when compared to Class A models.
1. 2018 Jayco Redhawk 26XD
Jayco is a motor-home built on Ford vehicle brand. The company that made this motorhome, Jayco, specialized in two areas, the interior and the drive. The interior has a queen bed with a walk around it, three-slide outs for extra space and a brilliant dining and seating area. The Jayco Redhawk 26XD possesses a J-Ride handling package that provides much stability, advanced suspension, and rubber isolation mounts. The model is easy to handle and drive and this makes it best for open roads.
Video Overview: 2018 Jayco Redhawk 26 XD Class C Motorhome Video Tour
2. 2018 Coachmen Freelander 21QB
This RV brand has a lot of brilliant features that make it a good motor-home to buy. The model uses Azdel composite panels. The panels are made from a blend of fiberglass and they increase their longevity and reduce their weight. The panels substitute to wood in the structure of this RV. This means that the RV has less chance of being damaged or warping. The RV has a variety of things which include; a queen bed, convertible dinette sleeper, and an overhead bunk. The RV appears smaller but it contains a lot in its smaller package. The appearance of this RV makes it unique and a great motor-home where one can enjoy a ride.
3. 2018 Winnebago Minnie Winnie 31D
This RV has amazing features such as two opposing slide-outs that provide extra space and a third slide-out located at the rear of the brand for more master suite. This RV is an improvement of Winnebago brands which usually have a comfortable master suite in the RV's rear and convertible sofa sleepers and a bunk on the front. The Winnebago Minnie Winnie 31D is, therefore, an awesome RV made in 2018 because of its improved features.
Video Overview: LichtsinnRV.com – New Winnebago Minnie Winnie 31D
4. 2018 Thor Motor Coach Quantum RC25.
This is a great RV with a Triton V10 engine which is built on a Ford E-450 chassis. It has a big slide-out which makes the interior spacious. The RV provides diverse options that let you turn it to meet your demands. The RV has a kitchen which makes it a unique motor-home. The kitchen contains a three-burner stove and solid countertops. The RV also possesses a bathroom with a stand-up shower. These amazing features make this RV the best Class C RV for 2018.
5. 2018 Jayco Melbourne 24K
This RV is built on a Mercedes Benz Sprinter body. This RV has unique features such as; German documentary system. The RV is the best for adventures because it provides comfort and luxury by relying on a V6 Turbodiesel driver train. It contains two slide-outs, a 14-foot deck, a queen-sized bed and a bunk with 300 pounds. The RV is even more unique because of its multiple colors and graphics options which make one customize it. These amazing features make this RV the best motor-home where all comfort and luxury can be found while enjoying an adventure.
Video Overview: 2018 Jayco Melbourne 24K – Valley RV Supercenter
Best Class C RV for Family of 4
A big surprise, if you need a motorhome for a family of 4, then Georgetown 3 series is the best for you. They provide 4 to 6 rooms, which is enough if you want to invite friends to sleepover in your
motorhome. best class c RV for you because they provide an exceptional kitchen, so you can prepare your favorite meal in a mood of relaxation during the vacation. In addition, a luxurious bathroom to enjoy your bath. It comes with extra comfortable furniture.
Plus, a bunkhouse for this is the best class c RV. While we manufacture best class c RV for you, let's hear from your side, so we can respond to your concern in the coming motorhome model consequently, we can achieve the best class c RV for you and your family, and we will not let you down ever.
Video Overview: Buying your first Class B or C RV? Watch this first!
We reached the best class c motorhome under 30 feet in our survey through RV shows, local and international website, now we arrived at a conclusion that the motorhome which is fabricated in the US is the best luxurious class c motorhome under 30 feet, for it is comfortable, low outline, smooth, and best shape. its length is 21 feet which gives the client the ability to park it in a normal garage. Managing the best class c motorhome under 30 feet on the road is not complicated.
It provides comfy seats for 4 adults and 3 youth. It includes a comfy couch near the window. The best class c motorhome under 30 feet achieves the performance of the big unit, and even though it is small in size, it follows the big unit in the same coach trimmings and expediency. This model name is Winnebago Riata Class C Motorhome, and it is the best class c motorhome under 30 feet. Please write to us about how was your trip with the best class c motorhome under 30 feet?
If you want the best class c motorhome gas mileage, so go for an RV which is perfect for gas mileage. But, I want to grab your attention, for there are e categories of RVs- Classes A, B, C which
vary in terms of size, outlet profile, aerodynamics.
>> You may also like: How To Prepare Your Truck for Towing: 9 Important Tips<<
Otherwise, our main target to get the best class c motorhome gas mileage. In the meantime, the best class c motorhome gas mileage is class A which will not lead you to prison because of the gas bill.
From class a, we will a certain model named Forest River Berkshire which is the best reputable class c motorhome under 30 feet, for the accessories of the motorhome, LED lights, six flooring possibilities. Share with us if your interest is the best class c motorhome under 30 feet?
Lastly, if you desire to hang out in the downtown or the states' parks, so the best class c RV under 25 feet is the best option for. Consequently, you can drive the best class c RV anywhere. The best class c RV for is class A which falls in the range of 22 to 28 feet.
Moreover, class A is the best class c RV for it is moderate in terms of price. It is the best class c RV for companies to provide a wide variety of sizes. Also, the furniture is comfy for all members of the family. The outlet profile is unique. Companies provide either a fuel gas or diesel motor. It is the best class c RV for it provides a beauty sleep for six to eight people. Finally, it is not expensive for the best class c RV. Write to us how were you satisfied with the size?
> You may also like:45 RV Accessory Must-Haves for Your Travel Trailer<<
Related Questions:
Best Class C Motorhome Under 30 Feet
Coachmen Freelander Class C Motorhome
The shortest length it can be bought is 23 feet and it weighs (unloaded) about 8140 pounds and has lightweight twenty-floor plans. It is easy to park in campgrounds and there is no need to sacrifice sleeping spaces because it is still vast and can house in an average of eight people, perfect for couples or camping friends!
Other special features include a solar panel connection port, an even-cool air conditioner ducting system, reclining seats (for drivers and passengers alike) and cabinets made of nutmeg wood grain.
Video Overview: 2020 Coachmen Freelander Class C RVs Starting at $59,999! MHSRV.com
Coachmen Leprechaun Class C Motorhome
The shortest length is at least 24 feet with an unloaded weight for at least 10288 pounds and has eighteen various available floor plans. The highest capacity to hold sleepers would at least be nine average people. Also recommended for its impressive bunk beds, suitable for small campgrounds.
It has a TV compartment paired with coax connection and receptacle, a walkable rooftop which is ideal for certain things like tail gators, for example. A Jackknife sofa, which can be converted into a bed, is also available and you can customize the interiors yourself!
Video Overview: 2020 Coachmen Leprechaun 210RSC Class C Motor Home
> You may also like: 15 Campfire Games for Adults And Kids. <<
Best Class C Diesel Motorhomes
2018 272XL Coach House Inc.
Sold directly from the factory in Nokomis, Florida. It has two slide-outs—one in the front with the dual power recliners and the other is at the rear, which hosts the queen bed. It is brand new and includes discrete swivel tray tables that allow you to dine upon it or just play various activities whilst traveling.
It moves away to let you watch whatever is on the TV, too. The 272XL also offers availability with an option of extending your gallery that allows you the choice of having a wider space for food prepping and a cabinet space, which can be also another swivel-recliner for you.
Video Overview: 2014 Coach House Platinum 272XL FS – Stock #17359
It has included rubber isolation mounts, Hellwig Helper Springs, a driveshaft that is computer balanced, stabilizers (front and rear) and of course, Bilstein shock absorbers. There are a walk-around queen bed, a large panoramic front window and an awning that is at least 16 feet. There is also the availability of padded ceiling, solid surface countertops, good water-filtration system, and a Dream Dinette.
Video Overview: 2019 Jayco Greyhawk Prestige 29MVP Class C RV (11751)
Best Class C Recreational Vehicle Under 25 Feet
Gulf Stream Conquest Class C Motorhome
It is 24 feet, weighs about the minimum of 12500 pounds and allows twelve diverse sorts of floor plans. Spacious, durable and even offers bunks over cabs, thus the minimum sleeping capacity is 5 until 8. They have upgraded interior fabrics, a really beautiful design of Roanoke light cabinetry and systems monitor panel. It has room for necessary kitchen appliances, which allows customization like jacks for power leveling and even attic fans!
Video Overview: NEW 2019 Gulfstream Conquest 6245 | Mount Comfort RV
Coach Chateau Class C Recreational Vehicle 22B
Developed in 2019, uses gasoline. They have a TV holding tank vent cap from 360 Siphon, exterior ceiling height for about 84", a CPAP machine outlet and a power charging station for electronics. They also include optional items such as a cockpit carpet mat, microwave oven convection, outside shower and applique for the wood dash.
Video Overview: 2020 Chateau® Class C Motorhome From Thor Motor Coach
> You may also like The Best Generator For Travel Trailers.<<