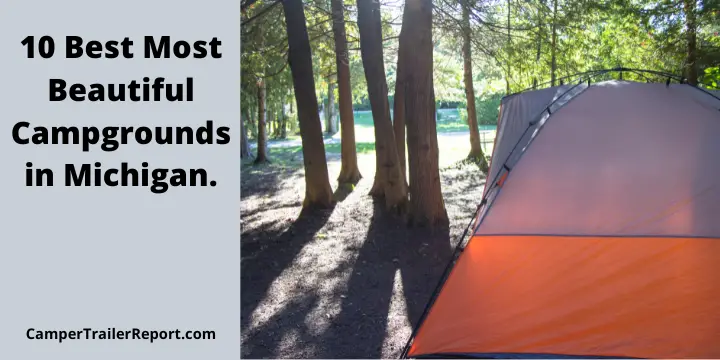 What is that beautiful thing you have experienced and heard about Michigan?, Probably many things, right?. Michigan is among the ideal places for a lovely, idyllic camping trip. Camping is fantastic, but when you camp in comfortable, safe, and eye-catching camps.
If you want to spend quality time with family and friends, record memorable memories, and have a safe and relaxing campsite: make Michigan your next camping destination. Fortunately, I have reviewed the best beautiful campgrounds in Michigan, where you will be safe, comfortable, enjoy and get peace of mind.
1. Dumont Lake family
This campground is located southwest of Michigan. The ground features a fresh-updated park. There are also 80 memorable sites with water and an electric hookup, which brings calmness to the ground.

Besides, there is a lakefront beach perfect for sunbathing. The lakefront docks provide an ideal spot to typically pop a fish and squat for a while. While here, play cornhole, standup paddleboard, or rent a kayak to have fun in your outdoor duration.
Video Overview: Dumont Lake, Michigan 4K
2. Sun Outdoors Petoskey
This is a bay harbor. It is a fantastic getaway that involves immersion in the great outdoors packed with modern and comfortable lodging. This is where you can get your first glamping taste of the sun outdoors.

You will love rental cottages and RV sites offering lodging, entertainment spa, and pools. Also, the ground is beautiful with plenty of beautiful areas. Interestingly, the camping spot distance is a short driver from fishing and hiking sites you can visit.
Video Overview: Sun Outdoors Bay Harbor Petoskey Michigan RV Resort
3. Indian River Resort
This place is impressive with its deciduous trees. The ground spot is welcoming and calm during summer and humbling & stunning in autumn. Don't forget to soak up the sweet sun in an inground pool.

Also, you can visit unique destinations, including Tahquamenon falls, which is a short drive from the spot. In addition, it is a spot where someone can also unleash his or her creativity allowing your imagination to run wild. The beautiful surrounding wilderness was everything last time I visited this campground.
Video Overview: Indian River RV Park
>> You may also like:45 RV Accessory Must-Haves for Your Travel Trailer<<
4. Barnes park
Thus park offers almost all kinds of enjoyment a camper could wish to have while on his or her camping days. There are forested trails, comfortable campfire spots, and beachfront hiking at each campsite. You can pack your RV or pitch a tent or preferably a motorhome simply because this is an amazing spot you can call home for the duration you will be camping.
Video Overview: Barnes Park Campground in Eastport, MI – Let's go camp it!
5. Beaver Trail
This campground is located in the northern state of Michigan. The spot is ideal for people who love outside sports specifically. The place is simple; you just park or tent your Rv and spend days and nights there comfortably.

You will enjoy fishing, boating on local lakes, dipping in the pond, and stargazing next to the campfire. And, during autumn, the beautiful colors in this comfortable campsite are best downright mind-blowing and with memorable fun in winter.
Video Overview: Pictured Rocks National Lakeshore Campground — Little Beaver Lake / 12 Mile Beach /Hurricane River
6. Warblers cover campgrounds and RV resorts.
This is a little paradise. The campground is located in Northern Michigan with its rustic spots and RV sites. This is where you can set a tend and then enjoy the beauty of 640 wooded and natural acres. You can also swing by the playgrounds, horseshoe area, or basketball courts. In addition, you can rent a paddleboat and take a ride on four lakes.
>> You may also like: Worst 5th Wheel Brands to Avoid <<
7. Leelanau pines
The water view only attracts from a distance. If you have swimming, this is the campground to visit. And, other enjoy other activities like boating across fishing in the waters while enjoying their stay. Further, you will love adventuring right across local businesses and landscapes and sweet sounds from the lake lapping waves.
Video Overview: Leelanau Pines Campground, and fishing trip. by Mike Meier DIY
8. Hankerd's horseshoe
This is another northern Michigan campsite in Michigan. When you come here, don't forget to visit, play horseshoes, dart-throwing skills or take a dip in two lakes. Besides, this ground is intimate and petite. You can rent a camper, pitch a tent or park your RV to typically unwind with your family or friends. Amazingly, you can as well come along with dogs for four-legged fun.
9. Yogi Bears Jellystone
Enjoy life and embrace adventure at the slower pace of this park camp resort. It is a family-friendly getaway with comfortable lodging, fun adventures, and forested surroundings.

Also, enjoy jumping pillow bouncing up, catching up with the original Yogi Bear, and watching an interesting movie under the stars. Overall, with playgrounds, mini-golf, and special events, you can never get a dull moment.
10. Chandler hill
Pitch a tent, stay in the yurt or park your RV here at chandler hill campground. It's a lovely campground surrounded by state land in deep wilderness. You will spend your whole time here exploring the local landscape, relaxing next to the campfire, and enjoying freshness and calmness. You will not believe how the stars appear in this spot. It is awe-inspiring.
Video Overview: Chandler Hill Challenge – Michigan
Final word
Wow! There you have your next campsite destination. We have sorted from scrolling all corners of social media to looking for beautiful campgrounds in Michigan. Do you wanna create unforgettable memories, have fun and unique activities and enjoy your camping, choose a campground from the above list.
>> You may also like: Least-Visited National Parks: Why They're Worth a Look<<