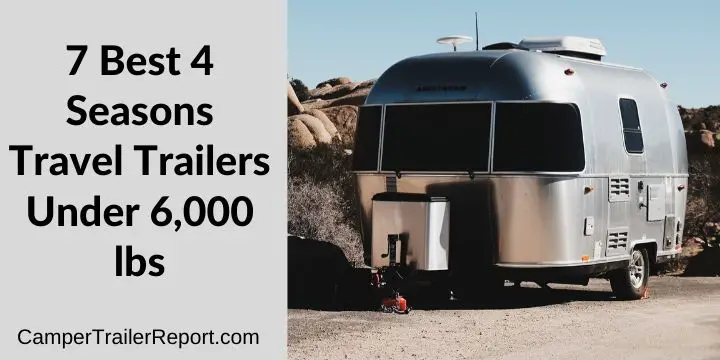 7 Best 4 Seasons Travel Trailers Under 6,000 lbs
Have you been looking for great camper trailers that are lightweight? This post has been written for you. Our professional editors have specifically focused on travel trailers under 6000lbs. Do you know that trailers come in different shapes and sizes?
Lighter travel trailers have been gaining a lot of popularity for the last couple of years. All these models have been designed with useful features that will arguably help you live comfortably. Here are the top 7 best seasons travel trailers under 6000lbs.
1. AIRSTREAM SPORT
It is one of the most demanded travel trailers in the market. Why do many people prefer purchasing these trailers? They not only boast of unique design but also great and admirable reviews. This makes them desirable to many trailer lovers.
Unlike many trailers models in the market, airstream sport has been manufactured with a great design. It comes with two nice looking layout options. A sink and a gas stovetop have been included in the kitchen.
Video Overview: 2019 Airstream Sport 16RB Bambi Walk Through Travel Trailer Small Light Weight Caravan Camper
> You may also like:45 RV Accessory Must-Haves for Your Travel Trailer<<
2. CLIPPER 17CBH
Clipper travel trailer is a great model that can be used at any time of the year. From a clear view, it was designed with the towing capabilities of many different vehicles in mind. It features three beds, a sitting area, and a spacious kitchen area.
All the beds in this travel trailer include a queen-size bed and two well-designed single beds. What does the half bath include? A standard model includes a toilet and stands up shower.
Video Overview: 2017 Coachmen Clipper Cadet 17CBH
3. COLEMAN LANTERN
Do you want a great travel trailer that you can use for a couple of groups traveling? You are in the right place. Besides having unique features, this travel trailer comes with great amenities. The recent model has been manufactured with separate dining and sitting area.
Numerous features have been included to ensure that it is great for hosting and easily getting things. You have the freedom to transform the dining into a sleeping area. In addition, the manufacturer has included a couch that you can rest on during your adventure.
Video Overview: 2019 Coleman Lantern 263BH | Travel Trailer – RV Review: Camping World
> You may also like:Worst 5th Wheel Brands to Avoid <<
4. STARCRAFT SATELLITE
Although it is smaller when compared to other common travel trailers, it is worth purchasing it. You can use it with three of your friends. The best thing about this travel trailer is that it features everything needed for comfortable living.
The satellite model comes with a sizeable sleeping area and dining room. You might be aware that the kitchen has a stovetop and several sinks. You can use the dining area for eating or sitting. A durable toilet and stand up shower has been fitted in the bathroom.
Video Overview: 2019 Starcraft Satellite 17RB | Travel Trailer – RV Review: Camping World
5. FORREST RIVER HOOD RIVER
It has an open floor plan. This makes it unique from many travel trailers. Similar to top camper trailers in the world, this model features a sitting area and a well-planned dining area. The queen bed that has been fitted in the sleeping area can fit at least 3 people.
With that in mind, you should never worry if you have a large family. The bathroom in this travel trailer is a bit different. Do you know that the bathroom is a complete bathroom? What was the main reason for this awesome design?
Everything in the restroom can be wet simply because the shower is closer. The manufacturer has been manufacturing modern and durable travel trailers for the last couple of years.
Video Overview: 2019 R-Pod 190 Hood River Edition, dry bath, walkthrough video
> You may also like: Least-Visited National Parks: Why They're Worth a Look<<
6. KEYSTONE HIDEOUT
This list can't be complete without featuring this great camper trailer. It has been designed with everything you have been looking for. The most unique features in this travel trailer are the sink and toilet. Away from that, the full shower includes a tub.
This means that it is the ideal choice if you love traveling with smaller kids. The kitchen has almost all necessities. A large refrigerator and microwave have been included. Do you know that you can transform the dining area into extra sleeping space?
Video Overview: 2018 Keystone Hideout 175LHS Walk-around by Motor Sportsland
7. LANCE TRAVEL TRAILER
This amazing travel trailer has been designed with must-have features. The numerous floor plans will provide you with versatile options. Actually, this is a perfect model if you are planning to camp all year around. It is one of the very few travel trailers that feature dual pane windows.
The interior walls mean that the users can use it in almost all seasons. Moreover, there is exterior TV mounting and propane connection.
Video Overview: Lance Travel Trailer 2020 Tour. Are They Better Quality?
> You may also like: 25 Best National Parks in the USA  <<