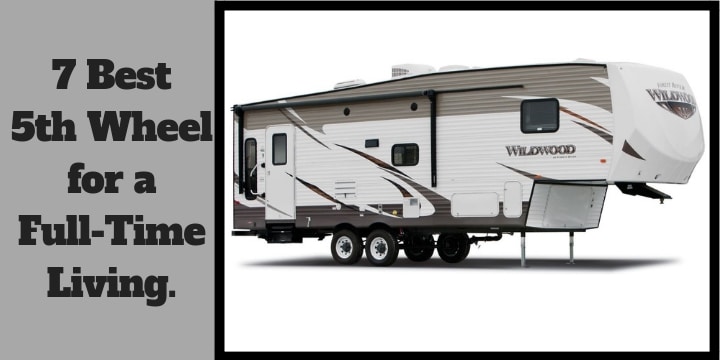 7 best 5th wheel for a full-time living
If exploring the world is on your bucket list or in the "things to do before you die" then owning the 5th wheel is something that you should seriously consider. It's like a home away from home. A 5th wheel can really help you explore the land like nothing else.
Just to zest up your adventure a wee bit more here is the list of the 7 best 5th wheel for full time living. I hope it helps in narrowing down the search for your new adventure mate.
Coachmen Chaparral Fifth Wheel
If you the person who looks for flexibility and options in everything, then Coachmen Chaparral's fifth wheel is just the thing for you. This piece of beauty offers 11-floor plans to choose from and its just 9575 pounds when dry (Chaparral 298RLS). So that covers for your towing weight issues also.
In case you feel like carrying the entire team along for the ride and have no towing constraints then you can also give a cool thought to Chaparral 371MBRB.
This one is huge and spans 41 feet with a housing capacity of 11 persons. The unit packs an array of stuff to make you feel at home too. It has multiple storage options, a 50 Inch TV, motion sensor lights, USB charging ports, a small refrigerator, a 21-inch oven and lots of other cool stuff to make living on the road a breeze.
Video Overview: benefits of Coachmen Chaparral 5th Wheels | Mount Comfort RV
Northpoint Fifth Wheel
This one comes from the house of Jayco. If road stability is what you desire from your RV then Northpoint series will be your best bet.
The Northpoint RV's weigh anything between 12000 and 14000 pounds and can easily accommodate up to 9 people. There are 9-floor plans on offer and these RV's come with exceptional climate control systems.
Video Overview:2018 Jayco 377RLBH North Point Middle Bunkhouse Bonus Room Luxury Fifth Wheel RV
>> You may also like: First Time Travel Trailer Owner Tips, Beginner's Guide. <<
Heartland Sundance Fifth Wheel
If minimalism is the word that defines you then Sundance is the RV designed just for you! This is a lightweight wonder which weighs just 8307 pounds. Perfect for a romantic couple who want to explore the wild as well as themselves.
It comes with 11-floor plans to choose from and has a powerful air conditioning system to keep things cool. There are larger options available in case you are interested.
Video Overview:2017Heartland Sundance 3700 RLB 2 Bath Fifth Wheel Video Tour • Guaranty.com
Jayco Eagle Fifth Wheel
On a budget and looking for some on the road living adventure sort of thing. Don't worry this RV will surely fit your budget and satisfy your desire to own a fifth wheel for full time living. It offers 9 different floor plans and a powerful climate control system. Trust us! It's worth giving a shot.
Video Overview: Haylett RV – 2018 Jayco 336FBOK Eagle Front Bath & a Half Outside Kitchen Rear Living Fifth Wheel RV
Forest River Wildcat Fifth Wheel
This RV is for the person who likes his things air thin. Yes, forest river wildcat is even lighter than the Sundance and weighs merely 7466 pounds. It offers 23 different floor plans to choose from and has a nice AC and an electric fireplace to add to the fun. Yes, one more thing, the bed on this one is KING SIZE.
Video Overview: HaylettRV.com – 2016 Wildcat 29RLX Rear Living Fifth Wheel by Forest River RV
Forest River Cardinal 3875FB
If sheer luxury is what you desire while living full time on the road then look no further. This RV is the absolute luxury on wheels. It has a master bedroom that can accommodate 4 with convertible sofa bed. It has two bathrooms and even has recliners. Yes, climate control is also a bliss with this one. We would definitely recommend checking it out.
Video Overview: Super Luxurious Cardinal Fifth Wheel! Look inside this beauty!
Video Overview: Forest River-Cardinal 5th Wheel-3875FB
Keystone Montana High Country 310RE
Just walk-in to an RV show or expo, you just can't miss Keystone Montana. It's like the emperor of RV's. It has everything that your heart can desire and it's built for luxury and indulgence while on the move. For most of us out there this RV would be better than any place where we would have ever lived.
Video Overview: 2017 Montana High Country 310RE # 740644
Video Overview: Fresh Takes Montana High Country 310 RE Walkthrough
>> You may also like:45 RV Accessory Must-Haves for Your Travel Trailer<<