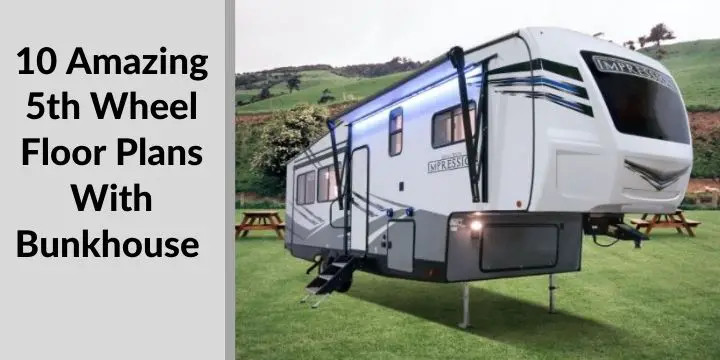 10 Amazing 5th Wheel Floor Plans With Bunkhouse in 2021
Are you in the market shopping for a luxurious travel trailer that is luxurious? Well, the 5th wheels bunkhouse is the ideal reactional vehicle for you. However, with their demands increasing each passing day, many manufacturers have come up with different floor plans to try and win the market.
This fact has made it difficult for you to select the best 5th wheel in terms of floor plan. If you are in such a dilemma, then this article is for you; we have conducted extensive research about these vehicles' interior design and capacity to have leeway in selecting the wheel floor plan that suits your needs.
1. 2020 Crossroads RV Volante VL295BH
Arguably, 5th wheel floor plans resemble each in design and materials used. However, this 2020 crossroads Rv is a different case because its floor plan is standard with amazing sleeping capacity, kitchen, bathroom space, and bunk. It has indoor seating that creates more room.
Additionally, the bunkhouse is fitted with a private door and comes with two bunks. This is a plus because it allows you to close the sleeping space from the living area. The U-shape and comfort of a five-seater dinette are among this wheel plan's floor features that make it stand out. This is your ideal vehicle if you are looking for a standard but luxurious 5th wheel bunkhouse in 2021.
Video Overview: CrossRoads-Volante 5th-VL295BH
2. 2020 Keystone RV Sprinter 3341FWFLS Fifth Wheel
Are you looking for a 5th wheel floor plan that will offer you creature comforts? Or are you small but a luxurious wheel that will you an amazing experience? Then Keystone RV Sprinter ticks all the boxes. This wheel is among frog living space trailers that are more popular in the market today.
Despite the slightly sleeping and seating capacity that accommodates six people, the floor plan is something to desire about. It offers a great entertainment center, and above all, the king-size master suite closely fitted near the master bathroom gives it a unique touch that most campers and hikers desire.
The designer takes privacy seriously, the reason they designed a hallway that connects all rooms of this bunkhouse.
If luxuries are your priority, then you need to consider this recreational vehicle.
Video Overview: 2019 Keystone Sprinter 3341FWFLS | Fifth Wheel – RV Review: Camping World
> You may also like: 25 Best National Parks in the USA  <<
3. 2020 Coachmen Chaparral 370 Front Living Fifth Wheel
If you love looking outside enjoying the beauty of nature, this front living 5th wheel floor plan is what suits your vocational needs. The manufacture of this vehicle, or rather a bunkhouse, spent time developing a design that will allow you to get a taste of nature.
This wheel has several windows for you to enjoy a clear and undisrupted view from your comfort zone. The queen-sized bed in the main master suite is designed to give you a joyful and silent night that will leave you yearning for the night not to end.
Video Overview:  2020 Coachmen Chaparral 370 FL Fifth Wheel • Guaranty.com
4. Heartland Bighorn Traveler BHTR 38 FL Fifth Wheel
Heartland bighorn travelers make to this list because of its floor plan that is carefully crafted. The main highlight of this 5th wheel is the 6slide sections that stand out from its competitors. If your family is large and with small children, think of this 5th wheel vehicle. The couches of this vehicle can be converted into a queen-sized bed; thus, more room is available for more occupants.
Video Overview: 2021 Heartland Bighorn Traveler 38 FL Fifth Wheel • Guaranty.com
5. 2020 Jayco Pinnacle 38FLWS Luxury 5th Wheel with Front Living
The interiors of this 5th wheel bunkhouse that is wood finish are among key standout features. Just like the heartland, the retractable slide-out sections make the place cozy and a nice place to enjoy your tv program or movies with ease.
It comes with a mounted tv on the exterior so you cannot miss your favorite program while on vacation. With stainless steel appliances, you will never go wrong with such an incredible vehicle.
Video Overview: The ULTIMATE Jayco Fifth Wheel RV! The Pinnacle!
6. 2020 Highland Ridge RV Open Range OF373RBS
The engineer behind this design had one thing in mind, quality food and relaxed sleep. If you are on vacation, it means less TV time but more food and sleep because the living room is a bit small but has a huge kitchen and bedroom.
However, the living room is fitted with a powerful air conditioner that ensures you don't feel the heat from the kitchen. The interior is another unspoken feature of this 5th wheel bunkhouse that deserves credit.
Video Overview:  Open Range 373RBS Fifth Wheel by Highland Ridge RV
7. Forest River Cedar Creek Champagne Edition Fifth Wheel 38EFK
The River Cedar Creek is another 5th wheel that takes privacy to another level with its 2-bedroom master suite and queen-sized bed. With it, two couples can have their privacy without inconveniencing others. With the fully functional kitchen and world-class creature comforts, it is a go-to 5th wheel bunkhouse. I can say the plan of this bunkhouse caters to all your trailer travel needs.
Video Overview: 2021 Cedar Creek Champagne 38EFK Luxury Front Kitchen Fifth Wheel @ Couchs RV Nation RV Walkthrough
> You may also like:Worst 5th Wheel Brands to Avoid <<
8. DRV Luxury Suites Mobile Suites 36 RKSB Fifth Wheel
Sized doesn't matter, but the comfort does. This statement is a true reflection of what to expect inside this 5th wheel bunkhouse. With the sleeping capacity of up to 4 individuals, this bunkhouse is ideal for a small family the is more into luxury.
The wheel supports a whopping 75-gallon water tank that allows you an extended vacation. The shaker cabinet door style is another incredible feature of this vehicle that I must highlight, which creates more space, thus increased space for other things. If you are into comfort, then look no further.
Video Overview: Top of the Line! DVR Mobile Suite Fifth Wheel RV 36RKSB
9. 2021 Keystone Avalanche 395BH
There are many reasons why you should like this 5th wheel bunkhouse. Among the top features is its king-sized bed nicely fitted in the master bedroom, the storage option, and the installed washer/dryer without forgetting the fine-looking interior.
These are the main talking points of this fantastic bunkhouse. With two bedrooms, and bathrooms you have all you need in terms of luxury and comfort. The nicely fitted TV and the comfy couch in the living room make it a complete luxury travel trailer.
Video Overview: 2021 Keystone Avalanche 395BH
10. 2019 KZ Sportsmen 281BHK
Are you looking to travel with teenagers? Search no more because 2019 KZ Sportsmen 281BHK has a unique layout with extra windows that provide added nature view. The double bunk offers an extra stall shower and toilet for enhanced privacy. The u-shaped living space is a standout feature. With install refrigerators, your foods are well-taken care of.
The market is overcrowded with amazing 5th wheel bunkhouses, but the size of your family and your luxurious needs will determine the kind of 5th wheel floor plan you will choose.
Video Overview: 2018 Sportsmen 281 BHK by KZ
> You may also like:45 RV Accessory Must-Haves for Your Travel Trailer<<