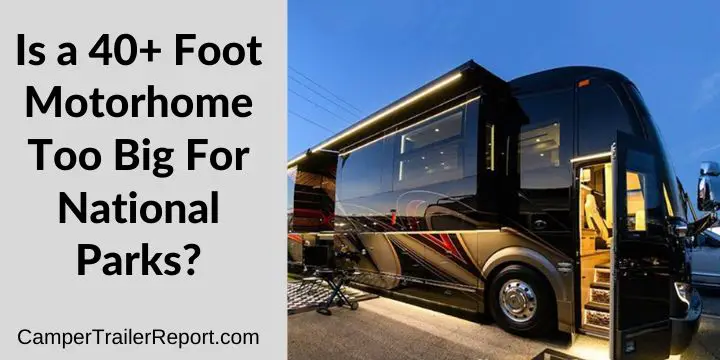 Is a 40+ Foot Motorhome Too Big For National Parks?
When it comes to buying a new motorhome, you may well be under the common misconception that bigger is better. Bigger is not actually always better, and not only because a 40+ foot motorhome is a rather costly investment.
When you choose such a large motorhome you will encounter problems parking it in the National Park and some of the Country Parks.
So, if you are really keen on investing in such a large motorhome, you will need to do your homework before you set off touring. You will be limited to certain locations.
But, this doesn't mean that you should opt for a smaller motorhome.
Across the US our roads and highway systems are some of the best in the world. They are big, and they are made for big vehicles. In countries across Europe on the other hand, you simply would not be able to even get to the National Park!
Traveling around in such a large motorhome should therefore not present any problem at all.
You may encounter the odd low bridge, but these won't be on the roads that you will use. It is entirely possible to drive across the US and right to Canada and Newfoundland in a 43-foot motorhome!
> You may also like:45 RV Accessory Must-Haves for Your Travel Trailer<<
Suggestions for traveling with a 40+ foot motorhome
A great way to ensure you don't get stuck on your travels is to invest in a road atlas for large vehicles like the Motor Carriers Road Atlas. Unlike downloading maps online, this atlas shows you just which roads and highways are suitable for larger rigs. You can also invest in a GPS that is designed for an RV.
The TripMaker RVND is an excellent choice. Unlike other GPS's you can purchase, this one will ensure that the journey and route it suggests are actually suitable for larger vehicles.
Video Overview: Finding RV Parks for a 42+ Foot Rig (2018) || Fireside Chat
National Parks Suitable for Big Rigs
Before visiting a National Park with a large trailer you need to do your homework. You will need to check out the website to see the maximum size of rig that can be accommodated.
You can also look at Google Maps overhead shots to see how close together the trees are and the size of the plots. You can also of course contact the site direct to ask any questions you have. This, along with checking the route is possible with a big rig is really all you need to do.
As most reservations are done online nowadays, it will generally come up with an error if you try to input a length of motorhome that is too long for the pitch you are interested in.
Maneuvering your motorhome around a site can also be a little bit challenging when you are driving a 40+ footer. Although the sites you are looking at may just fit a rig that is 43 feet, it can be challenging to park up, especially if the site is full to capacity.
There are too many sites across the National Parks that are perfect for big rigs to mention all of them. Badlands in South Dakota is perfect for big rigs. For a state park that is a perfect accommodation for bigger rigs, you should try Picacho Peak Stake Park in Arizona; Cherry Creek State Park is another.
Another thing that you should consider when traveling to National Parks is the services that they offer. Some sires will offer full hook-ups, other just electric, and others nothing at all.
Now, there's not much point on traveling interstate in your brand new 40-foot motorhome to find that the site has nothing but a dump station and potable water. This really would be a disappointment when you were dreaming of having a hot shower and the luxury of your big screen TV inside your motorhome.
> You may also like:Worst 5th Wheel Brands to Avoid <<
More Consideration for your 40+ Foot Motorhome
As we mentioned above, it's not just about the size of your motorhome, the highways to get there, or the site. It's the full combination. Not all sites and County Parks have Wi-Fi, and some may charge an extra fee for large vehicles.
Once you have found a park that is perfect and that accommodates all your needs, it is really worthwhile investing in an annual pass.
At other parks such as Georgia State parks, the more times you stay, the more stickers you earn. These stickers convert into free nights of camping.
If there is somewhere that you really fancy going to but that can't accommodate the size of your motorhome, there will often be alternative campgrounds nearby. These are situated just outside the Park boundaries.
Once again, you should check to see what facilities are available when you book. There is nothing worse than getting excited about taking to the road in your 40-foot motorhome, only to be stuck onsite somewhere in the rain with no Wi-Fi and only a basic electric supply!
> You may also like: Least-Visited National Parks: Why They're Worth a Look<<