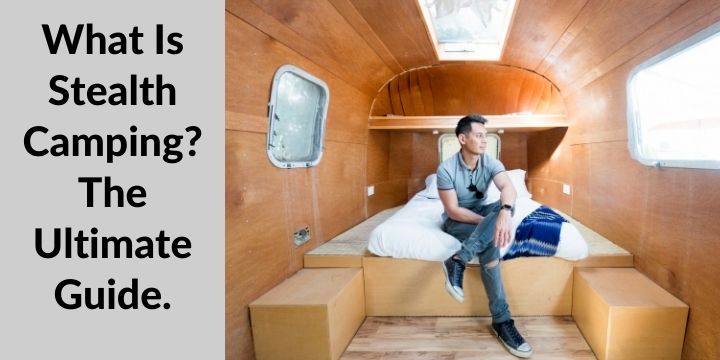 What is stealth camping?
Stealth camping is a form of secretive camping, where campers attempt to avoid detection by camping in a remote or hidden location.
Stealth campers often use natural features of the landscape, such as trees or rocks, to conceal their presence, and may use camouflage techniques to further blend in with their surroundings. The advantages of stealth camping are many:
• It can provide a more immersive outdoor experience.
 It can be more peaceful and private than camping in a developed campground.
 It can be less expensive.
However, stealth camping also carries some risks. But with a bit of preparation and caution, stealth camping can be a rewarding and unique experience. So get out there and explore some new, hidden corners of the world!
Why Do People Stealth Camp?
Stealth camping can be fun or even risky. But why do people then stealth camp? Different people stealth camp because of various reasons. They include:
Visiting places that are not in guidebooks.
Saving money on accommodation.
Appreciating the natural environment more than luxury/modern comforts.
Not having to follow hotel rules or leave early in the morning.
Reducing their environmental impact by staying in one place for longer.
Privacy is also a factor for some people who want to avoid contact with other people. Stealth camping can be seen as a way of getting back to basics and enjoying natural surroundings. It can also be an adrenaline rush to camp in an unknown place, without knowing what the next day will bring!
What are the best stealth camper vans?
The best stealth camper vans are quiet and inconspicuous. These vans are all designed to be as quiet and discreet as possible, and they come with a variety of behind-the-scenes amenities that make them easy to live in.
The best stealth camper van is highly subjective, but these are some of the most popular models around. Nobody wants to be noticed when they are camping, so having a camper van that blends in is important!
Some of the best stealth camper vans include the Volkswagen Westfalia Camper, the Mercedes-Benz Sprinter van, and the Dodge Promaster van.
Where to park when stealth camping in a city?
There are a few things to consider when stealth camping in a city. The first is finding a spot to park your car. You'll want to find an area that's relatively quiet and away from traffic. You also don't want to park in a spot that will get you towed or ticketed.
Another thing to keep in mind is how visible your car is from the street. If it's easily visible, you're more likely to get noticed by passersby. Try to find a spot that's hidden from view or park in an alleyway.
When picking a spot, keep in mind that the darker it is out, the easier it will be to remain undetected. You can always scout for a parking spot during daylight and then wait till nighttime to pull into your chosen place. Examples include:
A dark alleyway near businesses.
Behind stores or warehouses with few windows, so you won't be seen from the street.
Around the back of a restaurant at night when there aren't many people around.
How to cook food when you're stealth camping?
When stealth camping, you will require ways of cooking your food. Some of them include:
Using a campfire: Build a fire using dry twigs and forks. Start the fire using some paper towel soaked in baby oil. You can also use lighter fluid or alcohol, but make sure it's safe for outdoor use.
Using a cooking stove: You should cook if it's raining or during the night as you will need sunlight to start up your camping stove. Ensure all flammable material such as leaves and grass is kept away from the cooking area. Make sure you place the stove on flat ground where it won't easily tip over or get blown away by the wind. Arrange your camping stove on a stable, level surface with good footing.
A one-burner stove can be used to cook almost anything you want, from ramen noodles and rice to sausage and eggs. There are many kinds of one-burner stoves you can bring into the outdoors for cooking.
Video Overview: Stealth Camping – Do's and Don'ts – Wild Camping for Beginners
Tips for Stealth Camping
If you're interested in giving stealth camping a try, here are a few tips to help you spend a night under the stars in secret:
Before you set out, research stealth camping in your area to find a good spot. If possible, scout the location during daylight hours before you go at night.
Bring something warm to sleep with and something waterproof to protect yourself from the elements, but otherwise try to travel light; you don't want your gear giving you away. For example, if you're using a tent, consider something that folds up into a small size so it takes up less space in your pack.
Keep your movements quiet and do whatever you can to prevent sticks or other debris from crunching underfoot.
If you're using a fire, make sure it's completely extinguished before you leave; even a small ember can easily give away your position.
Be aware of your surroundings at all times and take care not to disturb the area or leave any trash behind.
Stealth Camping on Public Lands
I have the right to camp on public land for free, regardless of whether it is visible from a road or not. Although you might feel that leaving no trace means hiding your campsite from an observer, actually being "stealth" means going well off the beaten track and finding a place where a person would never wander without a reason.
"Free camping" – also known as "stealth camping" – is a controversial topic that has many campers divided, primarily because there are no universal rules about doing it. If your goal is to explore and enjoy beautiful places at a very low cost, or if you find yourself homeless and without other options, then stealth camping on public land is certainly something to consider.
But before doing anything, it's important to know the basics of the law in that area.
Stealth Camping Isn't for Everyone
While stealth camping can be a great way to get away from it all and enjoy nature, it's not for everyone. If you're someone who prefers creature comforts or just enjoys a good night's sleep in a bed, stealth camping may not be right for you. Additionally, if you're not comfortable with the idea of camping in remote areas without any amenities, stealth camping may also not be right for you.
That said, if you're comfortable with roughing it a bit, and enjoy the challenge of finding stealth camping spots, then by all means give it a try! You may be surprised by the experience.
Alternatives to Stealth Camping
There are many alternatives to stealth camping for people who want to avoid staying in a shelter or paying for a hotel. Some people choose to stay with friends or family, while others look for budget-friendly options like Couchsurfing or Airbnb. If you're looking for something more permanent, you can also look into renting an apartment or house on websites like Craigslist or Airbnb for longer stays.