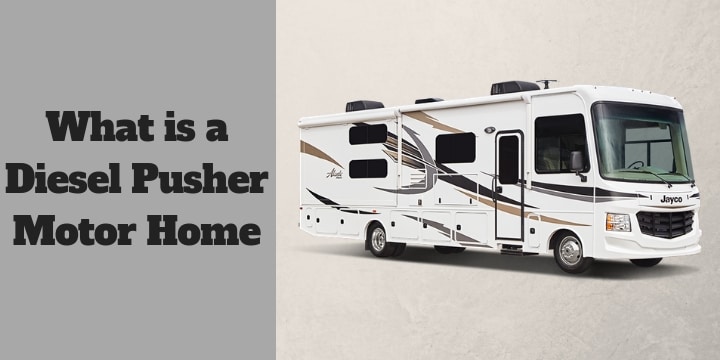 What is a Diesel Pusher Motor Home?
What is a "diesel pusher" motor home? Simply put, it is a type of RV that runs on diesel, with its engine located at the rear. A diesel pusher motor home can be a great addition to families who love to travel and would like to forego the additional cost of checking into hotels or inns along the way.
It also has some great advantages as well as not so good points, both of which would be discussed below.
A good thing about diesel pusher motorhomes is that, as the name implies, it is already home as well as a vehicle.
This means that all of the amenities that you would usually find in a house can already be accessible even while you are on the move.
Drivers can swap after a couple of hours so that the other one can sleep. Family members and friends can take a bath, read a book while lying down, or cook their meals, while some diesel pusher mobile homes even have full entertainment systems installed like cable TV and surround sound.
> You may also like:Gas vs Diesel For Towing a Fifth Wheel?<<
However, all of this would take up space and, along with the heavier diesel engine, you would be consuming a lot of fuel just to move around.
Diesel engines are also costlier to maintain than gasoline engines, although they tend to last much longer and can have a much higher retail value even after decades and even after hundreds of thousands of miles traveled.
Diesel engines also have enough power to easily tow other objects, such as a boat or another vehicle.
Another problem that diesel pusher motorhomes face is its size.
These types of RVs can easily reach 40 feet in length and can be several tons' worth of solid steel.
As such, maneuverability can be an issue. Also, compared to smaller sized vehicles, a diesel pusher motor home will require specialized areas just to be able to park.
> You may also like:45 RV Accessory Must-Haves for Your Travel Trailer<<
Thus, parking your motor home in the local grocery may not actually be possible given its dimensions.
Big families who like to travel as well as elderly couples enjoying retirement are the main buyers of diesel pusher motorhomes.
However, many personalities such as celebrities and executives are also getting these types of vehicles due to the comfort and convenience that they provide.
With the ample space provided inside these vehicles, a diesel pusher motor home can easily be customized based on your specifications, so seeing one on the road with features "out of the box" is rarely the case.
A word of caution, though, as diesel pusher motorhomes can be quite pricey, and therefore must be a carefully thought of investment.
Also, driving a diesel pusher motor home may also require some skill especially during long drives, but many advances have already made driving in these types of machines as comfortable as driving a sedan or SUV.
In conclusion, buy a diesel pusher if you want to be mobile yet still have the feeling of comfort and security within your own home.
Related Questions
What kind of gas mileage does a diesel pusher get?
One thing you should know about diesel RV is that if the RV is bigger, it will get fewer miles per gallon.
On average, gas mileage for diesel RV is 8 to 14 MPG. However, you should also remember that a new RV will get better gas mileage than an older one. Also, the modern RVs are more fuel efficient.
Which is better diesel or gas RV?
If you are in a dilemma whether to buy a diesel or gas RV, then you need to consider a number of features before making your final decision.
All the features may not be important to you, but it's worthwhile to look into the following features.
Price
A gas RV is less expensive than a diesel RV. On average, a gas RV costs $80,000 to $150,000; whereas, a diesel RV costs $170,000 to $200,000.
However, you will get better value for the diesel RVs in the market in the future. If you have a tight budget then you should buy a high-end gas RV.
Fuel efficiency
If fuel efficiency is your priority, then you should buy diesel RV. As diesel has a higher energy density, it is better than gas.
The gas RVs run at 30% efficiency, while the diesel RVs run at 45% efficiency or more. As fuel is expensive, you will save money in the long run by buying diesel RV.
If you think that you will be often driving across the country then the diesel RV will be a better option for you.
Comfort
Comfort is one of the most important features to consider when buying an RV. You should check out the bedroom, bathroom, living and kitchen area. Storage and other facilities should also be considered. Usually, diesel RVs offer better amenities and interior compared to the gas RVs.
Engine
Diesel engines are more reliable. They have a better braking system and more torque. So, if you are looking for better performance, you should consider buying a diesel RV.
Maintenance
It is much easier to maintain gas engines. All you need is general knowledge about these engines. For repairing or maintaining diesel engines, you need specialized training. It is also more expensive to maintain diesel engines.
So, as you can see there are advantages and disadvantages in case of both types of RVs. The decision is up to you. If price and maintenance costs are important to you then you should buy gas RV. If you prefer comfort and value rather than price then you should go for diesel RV.
Which motorhomes get the best gas mileage?
The average mileage of an RV is 5,000 miles per year. Some RVs can drive 9,000 miles a year. Most RVs get 10 to 20 miles per gallon.
Itasca Navion Motorhome, a Class C motorhome from Winnebago, gets 18 to 20 miles per gallon and is considered to be the best motorhome that gets the best mileage.
Other RV manufacturers like Lazy Daze, Tiffin, Airstream, Newmar, Jayco, Grand Design, and others also provide good mileage.
How much fuel does a Class A RV hold?
Class A RV can have a capacity of 80 to 150 gallons. However, the capacity may vary according to the brand, size and year of manufacture.
How much does a Class A RV cost?
The average price of a Class A RV is about $50,000 to $200,000 or even more. The price of the RV varies depending on the size of the vehicle, floor plan, the brand, and features.
Do you need a Class A license to drive a Class A motorhome?
You need a license to drive a Class A motorhome in only a few states. A license is required if you are using the motorhome for commercial purposes. For recreational use, no license is required in most states. However, there are some exceptions. For example, in Washington DC and Hawaii, if your motorhome is more than 26,000 lb, then you will need a license.
> You may also like:First Time Travel Trailer Owner Tips,Beginner's Guide. <<