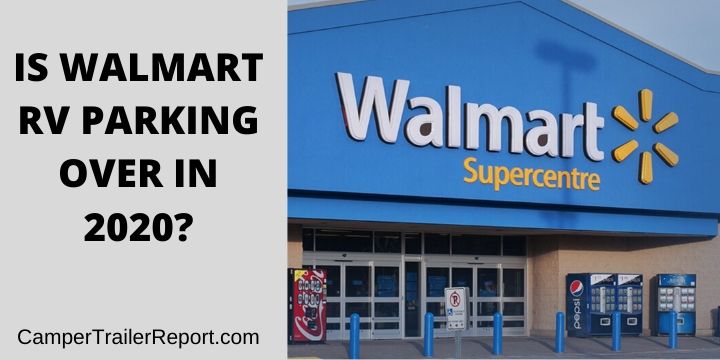 Is WALMART RV PARKING Over in 2019?
For quite some while, Walmart has been known by RVers to provide free parking overnight at their parking lot. However, many RVers remain unclear about whether it is permissible to park RVs at Walmart's parking lots.
The lack of clarity on whether parking RVs at Walmart overnight is permissible comes with the rumors that Walmart's camping policy has changed. A review on Walmart's camping policy will help shed light on the dilemmatic question of whether Walmart RV parking is over.
Walmart's Policy on RV Parking
The recent days have seen many RVers concerned about the status of Walmart's policy on RV parking overnight. Driven by the concern, Walmart has included the RV parking on its premises question in its website's Frequently Asked Questions.
The move by Walmart is to ensure its RV customers who might need RV parking services get a detailed answer on Walmart's policy on RV parking.
> You may also like: 25 Best National Parks in the USA  <<
From the website, Walmart puts it clear that they treasure RV customers among their best customers. Additionally, they state that they do not offer electrical services and accommodation that are necessary for its RV customers. Notably, Walmart states that they allow their RV customers to park on their store's parking lots as per their ability.
The permission to use their parking lot for your RV overnight is extended to the RVers by the individual store managers. Therefore, RV customers who need to take advantage of Walmart's free parking are advised to contact the management to secure some space if available.
You may also like:Worst 5th Wheel Brands to Avoid <<
Video Overview: Is Free Overnight RV Parking at Walmart Allowed? Rules. Policy and Etiquette You Need to Know
Reasons Why Walmart Might Deny RVers Parking
While free parking at Walmart is still permissible to the RV customers, there are a few reasons as to why the management might deny RVers free parking. The first and obvious reason is the space problems. If the Walmart store you're seeking RV parking space is full or reserved for the store's operations, you will miss on the free RVs parking space.
Additionally, recent local towns' laws might be a hindrance to earning your free Walmart RV parking overnight. Some local towns have passed laws that prohibit overnight parking.
Even after consulting the management of a Walmart store in such local towns, it would be all in vain since you won't be allowed to park overnight.
Managers also might turn down your free RV parking request for safety concerns. Notably, managers will deny you free RV parking if the Walmart store is located in high crime areas.
The move is to safeguard its customers from crime since RVers are some of the desired targets for criminals.
Video Overview: FORGET WALMART FOR OVERNIGHT RV PARKING, PARK HERE INSTEAD (RV LIVING)
Final Thought
Walmart has not changed its policy over free parking space for its RV customers. However, RVers need to consult with the management to get permission to park their RVs overnight at Walmart's store parking lot.
This follows the fact that space may be limited, the Walmart store is located at places where local laws prohibit overnight parking or at high crime areas.
Notably, the RVers should take into consideration the dos and the don'ts of overnight free RV parking at Walmart.
>> You may also like:45 RV Accessory Must-Haves for Your Travel Trailer<<