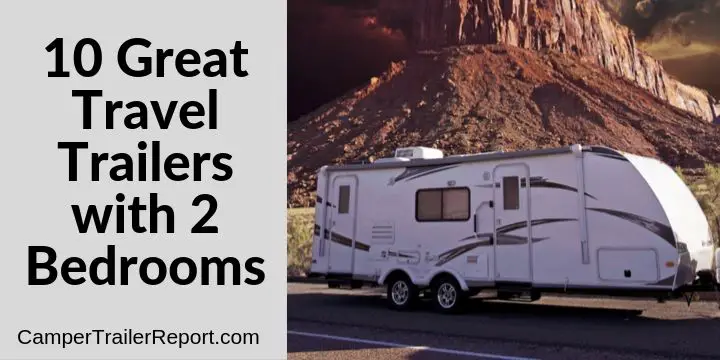 10 Great Travel Trailers with 2 Bedrooms
Have you ever seen some people crashing for the weekend? Nowadays, this is a common thing. At such times, people snore on every surface of their home. As a result of that, you will often notice pallets of blankets dropped on the floor. Do you know about travel trailers? The feelings will be quite similar if you sleep more than two people.
You can agree with me that it is very nice to have couches that can be converted to sleeping spaces. It is also good to keep in mind that it will be annoying to disassemble all the furniture in the evening. You will spend a lot of time in the morning as you assemble the furniture. Do you need more space? There are numerous models that come with two-bedroom layouts. You will have guaranteed privacy when you purchase these trailers. Here are the 10 great travel trailers with two-bedroom layouts.
1. HIGHLAND RIDGE RB OPEN
Have you been looking for a travel trailer with a spacious interior? This is the perfect choice in that case. They are well known for being clean and of high quality. What does the open range line feature? This trailer comes with 4-floor plans. Also, there is no carpet in the living room. Therefore you will have an easy time when maintaining it.
Video Overview: Our First RV / Open Range 274RLS Travel Trailer Walk Through * Full-time RV Living *
2. JAYCO JAY FLIGHT BUNGALOW
It is arguably one of the best travel trailers in the market as for now. This travel trailer has been manufactured by a reputable company. In fact, it is the best-selling travel trailer in the United States. Over the years, it has emerged as an ideal choice if you want to have a residential feeling as you travel. What are some of the features in this travel trailer? It has the popular truss roof system.
> You may also like:45 RV Accessory Must-Haves for Your Travel Trailer<<
3. FOREST RIVER WILDWOOD
The main aim of the manufacturer was to come up with a high-quality travel trailer that would offer extreme convenience to families. People who have been lucky to have this travel trailer have praised its comfort. Be guaranteed that it will never disappoint you. Usually, it has been designed with modern cabinet door hardware. In addition, you will have multiple areas to store your items.
Video Overview: Intro to 2020 Wildwood RVs with Josh the RV Nerd
4. WINNEBAGO MINNIE
Are you a trailer enthusiast? You might have heard about this travel trailer. It is arguably the first name that comes in your mind when you think about the most reliable travel trailers. The mother company has gained a lot of trust among customers simply because they manufacture high-quality products. The good thing about this company is that they don't compromise when it comes to quality.
> You may also like:Worst 5th Wheel Brands to Avoid <<
5. CROSSROADS SUNSET TRAIL
Which are the best features in this travel trailer? It has not only been designed with spacious residential kitchens, but also this travel trailer has outside kitchens. Do you love elegant interior features? This is the right time to purchase this product. It has a beautiful ceramic backsplash in the kitchen. Some of the most popular upgrade options in this travel trailer include a free-standing table.
6. KEYSTONE RV PREMIER
This is one of the few ultra-lite travel trailers with progressive styling. It has numerous admirable features that include vaulted ceilings and well-painted fiberglass. All its models are stable and secure. Therefore you should never worry about the safety of your items. In addition, you will easily organize your tools when you consider purchasing this travel trailer.
Video Overview: 2019 Keystone Premier 22RB | Travel Trailer – RV Review: Camping World
7. KEYSTONE PASSPORT
If you have been looking for an ultra-lightweight travel trailer that can serve you beyond your expectations, look for no more. Besides offering you comfort, you will be lucky to have the latest technology in the market. Away from that, you will have enough space for your outdoor excursions. Do you know that the chassis in this trailer is engineered specifically for each plan?
8. DUTCHMEN AEROLITE
This travel trailer is very spacious. It has been designed to hold more than 10 people. Which is the coolest feature in this trailer? It has been manufactured with the in command remote operating system. Also, it has a touchscreen panel. What was the essence of including this feature? You will have easy access to lights and water.
9. GRAND DESIGN REFLECTION
Have you ever come across this travel trailer? It is a perfect example when we talk about class and elegance. Having been manufactured from a laminated aluminum framed roof means that it will serve you for life. Additionally, this travel trailer has a highly regarded fiberglass. Refrigerator fronts and kitchen sink are some of the most loved features in this trailer.
Video Overview: Grand Design Reflection Construction 
10. KEYSTONE HIDEOUT TRAVEL TRAILER
Do you have a large family? Its design is enough to impress you. This travel trailer has floor plans that can hold more than 6 people. Also, it covers a wide range of weight ranges. It has all the necessary features you have been looking for. It is very rare to come across a travel trailer with a TV antenna. But with this trailer, you will have access to all that.
> You may also like: 25 Best National Parks in the USA  <<