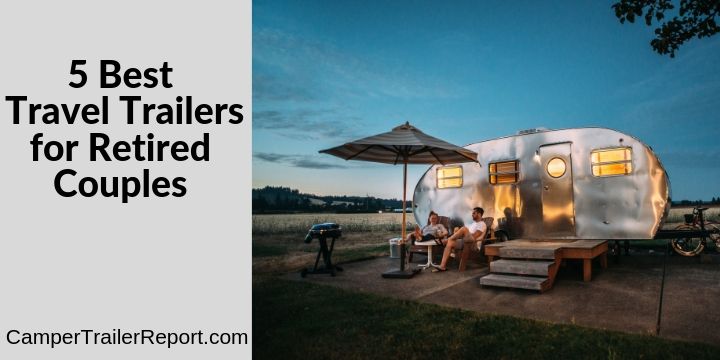 Retirement is that start of our 'golden years'; a time for fun, adventure, and traveling, and there's no better way for a retired couple to see this great nation than in a portable travel trailer or RV! We have surveyed the market to find the best travel trailer for retired couples seeking adventure and fun together in the best years of their life!
 5 Best Travel Trailers for Retirees
1. Newell Coach RV
As far as RV's and travel trailers go this is the epitome of luxury and style, but it's worth every penny. A huge bedroom, sizeable bathroom, galley area, dining area, and seating area all sit comfortably in this purpose-built coach-style RV. This is the best option for retired couples who either have serious money to spare, who want to travel with friends and family, or who plan on living in their RV.
Pros;
Stylish interior made of high-quality materials.
Superior living, sleeping, and eating space.
Purpose-built rather a converted bus; this ensures a smooth ride.
In-built amenities.
Queen bed, bunk beds, pull-out bed, and hide-a-bed (sleep 8)
2 complete bathrooms.
49-inch televisions.
Security cameras are connectable to an iPhone app.
Cons;
Expensive
Large size limits where you can park.
Video Overview: Newell Coach Interior Walkthrough and Overview Interview
> You may also like:45 RV Accessory Must-Haves for Your Travel Trailer<<
2. Jayco North Point Fifth Wheel
A highly customizable fifth-wheel trailer that is perfect for retirees who want to take long trips in total comfort. The 9 different floor plans mean that you have full control of your living space. The seating, kitchen, and dinette areas are spacious, though the bedroom is swamped by the queen-sized bed.
Pros;
Has an additional hide-a-bed for guests (sleep 4)
Walk-in closet.
In-built bedroom TV, an option of a tailgate TV.
Full bathroom.
Seating area TV.
14-foot awning.
Cons;
Dated interior
Can be difficult to control.
Not all amenities come as standard.
Video Overview: Sweet Floorplan from 2019 Jayco! Northpoint 377RLBH
3. Palomino Puma Travel Trailer
With 43 floor-plans, the Palomino Puma is the chameleon of the travel trailer world, and while the exterior looks dated the interior decor is modern and stylish. Space isn't limitless in this trailer, but the sleeping, eating, and bathroom areas make clever use of what is available.
The standard facilities and amenities are excellent, but you can opt for a few choice upgrades that take this trailer to the next level.
Pros;
Highly customizable.
Rubber roof comes with a 12-year warranty.
Sleeps 2 – 4 comfortably.
Power awning as standard.
Fits into many smaller spaces that an RV or fifth-wheeler won't.
Cons;
Bunks are a little small.
Can be hard to control.
Video Overview: 2019 Puma 31FKRK Front Kitchen Travel Trailer @ Camp-Out RV In Stratford
> You may also like: 25 Best National Parks in the USA  <<
4. Airstream Sport
One of the most luxurious small travel trailers on the market. Small enough to be towed by a standard SUV, but filled with all the creature comforts you could want, this is the best travel trailer for retired couples who like to mix convenience with comfort. As well as all the basic amenities, kitchen, bathroom, etc, you get an LG LED HD TV and a JCV Stereo as standard!
Pros;
Lightweight.
Compact.
Sleeps 2 – 4.
Memory foam mattress and pillows as standard.
A good amount of storage.
Cons;
Limited interior space.
The old-fashioned aluminum exterior is an acquired taste.
Video Overview: 2019 Airstream Sport 22FB Bambi Walk Through Small Light Tiny Size Travel Trailer
5. Gidget Retro Teardrop Camper
The Australian made Gidget is not the biggest or most expensive travel trailer on our list (in fact it's the smallest), but if a camper could ever be called 'cute' it would be now. The stylish retro look is perfect for couples who like to be different, but there's so much more to this dainty camper.
When parked, this camper has a slide-out pod which doubles the interior space! Furthermore, despite its small size, it includes all the necessities and a small measure of luxury for flair. This is the best travel trailer for retired couples who want to take short trips in style.
Pros;
Very light and compact; fits almost anywhere.
Slide-out pod for extra space when parked.
Good storage and shelving.
Pantry, bathroom, and sleeping areas.
Very well made.
Cons;
Video Overview: Gidget Retro Teardrop Camper 
In Conclusion…
Each of these 5 options is perfect for a certain type of retired couple; you really can't go wrong, so shop and around and get ready for adventure!