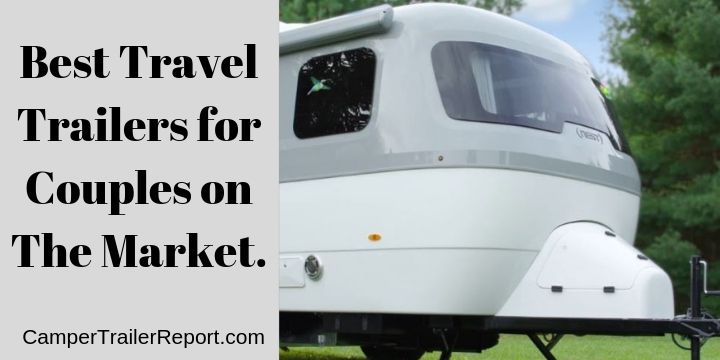 Best Travel Trailers for Couples on The Market.
A travel trailer may be just what you need if you would like to see the sights and take them home with you. Travel trailers come in many sizes and can span from a smaller outfit to a large vacation home with slide-out rooms.
Depending on the design and your particular needs, a smaller 18-foot travel trailer can be cozy and all that you may need, or you may find it cramped and too small for a couple. Believe it or not travel trailers range from ten feet to thirty-five feet in length.
Price Range
Lower cost trailers with simple furniture and perhaps no microwave but a propane stove with a convertible table to bed might be had for less than 15 000 USD.
Mid-priced trailers include more amenities and better construction than smaller ones but are inferior to the larger models that have more features and room.
High-priced trailers have the most quality features and appliances. Think stainless steel and fiberglass and extra bedrooms. Room enough to bring the family with you and could live full time, the price starts from 30 000 USD and up.
Video Overview: THE BEST RVS FOR COUPLES AT THE TAMPA RV SHOW
The top 8 rated brands for couples are:
The Airstream Sport
This brand has been building RVs for over 75 years, it is perfect for couples, it has mainly two configurations: a bed in the back with a wet bath, or a front bedroom with a full bath in the back.
Its appearance is the very traditional bullet shape made of aluminum walls, and it has a panoramic window.
Also, one of the main reasons why it is top-rated, its durability. Most brands will be completely used up in about 15 years, this one can last up to 40 years, so if you´re thinking about buying a used trailer then this is definitely your best option.
Video Overview: Walk Through 2017 Airstream Sport 16J Bambi Small Travel Trailer
Video Overview: 2019 Airstream Sport 16RB Bambi Walk Through Travel Trailer Small Light Weight Caravan Camper
Cherokee Wolf Pup
This is a very lightweight package; it is very versatile. Perfect size for couples, with a queen-size bed, a cozy booth-style dinette, a full bathroom close to the bed.
The kitchen is perfect for preparing romantic meals. The plus on this trailer is that if you decide to have visitors, you have bunks space that extends for additional sleeping.
Video Overview: 2018 Wolf Pup 16BHS Bunkhouse Mini Travel Trailer by Forest River Cherokee RV
Lance
With slide-out dinette, great refrigerator, tank-less water heater, well-known quality built to last. The best thing for couples is that it has a private front bedroom with a walk-around queen-size bed, not only that but also has wardrobes on each side of the rear bathroom (extendable) that offers a secluded dress room.
Video Overview: 2018 Lance 2375 | Travel Trailer – RV Review: Camping World
Forest River
Not just one available floorplan, there is plenty to choose from. You can have a large couch, or if you rather have a large kitchen, this might just make you want to stay traveling for a while longer. Better fuel economy since it is about 30% lighter than most.
Video Overview: 2016 Forest River FR3 32DS
Montana
Equipped with full-size residential appliances, making a meal to enjoy together will be an amazing experience.
The dinette is perfect for a view since it has a large window. With a well-equipped entertainment room, you can have a movie night in. This is perfect for a couple´s retreat.
It also has a washer/dryer combo that will make your life easier. With a large master bath and a queen-size bed, this trailer has pretty much everything you can ask for.
Video Overview: 2018 Keystone Montana 3811MS | Fifth Wheel – RV Review:
2021 Grand Design Imagine 2250RK
Among the basic features available in this model include;
Water tanks.
6 feet and 9 inches interior height.
11 feet exterior height.
Metallic slam-latch for the front cargo doors.
Aluminum cage.
Fiberglass cap.
One of the most appreciated travel trailers most couples love and are ahead of its competition is the 2250RK.
Video Overview: 2021 Grand Design Imagine 2250RK Travel Trailer
Forest River Flagstaff E-Pro E19FBS
Some of the basic features the Forest River Flagstaff travel trailer has included;
Exterior height of nine feet and nine inches.
Three water tanks.
Sleeping capacity:
Exterior Length: 20 feet.
The Forest River has impressive features and can be a good take for couples looking for travel trailers for the first time. The Forest River Flagstaff trailer has the following rooms;
A bathroom.
A kitchen.
A bed and storage.
Video Overview: 2021 Flagstaff E-Pro E19FBS & Rockwood Geo Pro G19FBS Off-Road Travel Trailer Review
Coachmen – Freedom Express 259FKDS
One of the advantages of getting the Coachmen- Freedom Express travel trailer is that it is easy to haul since it is a lightweight short trailer. The trailer has excellent storage where you can keep some of your travel essentials. Other rooms present include a bathroom, a bedroom, an indoor kitchen, and a room to stretch.
Video Overview: 2021 Coachmen Freedom Express 259FKDS
The top 2 rated brands for senior couples are:
Hummingbird by Jayco
Simply uncomplicated. Easy to tow. With a rear kitchen with two cooktops to make dinner faster, with a large dinette that has a removable table to create sofa space or even a couch for the visiting grandkids. It has a wet bath with an integrated sink and shower. It has a plush queen-size bed.
Modern conveniences such as microwave, and a 3 cubic feet refrigerator. You can even get to choose from three decor colors. Also, it has a two-year guarantee.
Video Overview: 2017 Jayco Hummingbird 17RK – Valley RV Supercenter
Rockwood
Compact yet spacious, light and easy to tow. With a large assist grab handle by the door to help you out those three steps. Equipped with furnace and AC to achieve the best temperature inside no matter where you´re at, full bath in the rear, full kitchen, large dinette, a spacious sofa that can convert into a master bedroom with the fold-out bed. This one has an incredibly low price.
Video Overview: New 2019 ROCKWOOD Signature 8324BS Front Living Outside Kitchen RV Camper Colorado Dealer
The Bottom Line:
The best travel trailer is the one that has a floor plan that you like with the features you desire. Don't get a bigger trailer than you can safely pull or that you will need. The best part of a travel trailer is that it costs less than a motorhome because you aren't paying for the engine, and it often keeps its value longer than a motorhome would.
Another advantage is that you can always separate your vehicle from your travel trailer and use it to go sightseeing, unlike a motorhome. You may have some lack of maneuverability with backing up versus a motorhome but you should get used to it if you have any experience driving a smaller trailer.
Related Post: 45 RV Accessory Must-Haves for Your Travel Trailer