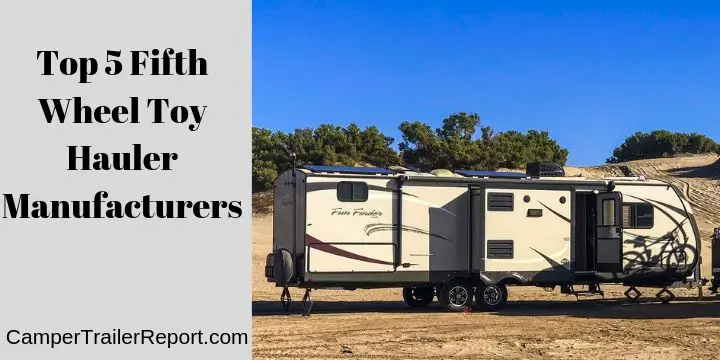 Top 5 Fifth Wheel Toy Hauler Manufacturers
Every road trip lover who loves to explore new sites and amazing places that they have not seen yet but dreams of visiting that place.
If you want to explore new places and reach there with or without your friends and family. what would you think when you travel around these sites in with your little home in the RV away far from actual home. However, There are many toy healers available in the market.
Here is the list of the best 5 Fifth Wheel Toy Hauler Manufacturers
1. Keystone RV Company
Keystone is a fifth wheel toy hauler manufacturer founded in 1996 and based in Indiana, United States. The company specializes in manufacturing innovative fifth wheel toy haulers that guarantee convenient, and comfortable camping experience.
Their fifth wheel travel trailers are built for long hauls and come with the best warranty. Keystone RV Company not only focuses on building great products, but they also offer great customer service too.
They have over 180 highly-skilled customer care personnel that knows your RV model in and out and can help out with any issues quickly. Their RV models are loaded with the newest technology, such as LED lighting systems, Wi-Fi, converters, inverters and so on.
With Keystone RV Company, you can be sure that you're getting a fifth wheel toy hauler that meets all your modern day camping needs.
> You may also like:Worst 5th Wheel Brands to Avoid <<
2. Jayco Camper
Jayco is an American fifth wheel toy hauler manufacturer founded in 1968 and based in Middlebury, Indiana.
Besides fifth wheel toy hauler, they manufacture pop up camping trailers, motorhomes, and conventional travel trailers. Jayco fifth wheel toy haulers are made of high-quality materials, such as a wood wall, plywood, and floor and ceiling stringers insulated with fiberglass.
The awesome part about Jayco Camper is that they are green certified, which means they are known for building RVs using green materials and manufacturing processes. The company has won multiple awards for manufacturing the best and technology-oriented RVs.
They sell their products to other countries including Canada, the U.K., and Europe.
3. Heartland Recreational Vehicles
Heartland is an RV manufacturing company founded in 2003 and based in Elkhart, Indiana, United States.
They have been successful selling many 5th wheel RVs because they listen to what customers want and need in their recreational vehicles.
Plus, their RVs are made of the best materials and loaded with innovative features.
Their 5th Wheel RVs are easier to tow and offer five-star accommodation that will make your camping experience one of a kind.
Combine all those will great customer service, and it's no wonder many people are streaming to Heartland to order their recreational vehicles these days.
4. Forest River RV
Forest River is one of the best fifth wheel toy hauler manufacturers out there. It was founded in 1996 and it's based in Wakarusa, Indiana.
Their mission is to provide top-quality and dependable recreational vehicles to customers. Besides fifth wheel toy haulers, the company manufacturers Class A and C motorhomes, camping trailers, travel trailers and destination trailers.
Openness across their range of products and prompt fulfillment of orders are what sets them apart from competitors. They also manufacture top-quality, and dependable RVs that give customers peace of mind when camping many miles away from home.
5. Coachmen
Coachmen have been in the RV manufacturing game since 1964. It's headquartered in Middlebury, Indiana.
Besides fifth wheel toy haulers, the company manufacturers motorhomes, travel trailers, and camping trailers.
The company's focus is on manufacturing top-notch recreational vehicles that provide customers with the long term value, including great service and support.
What sets their products apart from those of competitors is that they design them with customer-friendly features and utmost reliability and safety.
With Coachmen, you can be sure that you're getting a high-quality and reliable fifth wheel toy hauler.
5 best fifth wheel toy hauler for full timing
1. Forester River (Thunderbolt-XLR):
It is well equipped, well featured and beautifully designed Hauler that offers spacious bed, good space for storage, appliances made up of stainless steel. It is a very useful and versatile RV that becomes very popular due to exciting features offers by it.
Unique features:
It comes with 3 floorplans to fulfill your requirements.
They also offer fuel station(mobile) that will keep you active for a long period.
It contains a huge LED T.V that makes you relax and entertain you.
It also contains the regular type of kitchen equipment that helps you to cook your favorite food like your real home.
2. Road Warrior(Heartland)
It is one of the best and very popular haulers includes the full arrangement of your entertainment like 2 TVs and speaker system.
Unique features:
It has 2 entrances that provide you with extra privacy.
It contains 2 TV
Includes stainless steel kitchen
It offers shower
Available in four-floor plan
Advantages:
It provides extra space
Stainless steel kitchen
3. Cyclone (Heartland )
heartland cyclone is one of the most popular and versatile haulers because it offers much staff in double door entry, storage room, good lighting, and very stylish and elegant interior.
Unique features:
It has 35000 BTU to maintain room temperature controlled even during winter.
The 5-floor plan is available
It contains large awning
It offers queen or king sized bed
The convertible deck is also available.
4. Fuzion(Keystone ):
It offers multiples floors and many slides and floorplan that is open and like any other RV in our list, this hauler also contains appliances made up of stainless steel.
Unique features:
It is available in 14 floorplans
It offers regular cabinet and furniture with heated seating that is suitable for the winter season.
It had a huge LED Tv
It offers many sky windows
Advantages:
It offers power awning and system for leveling of hauling.
5. Raptor (Keystone):
It contains many areas for sleeping and very stylish interior. Other popular model offers by rapture are 345RS,362 TS, etc.
Unique features:
It offers 350000 BTU furnace
12 floorplans are available
Stylish cabinets'
Cozy and comfortable seating
Very stylish carpeted bedroom.
Bottom line:
If you want to buy the best fifth wheel toy hauler for full timing then there are many good options are available for you to .all you have to do is to choose a Fifth Wheel Toy Hauler that can fulfill your needs. It offers you enough space that is very necessary for camping. If you want to go for a vacation with your family and friends then try a Fifth Wheel Toy Hauler, you won't be disappointed.
> You may also like:45 RV Accessory Must-Haves for Your Travel Trailer<<