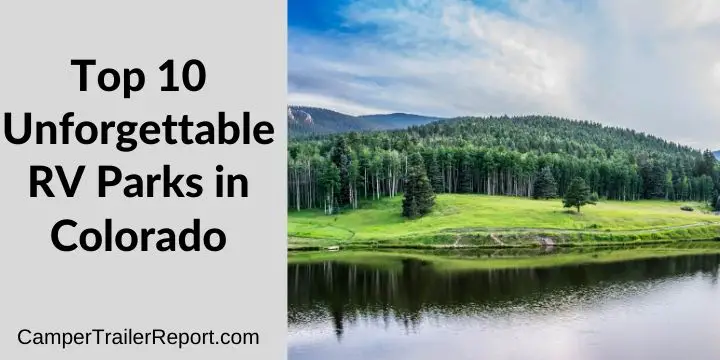 Top 10 Unforgettable RV Parks in Colorado
Are you planning a road trip? One thing you should consider is where to go and where to stay. Welcome to Colorado, a beautiful state for RV camping. Here, you're sure to enjoy some peace and the parks seem to be quiet and less crowded.
Deep canyons, lofty mountains, beautiful sunrises, and remote hideaways, make Colorado the best campsite for RV enthusiasts. Visiting ancient American sites, trout fishing, and hiking keeps the visitors occupied. If you're up for a dream this summer, get to know this state and get fresh evening air. Here are the top 10 unforgettable RV Parks in Colorado.
Lake Pueblo State RV Park
This region is what you need to see and visit in your lifetime. Located 60 miles along the shoreline, this state park is a scenic ground for recreation. Whether you're hiking or into jet skiing, Lake Pueblo makes your day brighter.
The balanced breeze along this lake is suitable for windsurfing and sailing. As an angler, you'll get plenty of trout, walleye, crappie, and bass to reel in.
You can walk through the park with a mountain bike as you adore juniper trees, an array of wildlife, and juniper trees. The RV Park is located at Southern and offers amenities such as laundry dump station and flush restrooms.
Video Overview: Lake Pueblo State Park Campground
> You may also like:45 RV Accessory Must-Haves for Your Travel Trailer<<
Colorado Springs
No shortages of decorative and attractions in Colorado. Now that the winter is around the corner, Colorado Springs should be your favored destination.
Located near the Rocky Mountains, but on the eastern side, this pretty spot is among the fantastic camping RV in Colorado. Though, the leading attraction site is Pike's Peak.
If you want to have unforgettable hikes, this snow-drenched mountain (14,000) is incredibly the greatest.
Video Overview: S1:E5 – Travel America – Colorado Springs
Yogi Bear Jellystone Spot Park
Of course, it's Yogi Bear. The park is regarded as a family-friendly RV park named after everyone's best-loved anthropomorphic bear.
Neighboring Estes Park, this campground is full of innovative features like mini-golf, a heated pool, full hookups, and a game room.
Yes, the convincing thing is the scenery. The gorgeous green filed and cliffs make your journey wonderful. A short ride to Estes Park promises challenging rock climbs, as well.
Video Overview: A Visit To Yogi Bear Jellystone Park
Red Mountain RV Park
I fancy visiting this RV campground in Colorado. The park is strategically located near the Kremmling area and features unusual outdoor activities.
Therefore, it is the outdoorsman's dream for everyone. Offering boat and RV storage, horseshoe pits, a playground, and beautiful views, Red Mountain is beautiful scenery to visit.
The area gives numerous ways of entertainment, including internet access, laundry facility, and clean showers.
Video Overview: Pine Mountain RV Park Tour – Best RV Campground in Pigeon Forge TN – RV Living Full Time!
> You may also like:Worst 5th Wheel Brands to Avoid <<
The Views RV Campground & Par
Just located in southwest Colorado, The Views Park is home to 40 acres of green forest. Everything looks lively when you enter this park.
The amenities are the first thing to notice once you step into the area. Laundry facilities, freshly remodeled bathrooms with showers, free Wi-Fi, yet rustic campground.
You'll watch the sunset and rise. Also, you'll have a chance to visit many historical sites, museums and local wineries. Visit this gorgeous place with spacious sites.
Video Overview: The Views RV Park & Campground in Dolores, Colorado ?⛺ Full Time RV Living & Camping ? Mesa Verde
Ridgway State Park
Experience the rugged wilderness and escape the crowds in Ridgway State Park. Here, you'll view stunning jutting peaks, sparkling, blue waters, and lush forests.
Spend more time with your family at Ridgway Park, which is five miles long. It is a popular area known for waterskiing, boating, and wakeboarding.
Additionally, the park features sandy beaches, volleyball courts, and picnicking sites. After a tiresome calendar, I recommend you to spend your summer here.
Video Overview: Ridgway State Park Review – Colorado – by RV Adventures
Pagosa Springs Park
Pagosa Springs has fine things for you. Fishing in Juan San River, hiking around the Juan San Mountains and skiing at Wolf Creek are among the popular entertaining things to find here.
Also, the park is home for natural hot springs, waterfalls, and national forests. Enjoy the unforgettable hiking, rafting locales, and biking around this park.
Video Overview: Pagosa Pines RV Park | Pagosa Springs CO
> You may also like: 25 Best National Parks in the USA  <<
Rocky Mountain RV Park
This is home to 400 miles of impressive and inspiring scenery. The Rocky Mountains have endless thick forests and free-flowing rivers. Still, you can breathe crisp mountain air that is pollution-free.
The campground has proven to be a super RV friendly since creation. Just next to Grand Lake-town, this campsite ensures real involvement. It's a superb campground to stay.
Video Overview: Moraine Park Campground Rocky Mountain National Park 360 Video Virtual Tour
Mesa Verde RV Park & Resort
People consider Mesa Verde as the most luxurious and cleanest RV park in Southwest Colorado. This makes it earn shining reviews amongst RV fanatics.
When meandering around the park, you'll come across heated pools and beautiful aquatic views. Needless to say, the showers and bathrooms are always kept clean. In general, all modern amenities are present.
Video Overview: Mesa Verde RV Resort – Cortez, CO
Shady Grove Park & Campground
The park located near Seibert town, Colorado. Whether its winter or summer, this campground is often open year-round. The area is quiet, peaceful, and clean to spend your holiday.
After hours of driving, this park is a great stopover. The site offers the best accommodation and privacy services, hence a perfect place for relaxing. Plan big and visit local heritage at Shady Grove Park.
Video Overview: Shady Grove Campground at Lake Lanier
> You may also like:  Why America's Most Popular National Parks Need to Be on Your Bucket List <<