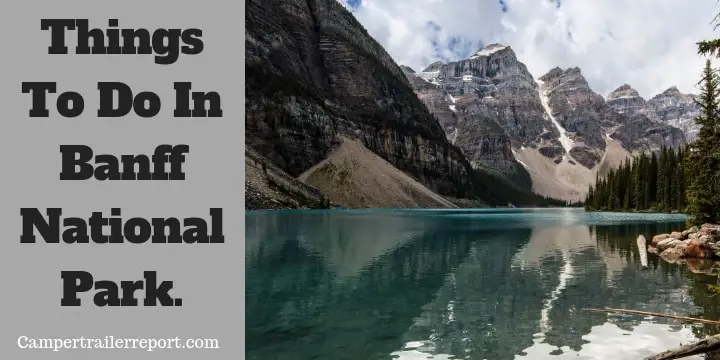 Things To Do In Banff National Park.
Banff National Park is one of the most favorite tourist destinations in North America. There are a lot of amazing sites to see and activities to do for everybody in Banff National Park.
In fact, a week vacation to Banff National Park may not be enough to explore all that it has to offer.
If you are planning a vacation to Banff National park and don't know what to do while here, this article is for you. In this article, we are going to look at some things to do in Banff National Park.
Things To Do In Banff National Park.
1. Walking Along The Bow River.
A trip to Banff to can't be considered complete without taking a walk along the Bow River. This walk will never disappoint you since you will encounter various wildlife roaming naturally. There are also fascinating views of the Bow Valley and the neighboring mountains.
> You may also like: 12 Best Waterfront RV Campgrounds: You Need to See. <<
2. WATCH NORTHERN LIGHTS.
When you visit Banff National Park you will have a good chance to see Northern lights during the night sky a few times amid winter.
3. BIKING & HIKING ALONG LAKE MINNEWANKA.
The only time you can bike along Lake Minnewanka is amid spring and fall. The trails for biking are closed amid summer to avoid bear encounters. You can leave you biking at the Aylmer Pass Junction and enjoy hiking up to Aymer lookout to have a fascinating view of Minenewanka Lake and the surrounding mountains. One can hike or stay in the campground amid summer.
Video Overview: TOP 15 THINGS TO DO IN BANFF
4. WATCH WILDLIFE.
When you visit Banff National Park, you will have a great chance to watch various wildlife here. Wildlife found in this park includes mountain goats, wolves, elk, moose sheep, and bears. Make sure you keep a safe distance while watching them, don't go close to them to avoid being injured. You are also not allowed to feed them.
5. VISIT THE BLUE PEYTO LAKE.
This one of the most amazing lakes in the world that most individuals don't believe it exists. When most individuals see the photos of this lake, they think that the pictures have been edited in a photoshop. They don't think that the color of this lake is real. However, you will have a chance to witness the color of this lake once you visit Banff National Park.
6. DRIVE ICEFIELDS PARKWAY.
If you have a car, this is something you can't afford to miss. It is known to be one of the most fascinating roads in the world. You will encounter numerous wonders along the ice field Parkway.
7. ICE WALKING IN JOHNSTON CANYON.
When you visit Baniff National Prak, you will have a chance to enjoy walking on the frozen river in Jonhston Canyon. All the waterfalls become frozen with scrambling water flowing underneath. You will see the ice climbers climbing up the waterfalls. Do not forget to bring spikes or crampons to avoid hurting yourself.
The above are some of the things you can enjoy doing while on a vacation to Banff National Park. This will give you much fun and you will leave wanting to come back again.
You may also like:45 RV Accessory Must-Haves for Your Travel Trailer<<
Related Questions:
1. What is the best time to visit Banff National Park?
To make the most out of your Banff National Park experience, you should definitely visit during the months of June to August and December to March when the weather is perfect for most kinds of activities such as sightseeing, hiking and swimming at the lakes. However, for those who are looking for some adventure in the snow, come visit in the winter from January to March. Among the popular wintertime activities here are skiing and snowboarding.
2. How much is Banff National Park pass?
All parks managed by Parks Canada, which includes Banff National Park, places everyone aged 17 and below to be free of an admission fee. For adults (18 to 64 years old) and seniors (65 years or over), they charge a daily entrance fee of $9.80 and $8.30 respectively. For families or groups of up to 7 people arriving in a single vehicle, they charge a discounted fee of $19.60. Commercial groups are charged $8.30 per person.
There are also separate fees for camping in the park's various camping grounds. Fees range from
$10 to $38. They also offer an annual fishing permit for $34.30 or $9.80 daily.
3. What airport do you fly into to go to Banff?
The nearest major city to Banff is Calgary. You can fly in at Calgary International Airport (YCC). Many major airlines service this airport and you should have no problem flying in. It's about 120 km from Banff city center and it takes approximately 1.5 hours to get there from the airport.
4. Can you go swimming in Lake Louise?
Yes! Aside from admiring this stunningly breath-taking lake from afar, you can also enjoy swimming with such a captivating view all around you. However, the Banff Park lakes, including Lake Louise, are usually fed with glaciers most of the year. If you really want to swim, make sure you visit in summer during the months of July to September. Try to go on a hot day though, as it can sometimes still be freezing even on those months.
Herbert Lake is a more viable swimming spot as an alternative to Lake Louise. It gives a beach kind of vibe and is only 10 minutes away. This is frequented by a lot of locals and tourists alike for its great views and warmer waters.
5. How many days do you need in Banff and Lake Louise?
You will need a minimum of 2 days to fully enjoy both of these awesome tourist spots. The more days you can stay, the better for you. Longer vacation time will allow you to really bask in the beauty of nature and appreciate how glorious these nearly heavenly places are.
Many tourists allot at least 3 to 5 days for the entire trip and even then a lot of them still come back as they didn't think the first trip was enough to really immerse themselves in all the awesomeness to experience and behold.
6. What is the best time of the year to visit Lake Louise
It is highly recommended that you visit Lake Louise in summer during the months of July to September. Try to aim for the hottest month which is July where the weather is most perfect for outdoor activities. The temperature at this time is usually around 22C or 72F. To enjoy the view in a more peaceful and dramatic way, frequenters advise on arriving at the lake early in the morning around 7 AM.