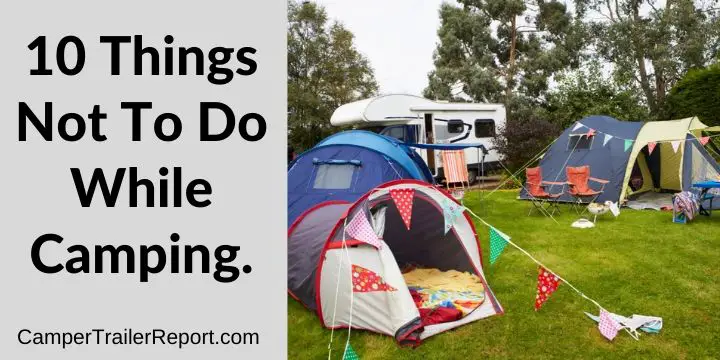 10 Things Not To Do While Camping.
Camping is an outdoor activity that involves one staying overnight outside in a tent or /recreational vehicle. Camping with friends or family helps in building and strengthening your relationship with them. Also, camping can improve your health, brain, mood, and reduces stress levels. Camping is a fun activity, but there are some of the things you should not do when you go camping:
1. You should not forget camping essential
Before going on a camp trip, make sure you have the essentials for a successful trip. It's easy to have a checklist while you plan for your camp so that you will have a guide to make sure you don't forget anything important. These items may include the following:
Tent
Sleeping bags
Headlamps or flashlight
Kitchenware
Nonperishable food and bottled water
First aid kit
Firestarter
Maps or GPRS
2. Arriving in the dark
You should try your best to get to the camping site before its dark. Get at the camping site early enough so that you can get familiar with the environment and rules. You should be able to set up a tent during daylight, which is more manageable. It can be dangerous because you can't see the sticks, holes, or even ants, which might cause some harm to you. As much as you have headlights and flashlights, it's safer when you get early and clear where you will be setting up your camping tent.
> You may also like:45 RV Accessory Must-Haves for Your Travel Trailer<<
3. Not testing new equipment on camp
Not testing new equipment can be very challenging since you need a guide or manual. While you go camping, you should check everything and learn how to use it so that you will have no issues. It can take a lot of time when you reach the camping site and realize that there is something you had carried, yet you don't know how to use it or isn't working as you expected.
4. Do not leave fire unattended
While camping, you should never leave the fire that you started unattended since it may cause more fire. It may spread and lead to an outbreak. This may lead to destruction not only to your camping site but also to its environs. Also, you may get heavily fined for the damage, which is an expense you don't want to incur. Camping sites have some serious rules to be followed, and if not adhered to by you, you may end up in deep trouble.
Video Overview:10 Things Not To Do While CAMPING
5. Do not litter around
When camping, you should leave the place as clean as you found it. You should not litter around, but instead, make sure you throw your trash at the designated dustbin. It's good to care for the environment and thus be kind and responsible enough and adhere to keeping the environment as clean as possible.
6. Don't forget warm clothes
Always get warm clothes when going camping. Most nights are colder than the day. Warm clothes will help you keep warm during the night while you are setting up your bonfire or chanting with your friends out of the tent. However, this is not to say you overdo it. You still do not want to carry heavy bags while camping. Pack just enough for the days you will be on your camping trip.
> You may also like:Worst 5th Wheel Brands to Avoid <<
7. Leave food outside
While you are camping, you certainly will have to make or carry some food. It's quite crucial if you do not leave your food outside, for its not safe. It may get contaminated, whether it's at night or during the day, while you engage in some activities. Also, if the camp has monkeys around, they will undoubtedly bug as they still the food.
8. Forgetting your fast aid kit
As you camp, injuries are bound to happen. You may fall, get pricked, poisoned, or slip as you play around, and thus your first aid kit is unnecessary. First aid kits should be among the first things you should pack, and on arrival, make sure you place it at a place that is easily accessible by your squad.
9. Get close to wildlife
If you are fortunate enough to camp in a place where there are wild animals, you need to keep your distance. It may seem exciting as you get to see them walk around, but you need to remember that they are not tamed. They may get provoked and cause some serious harm, which you certainly want to avoid since you can.
10. Not carry enough TP
While you are at camp, you never know when you will run out of TP. Since you may be camping deep in the woods, you will have quite a hustle getting to replenish your TP, and therefore you will need to carry enough. Also, since you may end up hiking or visit some exiting spots of camp, you will need to have extra TP since going back to your tent may be stressful.
> You may also like: Least-Visited National Parks: Why They're Worth a Look<<