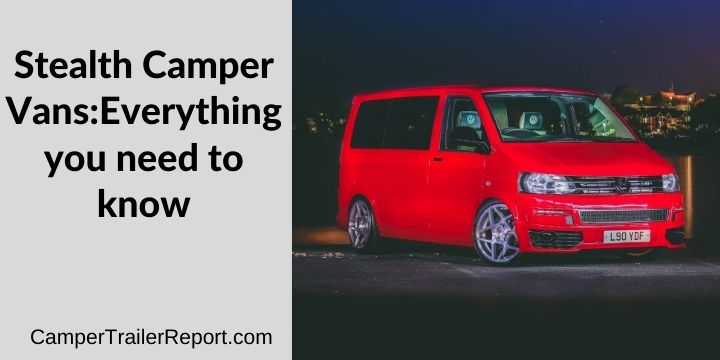 Stealth Camper Vans: Everything you need to know
Introduction
A stealth camper is a regular looking van that has been transformed into living premises. These vans are different from regular camper vans in that one can be able to sleep in them without drawing attention. This is because they do not look like mappers from outside.
They can also be homemade. This makes them a great concept for "do it yourself" admirers. Stealth camper vans allow the owners to camp in almost every place without having to pay rent.
Choosing the Best Stealth Sleeping Van
The best stealth sleeping van is one that easily blends in with the surrounding. It should not draw attention. It shouldn't be obvious that it's a vehicle meant for sleeping in.
The best base for a stealth camper van is either a standard white cargo van or minivan. They are uninteresting to unknowing eyes. Bright colors and large signage are highly discouraged as they are memorable. Stealth means being as forgettable as possible.
Conversion vans, box trucks, and construction vehicles are a good choice to go with. They are most suitably parked in industrial areas or cities. They are most likely to attract attention in residential neighborhoods.
Keeping them clean would help in drawing less attention. A clean white paint finish and a clean interior make interactions with the public more friendly. This also would less likely suggest that you are homeless.
> You may also like:45 RV Accessory Must-Haves for Your Travel Trailer<<
Why Stealth Camping is Illegal
Camping within most city limits is illegal. Most cities have made it illegal to sleep overnight in your vehicle. They thus have laws against this which the police may use to cite you with a ticket or ask you to leave.
Larger cities enforce these laws more often as compared to smaller cities. Large cities are prone to high crime rates and thus have problems with homeless people.
Most cities do not allow street parking between late hours of 2:00 AM to 5:00 AM. Arriving late and leaving early draws less attention. This is because fewer people would be awake to see you arriving and leaving.
Video Overview: The Best SELF-BUILD VAN CONVERSION // SOLO FEMALE Builds STEALTH CAMPER in 6 MONTHS
The Least Expensive Camper Vans
There are several relatively affordable camper vans for stealth campers;
The Boho Camper Conversion
Boho Camper Van's setups are simple. They look entirely custom because once you pay, they select a camper van for you. The interiors are wood-lined making them look more of custom made. The conversions go $29,000 exclusive of the van.
Caravan Outfitter Free Bird Camper
They are the smallest, most affordable camper vans. They have a starting price of $38,100 for both van and conversion. Unlike other camper vans, they need smaller parking spots.
Their most interesting feature is the slide-and-glide system. It allows for quick removal or installation. It also has a slide-out kitchen box with portable stoves.
An Off-Grid adventure van is built off of a Ram ProMaster van. They have three layouts one can choose from; Summit ($35,000), Rambler ($33,000), or Vagabond ($38,000). These prices are exclusive of the underlying ProMaster which costs about $36,000.
One can choose to add a composting toilet, solar panel, and a hot water system.
Conversions go for as low as $8,500 with the prices either lowering or rising depending on design changes. Oasis camper vans are converted from the all-wheel-drive Toyota Sienna minivan.
They have a unique foldable chair that transforms into part of the bed which can hold two people comfortably. It has a small kitchen equipped with a sink, running water, large countertops, and shelves that are accessed from the rear.
> You may also like:Worst 5th Wheel Brands to Avoid <<
Stealth Camping in the USA
Stealth camping in the US is legal in most states as long as you do it on unimproved and non-posted land. One should also leave no traces and must be sure to leave premises when asked.
Verification of stealth camping laws by the camper is important as different cities, townships and counties have different camping laws and codes.
Video Overview: VAN LIFE | Traveling Stealth Camper Van
Stealth Camping in Canada
By law, Stealth camping in Canada should take place out of sight, on undeveloped land, and away from roads or pathways. Stealth camping on landscaped or fenced land is illegal.
Canada is pretty much made up of crown land. Crown land is defined as land that is not owned by anyone.
Stealth camping on one location is allowed free of charge on Crown land for up to 21 days. This, however, does not apply to non-residents of Canada. Non-residents would require a permit.
Conclusion
If you want to stealth camp in cities or industrial areas it is advisable to switch in between different spots every day. You can have five to seven different spots within the same city that you move in between. Using the same spot for two consecutive days attracts unwanted attention.
If evicted from a spot it is advisable never to go back there again.
It is also important to finish your activities earlier so that you only go to a spot to sleep. Cooking and eating in the early hours of the evening is recommended. This ensures the van is aired out afterward thus having less condensation and movement.
Having tinted windows or no windows at all is also important in disguising your sleeping area and allow you more privacy.
> You may also like: Least-Visited National Parks: Why They're Worth a Look<<