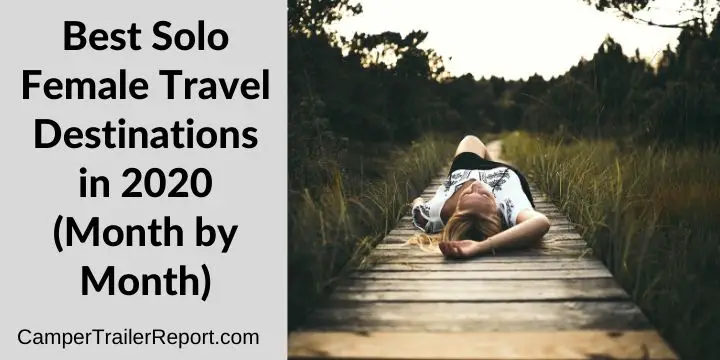 Best Solo Female Travel Destinations in 2020 (Month by Month)
Safety is the first factor to consider when looking for the best destinations for solo female travelers. Although some tourist destinations get hyped as being the places to visit before you die, some of them can be a nightmare to solo female travelers. Here is the list of the best destinations for solo female travelers:
October to May
BALI, Indonesia
Bali lies in the tropics, so it is hot most of the year. Perhaps the best time to visit this world-renown tourist attraction is in December when the northern hemisphere is all cold and snowy.
It is estimated that Americans visit Bali three times more than anyone else in the world. But that's not what Bali is only known for; it is a recommendable destination for anyone looking forward to a budget vacation.
What makes Bali especially good for solo female vacation is the friendliness of the Bali people. That, and the fact that there is something for everyone: sandy beaches, lush tropical jungle, seafood, waterfall hikes, backpacking adventures, and so on.
If you get here as a solo female tourist, you're sure of leaving fully thrilled, plus one or two Bali friends.
Things to see
Sacred monkey forest
Ubud hot springs
Nusa Penida island tours
Lemuyang Temple (the "gate to heaven")
Video Overview: Bali, Indonesia in 4K (Ultra HD)
Video Overview: TOP 10 BALI (TRAVELLERS PARADISE)
> You may also like:45 RV Accessory Must-Haves for Your Travel Trailer<<
May
MONTREAL, Canada
Montreal is one of the safest and most generous tourist destinations in North America. This breathtaking Canadian city is also popular among solo travelers because of its safety and past record in upholding women's rights.
But that alone may not be the only reason why you would pack your bags and fly there; come and experience Montreal's rich culture and unique history. Worth mentioning is the 17th-century French restaurants that are a favorite for thrill-seekers who throng this marvelous city.
There is also something for everyone in Montreal: awesome hikes, rugged mountains, forests…mention them!
Video Overview: This is Canada – Montreal
June
New Zealand
If you've watched the Last Samurai movie then you are probably familiar with the scenery of New Zealand. The country has featured frequently on the list of world's most scenic and beautiful places to visit: Maori culture, cruising through fjords, rolling hills, skydiving, stargazing…the list continues!
Things to see
Mount Cook
Kayak around the Cathedral Cove
Milford sound
Hobbiton
Video Overview: AWAKENING | NEW ZEALAND 4K ULTRA HD
> You may also like:Worst 5th Wheel Brands to Avoid <<
July
KYOTO, Japan
Japanese people are known to be respectful to solo female travelers, and everyone else, thanks to Japan's progressive culture that doesn't view solo female travelers quite negatively like that of the middle east.
Things to see
Bamboo Grove
Fushimi Inari Taisha ( a beautiful Shinto shrine with a red gate dating back to 700 AD)
Imperial Palaces
Video Overview: Top 10 Things to DO in KYOTO Japan | WATCH BEFORE YOU GO
August
The Philippines
The Philippines consists of over 7000 islands mainly inhabited by super friendly people and good food. The beautiful waters of the Palawan peninsula are stunning. While solo in the Philippines, take some time from your hiking schedule and taste a morsel of Balut, a Philippino delicacy that will remind you how dramatic the Philippines can be.
Things to see
Kayangan Lake
The city of Manila
Batad Rice Terraces
Orion Beach
Malcapuya Islands
Video Overview: 101 Facts About The Philippines
Video Overview: Top 10 Reasons to Visit the Philippines | MojoTravels
September
REYKJAVIK, Iceland
As you would expect from any Nordic country, Iceland is one of the friendliest places to visit for solo female travelers. The country is breathtaking: dramatic landscape, lava fields, volcanoes, geysers, and hot springs marvel the Icelandic landscape. It's the best destination to wrap your summer.
Things to see
The Blue Lagoon
Active volcanoes
The Northern Lights
Skogafoss waterfall
Glacier trek
Video Overview: A TOUR OF REYKJAVIK: Iceland's Cool Capital
> You may also like: 25 Best National Parks in the USA  <<