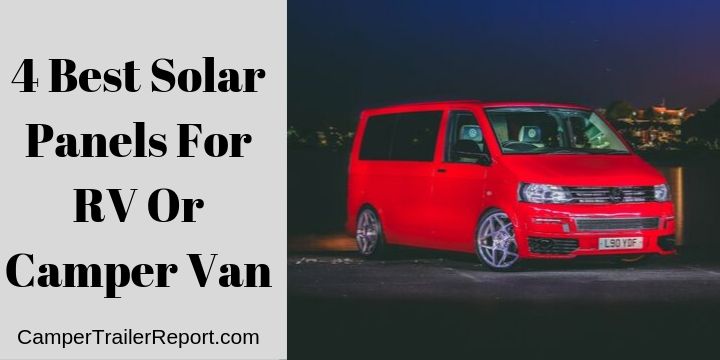 4 Best Solar Panels For RV Or Camper Van
A solar panel that can be easily deployed on a VR and power your devices while you're camping is among the best investments you'll ever make.
Such panels give you all the freedom to utilize the free energy from the sun and use it to power your devices and lighting. Solar panels won't necessarily replace your RV's battery –they will just serve as additional options to power the on-board devices.
1. Renogy 12 Volts 100 Watts Monocrystalline Solar Panel
This solar panel can pass as the usual non-foldable solar panel that anyone can buy to install on the roof to power some devices in a house. What makes it ideal for camping is its 100W wattage and the non-crystalline make.
It can be wired together with other panels to maximize the power output. It is particularly good for charging 12V batteries although it can adequately support 24V batteries as well.
Reasons why it's great for your RV
It is compatible with most ground mounting apparatus
When multiple panels of this model are linked, they can charge 24V or 48V batteries in a shorter time
It is resistant to most weather insults, thanks to its aluminum frame
It is convenient for most grid-tied applications
It dispenses 100W of power which is a lot for a panel of its size
Setbacks:
It is expensive.
> You may also like:45 RV Accessory Must-Haves for Your Travel Trailer<<
2. WindyNation 100W Solar Panel
View on Amazon
One of the most impressive solar panels from WindyNation that is great for camping. It comes as one kit consisting of mounting buckets, solar cable, charge controller, connectors, and solar panels.
It is an ideal option for beginner campers trying to deploy a solar kit on their first rig.
Reasons why it is great for your RV
A clear LCD screen that displays such data as voltage and amperes
Versatile kit
External temperature sensors that automatically adjust overcharge
Tough weather-resistant material
100W wattage
4 pieces adequately charge a 12V battery in a few hours. For a 24V battery, you would need 8 pieces
Setback:
Low watt-hours of charging.
> You may also like:Worst 5th Wheel Brands to Avoid <<
3. Renogy 100W Solar Starter Kit
View on Amazon
This kit comes with a set of components you need to set up and have a thrill in the wild. The kit includes such accessories as mounting buckets, tray table, and a 30A PWM Ground Negative Charge Controller.
It is one of the solar panels that have been rated highly on authority sites by camping enthusiasts.
Reasons why it's great for your RV
It is flexible and open to a variety of applications
High conversion efficiency module
Resistant to harsh weather
Supplies consistent 100W charge that charges 12V batteries in a short time
It is easier to install
Setbacks:
This solar kit is heavy and bulky
4. HQST 100W 12V Polycrystalline Solar Panel
View on Amazon
This is can be the best choice if you are looking for a 12V battery charger that's durable enough to serve you for many years – it lasts longer than most of its peers on the market.
It is highly versatile as well; it can be conveniently used as a ground-mounted panel or off-grid rooftop solar panel.
Reasons why it is great for your RV
The junction box is waterproof while the rest of the panel is made of weather-resistant material that will defy snow and searing sun. The aluminum frame is resistant to corrosion
Its HQST polycrystalline solar cells are efficient
It's a plug-and-install solar panel hence easy to use
Its versatility makes it convenient to use anywhere
Setbacks:
It is bulky and heavy.
> You may also like: 25 Best National Parks in the USA  <<