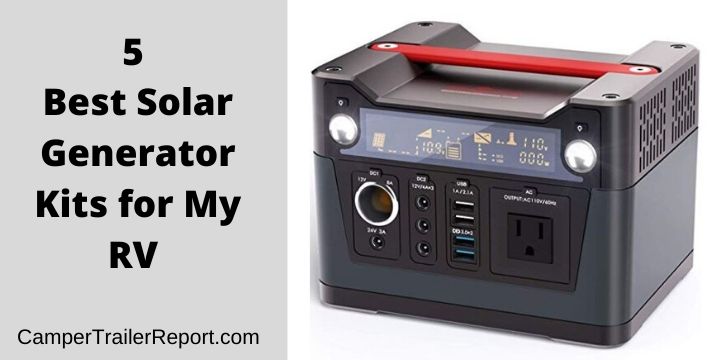 5 Best Solar Generator Kits for My RV in 2020?
Camping trips are among the most fascinating experiences one can have with family, friends, or acquaintances. While pitching a tent in the woods sounds exciting, things can go bad pretty quickly if you're not well prepared.
One of the best ways to ensure that your camp trip is long and fun is investing in the best solar generator kit. Of course, most thrilling camp pedestals have no power. The most effective alternative is to utilize the renewable energy from the sun. Below is a guide to 5 Best Solar Generator kits for your RV in 2020.
1. ROCKPALS 300W Portable Generator
View on Amazon
The 300W generator is a great and reliable power station for emergency and outdoor use. The generator is lightweight – making it convenient for you to carry it around for camping. When you invest in the ROCKPALS Generator for your RV, be sure to enjoy charging it at ease whenever you get access to a wall power outlet.
You'll also love the LCD that shows how much power is left as well as when it is time to charge. Since the generator can hold up to 280Wh, you can conveniently power your tablets, phones, lights, and fans.
Pros
The generator offers three charging options. You can conveniently charge it using a wall outlet, solar panels, or carport.
ROCKPALS comes with an LCD for battery status
The generator is extremely lightweight
Comes with an impressive capacity of 280Wh
Except for the solar panel that you will need to purchase separately, the generator comes with a complete set of accessories to plug-and-go.
Cons
Most users find the power level that is displayed as a bar instead of a percentage as inconvenient.
> You may also like:45 RV Accessory Must-Haves for Your Travel Trailer<<
2. Jackery 500 Portable Power Station Solar Generator
View on Amazon
If you own an RV, investing in a reliable power source is paramount. The Jackery 500 Generator is a great alternative to keep all your electronic devices charged. What's more, be sure to save some cash by relying too much on the grid as the sole source of power. Interestingly, the generator allows you to charge it using solar power or a regular wall power outlet. In areas with consistent sunshine, you'll only need to connect the generator to a solar panel for 14 hours for a full charge.
The generator is a versatile outdoor power supply that features a standard PURE SINE WAVE AC outlet with the ability to provide stable power to a wide range of devices relying on AC. You'll hardly miss on the enormous capacity at 528Wh that is enough to even power up the portable fridge on your RV.
Pros
The generator can store up to an impressive 518Wh
It comes with a built-in safety function to shut down when plugged devices are more than 500W
It only takes 8 hours to fully charge the generator using a wall power outlet
The generator can charge all types of electronic devices
The generator is solar panel compatible and it takes 14 hours to fully charge
Cons
The generator takes about 16 hours to charge using a car battery
The generator is also a bit heavy
3. Kyng Power Solar Generator
The Kyng Power solar generator features an impressive 288Wh. When you purchase this kit for your RV, you'll love how the generator runs very quietly. What's more, the kit comes with adequate ports to charge all types of electronic devices and appliances. In case your RV broke down at night, don't panic! The generator has a built-in lamp that helps you carry out your RV repairs in the dark.
Pros
The kit allows three charging modes: power outlet, car battery, and solar panel.
The generator comes with a built-in for emergency
The kit features a LED display
The kit is lightweight and portable
The generator serves as UPS to prevent power surges on your gadgets
Cons
The solar panel cable adapter is sold separately.
Contacting customer care is a little hectic.
> You may also like:Worst 5th Wheel Brands to Avoid <<
4. AIMTOM Portable Solar Generator
View on Amazon
If you are looking to own a lightweight, compact, and reliable generator kit for your camping trips and outdoor travels, you might want to check out the AIMTOM Portable Solar Generator kit. First, you'll notice the well-conceived design in a glance.
With all ports conveniently situated at one location, you're sure to have an easy time charging gadgets along with using home appliances. The kit can potentially power smartphones, laptops, portable refrigerators, cameras, along with other appliances.
Pros
AIMTOM Generator kit features three charging modes: AC, DC and Solar panel
The generator stores up to 42000mAh (155Wh)
All the charging ports are located at one convenient place
Lightweight and easy to carry around
The system features an effective cooling fan to prevent overheating
The generator recharges quickly and comes with flashlights
Cons
Charging the kit takes a lot of time.
5. Goal Zero Portable Generator
View on Amazon
Perhaps you're looking to maintain a steady power supply at your campsite. That's alright – invest in the Goal Zero Generator kit to keep your devices charged at all times. The kit features a simple, lightweight, and appealing design. Besides, the kit comes with 7 ports that are conveniently put in one place.
Among the most impeccable features include the ability to link the unit with other lead-acid batteries for more power. Also, you'll hardly miss the LED display that will keep you informed on the power levels.
Pros
The Kit can plug in up to 7 devices at the same time
The generator offers three charging options: AC, DC, or Solar Panel
Works quietly
The kit provides 300W to 600W surge of pure sine wave energy.
Cons
Finding matching accessories can be a dainty task
> You may also like: Least-Visited National Parks: Why They're Worth a Look<<