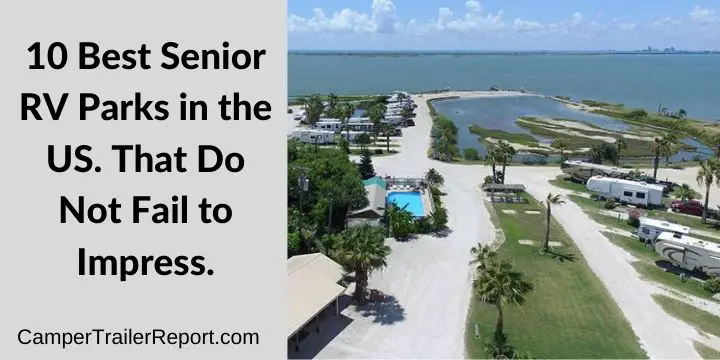 10 Best Senior RV Parks in the US. That Do Not Fail to Impress.
There are numerous RV parks for seniors across the U.S. that come accompanied by great amenities that can make one's experience even more engaging.
Nevertheless, there are ten RV parks for seniors, in particular, that have been regarded as the best of the best due to not failing to impress in any aspect. These ten RV parks have distinctive features that permit seniors to enjoy themselves to a greater extent, hence why they keep being the go-to options.
The Ten Best Senior RV Parks in the U.S. That Do Not Fail to Impress
Rivers Edge RV Park in Fairbanks, Alaska
There are several biking and walking trails to take advantage of this location. There is even a restaurant that offers finger-licking meals. There are many great nearby attractions, including the Pioneer Park, Riverboat Discovery cruise, and the Trans-Alaska Pipeline.
Video Overview: Rivers edge RV resort Fairbanks Alaska camping report
Coronado RV Park in Hot Springs, Arkansas
This RV park has many recreational and social activities to take advantage of. Golf is one of the top activities here. This location is acute in size, which makes it quite cozy. Coronado RV Park is among one of the most popular RV parks in Arkansas, and it does not seem this will be changing anytime soon.
> You may also like:45 RV Accessory Must-Haves for Your Travel Trailer<<
Mobile Village RV Park in Port Aransas, Texas
For those seniors who enjoy tranquility and Mother Nature, this is a great location to take into account. Due to being near Corpus Christi, fishing is quite popular among seniors in this area all year long. It is a very quiet RV park, which permits one to feel at ease no matter the time of day or time of night it is.
Caravan Oasis RV Park in Yuma, Arizona
There are two full-size pools, two hot tubs, mail service, gaming rooms, satellite TV integration, among many other features at this location. There is always something to do, which is why seniors who are very active enjoy their stay at this RV park.
Video Overview: RV Travel Channel – Yuma, AZ RV Parks & Resorts 
Sunny Acres RV Park in Las Cruces, New Mexico
This RV park provides spacey areas to accommodate a lot of people, as well as pets. People from across the country come here every year. It is among one of the most fun, affordable, and spacious RV parks in the U.S. that continues to amaze.
> You may also like:Worst 5th Wheel Brands to Avoid <<
Countryside Adult and Senior RV Park in Sedalia, Missouri
For those seniors who enjoy the countryside and thus enjoy Mother Nature in a meaningful way, this RV park is a great location. It is often regarded as the RV park with the most beautiful countryside views in the country.
Calizona RV Park in Needles, California
One of the most enjoyed amenities at this RV park is the Colorado River. There are numerous shops around, particularly outlets. There are several unique features that one can benefit from at this RV park, including golfing, fishing, and boating.
River Park RV Park in Valdosta, Georgia
This RV park has one of the most affordable annual rates in Georgia. There are more than a handful of fun activities to undertake at this location, and there are several medical facilities nearby.
Video Overview: River Park Campground, Valdosta, GA
Lake Forest RV Park in Wakefield, New Hampshire
This is the most breathtaking RV park in New Hampshire for those seniors who enjoy Mother Nature. There are 100-acres of woods to enjoy at Lake Forest RV Park every day out of the year.
Dakota Ridge RV Park in Golden, Colorado
At this RV park, seniors can have great views of the Denver skyline and the Rocky Mountains. It is an RV park that allows seniors to explore Denver's urban delights and Colorado's wilderness. It has a fitness center, game and book library, and even a billiard room.
There is an RV Park for Every Preference
Every one of the aforementioned RV parks for seniors is well-structured and has numerous features, hence why they continue to lure in numerous seniors every year. It is up to you to decide which one of them meets your preference.
> You may also like: Least-Visited National Parks: Why They're Worth a Look<<