RVing for Beginners: Everything You Need to Know
RVing is a great way for anyone to experience living close to nature while on the move. However, RV travel has a steep learning curve that requires good decision-making. Now, you don't have to worry about it.
With a few simple tips, you can jumpstart your RV journey and eventually do it like a pro. Keep in mind that taking the RV driver's seat will require time on effort on your part. So, it is best to have a lot of patience along the way. Here are the things you need to know to get started:
1. Consider Renting an RV
Not all recreational vehicles are created equal. Therefore, you would want to start out with something that can help you gain experience without spending too much. By renting an RV, you can experience the outdoors without the need to get a new vehicle.
Video Overview: 6 Top Tips for Renting an RV
2. Always Bring a Checklist
Having a checklist of the things you bringing while traveling can help ensure you don't lose them. Have it ready before leaving the house.
3. Check the Vehicle Condition
You wouldn't want to have problems with your RV while on the road. Check the RV's fluid levels, brakes, lights, and tire pressure.
4. Bring a Good Tool Kit
Once you are on the road, anything can happen. Something may still unexpectedly break while you're on the move so it is best to bring a good tool kit.
> You may also like: 25 Best National Parks in the USA  <<
5. Go with an Expert
There is a high chance that you have a friend or a relative who has more experience in RV travel. Try to tag him along. This way, you can learn everything about RVing easily.
6. Research About Your Destination
Even if you are an experienced RVer, it helps to learn as much as you can about your destination. This can, at least, reduce the guesswork you have to go through once you are there.
Video Overview: RV NEWBIE? TOP 10 THINGS EVERY NEW RV OWNER SHOULD KNOW (RV LIVING HOW TO VIDEO)
7. Plan Your Route
After doing your research, start planning your route. Choose roads that are easier to travel on. You might want to consider attractive spots along the way. For easier planning, you can use online and GPS maps.
Video Overview: How To Plan The Best Driving Route For Your RV
8. Arrive Early
As a beginner, arriving late is a bad way to start out. To do things right, you need to arrive early.
9. Pack as Light as Possible
If you are a beginner, you may get the urge to pack as many things as you can. It will just add too much weight to your RV and make moving more difficult. Hence, pack light and make the right choices on which to bring.
Video Overview: Top 10 Beginner RV Mistakes (And How To Avoid Them!) || RV Living
10. Keep That Awning Secure
When left unsecured, your RV awning may open while you're still moving on the road. This can lead to a broken awning and possibly an accident. Always ensure that it is locked before moving. If possible, add extra locks.
RVing is a pleasurable experience. It may take some time to get used to but your efforts will be rewarded. By following the tips discussed above, you can gain more RVing experience without any problems. Good luck on your journey.
> You may also like:45 RV Accessory Must-Haves for Your Travel Trailer<<
Packing list for RV camping:
Packing List for RV Galley
Drinkware: cups, mugs, beverage koozies
Plates and bowls
Eating utensils
Knives: food prep and steak
Cooking utensils: spatula, large spoons, whisk, etc
Mixing bowls
Cooking pots/pans
Measuring cups/spoons
Bottle, can, and wine openers
Cutting board
Tea kettle
Grill
Blender
Food processor
Toaster
Scissors
Egg cooker
Colander
Food storage: Tupperware, aluminum foil., etc.
Napkins and paper towels
Dish soap & cleaning products
Sponges, rags, towels, potholder
Trash bags
Ice cube trays
Bag clips
Lighter/matches
Campfire fork
Video Overview: Essential Gear and Accessories for RV Beginners
Packing List for RV Bed and Bath Necessities
Bedding and pillows
Soap: hand, shower
Washcloths and/or shower puffs
Towels: bath, hand, and beach
Shampoo, conditioner, etc.
Toothbrush, toothpaste, floss
Shower-house bag
Shower-house flip-flops
Toilet paper
Facial tissue
Skincare: lotion, powder, night cream, etc.
Hair Necessities: brush, comb, hair ties, etc.
Pharmacy: anti-inflammatories, allergy, etc.
Laundry: detergent, wash bag, a roll of quarters
Blow dryer
Video Overview: For Beginners: HOW TO SET UP AN RV CAMPSITE (8 STEPS TO GLORY!)
Packing List for RV Living and Recreation Supplies
Portable Lights: Flashlight, Headlamps
Paper maps and/or road atlas
Fitness equipment: resistance bands, yoga mat, etc.
Headphones
Sunscreen
Walkie Talkies
Water bottles and/or backpack hydration system
Sport Specific shoes: water, running, cycling
Rain gear: jackets, umbrella, etc.
Water gear: swimsuits, dry bags, etc.
Sunglasses
Hats and visors
Insect repellant
Backpack(s)
Cameras & camera gear: (tripod, backup batteries, etc)
Binoculars
Camp chairs & portable table
Picnic/beach blanket
Outdoor rug
Device chargers & devices (computer, tablets, phones, etc.)
Media: books, audiobooks, magazines, movies
Inside fun: Cards, games, crosswords, puzzles
Outside fun: lawn games, Frisbee, etc.
RV camping checklist: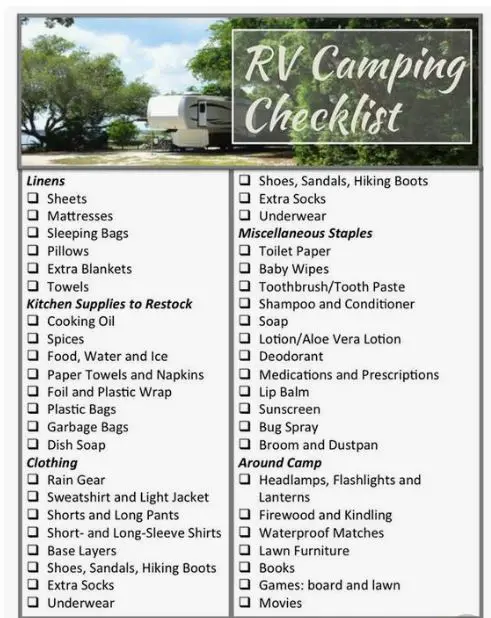 > You may also like:Worst 5th Wheel Brands to Avoid <<