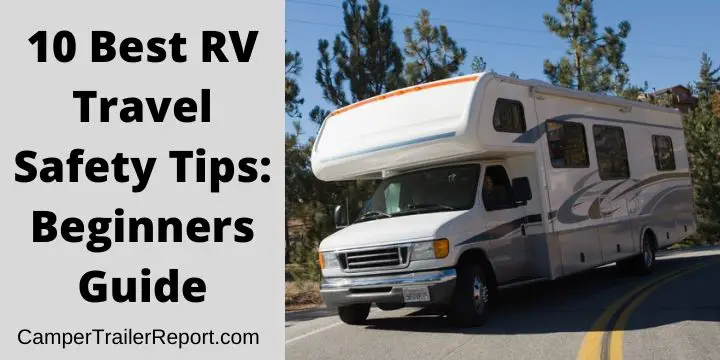 10 Best RV Travel Safety Tips: Beginners Guide
RVing is one of the fun ways to travel and bond with family or friends. When you visit with the family, here are 10 RV travel safety tips:
1. Improve your driving skills
Even if you are an expert driver, you should spend some time practicing your RV driving skills. Knowing how to use mirrors, cameras, and windows can help you improve your driving skills, thus boosting safety. Also, being aware of the traffic around you improves your response time in case something goes wrong.
2. Check the condition of the roads, closures, and constructions
Before you head out for a vacation, checking the road conditions, construction and closures can prevent delays and frustrations. The department of transportation in the US has a website where they provide these details.
> You may also like:45 RV Accessory Must-Haves for Your Travel Trailer<<
3. Weather
Weather conditions can determine your safety. Besides busy roads, you should not park near power lines or trees because they can fall on your RV. Weather conditions can also resolve the best route, clothes to wear, and the best time to drive.
4. Weight
Your RV has a legal weight limit. It would help if you did not carry excess weight. You can measure the weight of your RV at DOT checkpoints, commercial truck stops, or weigh stations. Excess weight can damage your RV, thus pose a safety risk.
5. Checklists
Before you embark on your vacation, have a list to ensure everything is okay. Inspect your RV to determine if there are any repairs or maintenance required. Even though you should check some of the items before starting the journey, you can check other things while on the road. Make sure you have a comprehensive checklist to avoid missing essential details.
> You may also like:Worst 5th Wheel Brands to Avoid <<
6. Insurance and Road Assistance
Your insurance plan should cover every aspect of your RV trip. To be on the safer side, research about RV road assistant services. Since not all road services agree to tow your trailer and possessions, ensure the road assistance you are working with agrees to this beforehand.
7. Electrical load
Although you can use electrical appliances in your RV, it is not easy to use many devices simultaneously because most RVs use 30 to 50 amps. To determine the electrical load, label each appliance for ease of use. For instance, if you have labeled your devices, knowing when you over-rely on the electrical charge is easier.
Video Overview: 10 Deadly RVers Mistakes (RV Safety & Security Tips Full Time RV Living) RV America
8. Wildlife
While on vacation, most people tend to interact with wild animals. However, it would be best if you and your family members/friends understood that wild animals tend to be protective. Remember, do not leave leftovers on the ground to avoid attracting wild animals. Additionally, researching about the kind of animals you might encounter in an area is essential.
9. Reservations
Confirming your reservations a few days before leaving for your vacation is vital to avoid inconveniences. Research about the area you are vacationing to find alternatives just in case the weather changes, your RV breaks down, or you cannot make it on time.
10. Know the basics
There are numerous things you need to know when you are on vacation. For instance, in case of an emergency, which offices or numbers should you reach out to? Secondly, please familiarize yourself with essential maintenance or repair services like changing tires, bulbs, fixing electrical components, etc. because you might have to do it yourself. The main objective is to be safe and have fun by creating long-lasting memories with friends and family.
> You may also like: 25 Best National Parks in the USA  <<