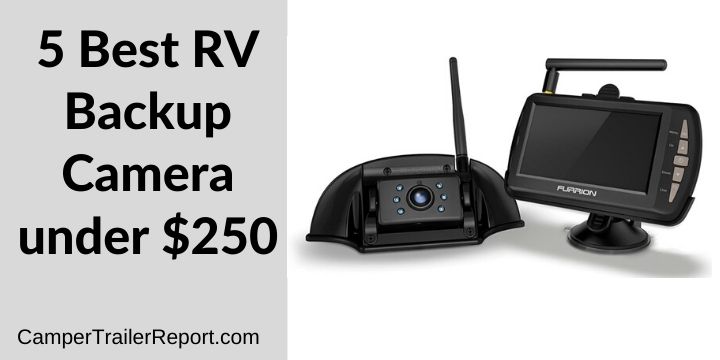 5 Best RV Backup Camera under $250
In most cases, reverse driving does come with a whole lot of challenges. When you find yourself stuck in a narrow path or busy street, you'll need some help to enable you to maneuver out of the situation. Here is where an RV Backup camera comes as a savior.
They make you reverse without bumping yourself on an obstacle. Over the recent, there has been an increasing demand for RV backup cameras due to their efficiency. With so many cameras in the market, however, selecting the right one that falls below $250 is easier said than done. Therefore, this article reviews the best cameras to ease your hunt.
1. Furrion FOS43TASF Vision Backup Camera
View on Amazon
The Furrion FOS43TASF is arguably one of the best backup cameras in the market. It offers you the best assistance you need to help you stay safe on the road.
One reason that makes this particular camera so popular is that it offers surveillance as well as motion detection features. Therefore, if you want a rearview or doorway assistance, you can trust the Furrion FOS43TASF.
At some point, you will also want to pack your car using the reverse gear. In such a situation, the camera's features help you to stay on course with its rear assistance. Its back camera is connected to the monitor on the car's dashboard. Therefore, you will be viewing the rear space without handing to turn your neck. The cameras are also designed to adjust their color, contrast, and brightness to bring a real-life picture quality.
Additionally, the Furrion FOS43TASF comes with digital wireless technology. This works effectively by preventing interference as well as blind spots that could arise. With its anti-glare monitor as well as the infrared night vision, the camera also allows the driver to see clearly even at night. Lastly, the camera is rated IP65 hence contains waterproof capabilities.
Video Overview: Furrion Vision S Backup Camera | Unboxing & Installation | RV UPGRADES – (Special Report)
> You may also like:45 RV Accessory Must-Haves for Your Travel Trailer<<
2. LeeKooLuu Backup Camera
View on Amazon
The LeeKooLuu Backup Camera features a 4.3 inch LED display monitor that provides the driver with an impressive picture resolution. Its rear camera comes with a wide view display and angle of 150 degrees. Since the camera is rated IP65, it can be used even in moist environments such as snowfall, or when it's raining without being affected.
The LeeKooLuu Backup Camera is engineered with LED lights that can be turned on and off when necessary to enable you to maneuver through the darkness. Another plus or this camera is that it can be flipped into the desired direction to get a better view of the object in the rear space. As that's not enough, the camera also provides further information about the height and width of your vehicle. Such features make it popular for long vehicles such as trailers and trucks.
Unfortunately, one thing that you may not like about this item is its weak monitor mounting bracket that comes alongside it. However, with other amazing features, this camera still stands tall in the market.
Video Overview: Leekooluu LK3 Backup Camera with 4.3 Inch Monitor wired System
3. RVS-770613 Rear View Camera
View on Amazon
When it comes to performance, the RVS-770613 is one of the most recommended wireless backup cameras. It comes with a large monitor display of 7-inch. It provides the driver with a high image resolution of 1440 by 234 pixels. This pixel produces exceptionally clear pictures of objects and obstacles located within the rear side of the car. Also, the camera provides grade lines in its display. This enables you as a driver to know how much space you have unoccupied. It features an IP569K rating hence ideal for moist conditions.
It's 18 infrared lights make you view objects as far as 50 ft. at night. Last but not least, the camera boasts of inbuilt microphone and speakers which gives aural information. One disadvantage with this camera is that it comes with a narrow viewing angle.
> You may also like:Worst 5th Wheel Brands to Avoid <<
4. eRapta Backup Camera
View on Amazon
The eRapta Backup Camera is mostly popular among large vehicles such as tractors, trailers, buses. One unique thing about this camera is that it comes with a split monitor screen that provides you with blind-spot assistance and clear picture viewing. With the eRapta Backup Camera, you won't have to worry about image distortion.
Furthermore, the camera comes with a two-year warranty which is aimed at providing customer satisfaction and a peaceful mind. Apart from its affordability, the camera is also durable and provides you with a long period of service.
Video Overview: eRapta ERT01 Backup Camera Review | Easy no drill install
5. Coolwoo Backup Camera
View on Amazon
If you are looking for a good backup camera under $250 but still offers excellent rear viewing performance, you can trust the Coolwoo Backup Camera. It is not only reliable but easy to use. It comes with every accessory that you'll need for its installation.
The camera is engineered with infra-red lights which enables you to see in the dark. With a wide-angle of view of about 175 degrees, this camera provides a wide vision display.
Its automated functions enable you to park your car using the parking assistance system. As such, your safety is always guaranteed.
Video Overview: Amazon coolwoo backup camera
> You may also like: Least-Visited National Parks: Why They're Worth a Look<<