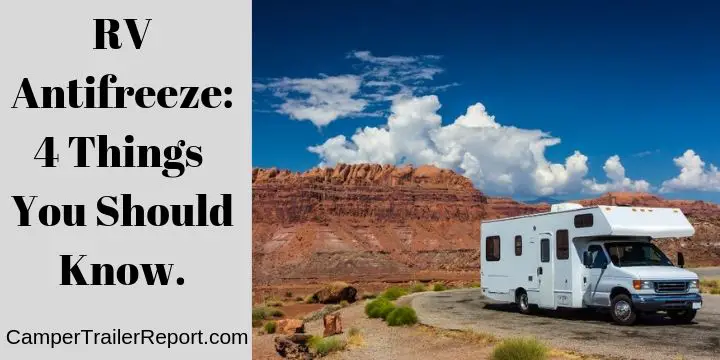 RV Antifreeze: 4 Things You Should Know
One month ago, I accompanied my friend to a small retail-sale shop for RV water pipes. He needed to buy some parts for his water system. The shop owner seemed like a nice person, and we started a small conversation about his business and the profits of it.
Anyway, long story short, he told us that the most profitable season of the year for him was spring. Especially the first several weeks of it. You probably wonder why. Well, the owner told us that at the beginning of spring, people would enter his shop to buy and replace all the pipes, which had burst during the winter
season. And he also told us that he'd been making more money during the first weeks of spring than during the whole tree other seasons put together.
It's sad to even say this, but it's so inconceivable of how little some people know about freeze-protection products for RV pipes.
> You may also like:45 RV Accessory Must-Haves for Your Travel Trailer<<
One of those products is RV antifreeze.
When a pipe bursts due to freezing expansion, sooner or later, it has to be replaced. You cannot leave it as it. But sometimes it can be a real money outlay and a real pain in the neck to deal with burst RV pipes.
Therefore, save yourself the struggle, pump RV antifreeze into your pipes, and don't face another burst-pipe winter problem ever again.
Besides, I've created a list of four things that you should know about RV antifreeze.
1. There is a big difference between RV antifreeze and normal antifreeze.
Normal antifreeze, not least automotive ones, are toxic. If you pump that kind of antifreeze into your pipes, you're contaminating the water system. The last thing you want is water with a toxic substance in it.
RV antifreeze, however, is not toxic, and it usually comes in pink color.
> You may also like:Worst 5th Wheel Brands to Avoid <<
2. There are three types of RV antifreeze you'll find on the market today.
RV antifreeze based on ethanol, which is the cheapest. But its cheapness also results in bad taste and foul water smell.
RV antifreeze based on a blend of propylene and ethanol. This product is slightly better than the previously mentioned one, but it also results in bad taste and foul water smell.
The third type of RV antifreeze is an antifreeze based on propylene glycol. And this is the one that I always recommend to my friends. This antifreeze will never taint your water systems or result in bad taste or foul smell.
One RV antifreeze costs between 6 and 8 dollars per gallon. And for a normal-length water system – 3 gallons of
antifreeze would normally do fine.
Video Overview: How To Winterize RV Travel Trailer Water System
3. All the items that you'll need to winterize your RV water system.
Before you pump the RV antifreeze into your pipes, drain the whole water from within the pipes in order to get the best possible result and prevent freezing, of course.
Now, the items that you'll need to winterize your pipes are:
Three gallons of RV antifreeze; hand tools needed for the plugs; A hand pump; a water pump converter kit; and a water heater by-pass kit.
4. How the RV antifreeze actually works.
Basically, the RV antifreeze has alcohol in it, and its whole purpose is to prevent the freezing point from happening when the temperature falls to zero.
As a matter of fact, the freezing point won't happen even when the temperature is way down below zero thanks to this antifreeze.
Thus, the RV pipes would stay intact throughout any winter season.
And if you consider the price of the RV antifreeze per gallon, that's naught compared to the price you have paid for your RV water system. Besides, it's not even that hard of a process to do.
The first thing you ought to do is to disconnect the RV water system from its main water source.
Then drain all the freshwater from the pipes and empty the holding tanks. Remove all the filters, for they are prone to antifreeze destruction.
After that, let the water heater drain by turning and opening one of the hot water faucets. But before doing that, make sure that the water heater is not hot or under pressure.
Next, open all the faucets, turn on the water pump, and let the pump clear any remaining water from the pipelines of the plumbing system. And that's about it.
I know that an RV water system is not a cheap investment. But if you have made such an investment, don't hesitate and pay those $20 for three gallons of antifreeze – and set yourself free of a repair, which would cost you hundreds and hundreds of dollars, if not even more.
> You may also like: 25 Best National Parks in the USA  <<