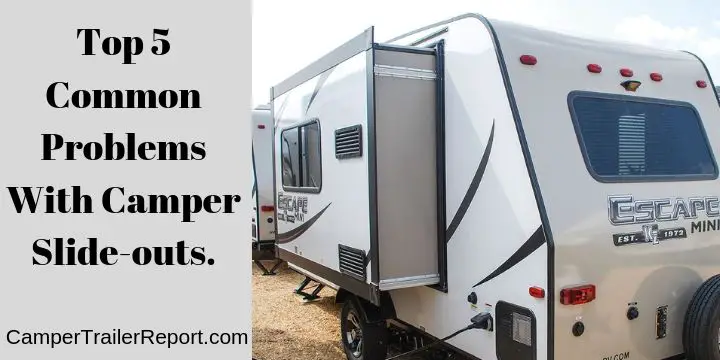 Top 5 Common Problems With Camper Slide-outs.
If you are an RV owner, you may have experienced slide-out issues in one instance or the other.
Slide-out issues are very common and should not scare you a lot since they can happen at any time. It is good to familiarize yourself with these issues so as to be on the safe side when they occur.
If you understand them well, it will be very easy to look for a solution to such issues.
In this article, we are going to look at some of the most common Camper slide-outs problems that you may encounter.
1. Lubrication Issues.
One of the issues that you will experience with your RV slide-outs is the lubrication issues.
You are aware that your RV slide-out consist of various moving parts that should be lubricated regularly to reduce friction.
If you don't lubricate these moving parts as required, your RV will have difficulties sliding in or outward.
Likewise, you will be risking to damage the rail system which would add up to the cost in the long run.
To avoid such issues, it is good you lubricate all the moving parts of your RV slide-out.
> You may also like:Worst 5th Wheel Brands to Avoid <<
2. Motor Burnout.
As said above, your RV slide-out relies on a reliable supply of power so as to function.
The electric motor of your RV slide-out is what enables it to retract or extend.
With time, this motor burns out and stops functioning. This occurs especially when the motor of your RV has to overwork as a result of friction in the moving parts.
When the motor burns out, you will have to replace it so as to fix this issue. Otherwise, you will have to open and close your camper slide-outs on your own.
To avoid this issue, ensure that you lubricate the moving parts.
3. Power Issues.
Your RV slide-outs requires a reliable source of power so as to function as expected. When there is power shortage you will realize that the RV slide-out won't retract or extend. If your RV slide-out is not functioning, confirm whether the wiring is okay.
See whether there are blown fuses or incomplete circuits tampering with the power supply.
4. Foreign Objects.
If you see you camper slide-outs getting stuck, make sure to check whether there are any foreign objects blocking the slide-outs. When there is a foreign object you will realize that the smooth movements of the slide-out will be interfered with.
You should remove any foreign objects that you notice and see whether you slide-outs functions normally.
> You may also like: 25 Best National Parks in the USA  <<
5. Leaks.
When there are leaks you RV slide-outs won't function as they should. Leaks will interfere with the movement of your RV slide-outs and it is, therefore, advisable to confirm whether there are leaks whenever you encounter issues with your RV slide-outs.
If you discover leaks then you can seal them with new sealants.
Having gone through the above article, you now know what are some of the most common issues you will likely encounter with your RV slide-outs. You should check for these issues whenever your slide-outs fails to function as expected.
> You may also like:45 RV Accessory Must-Haves for Your Travel Trailer<<