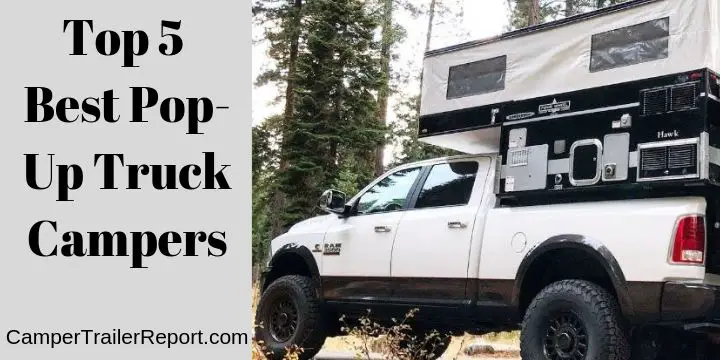 Top 5 Best Pop-Up Truck Campers
Perhaps you're looking to upgrade your traveling experience from popping up tents to popping up campers, or perhaps you're looking to downgrade from the heavier types of campers – either way, you're considering to buy a pop-up camper. However, the question is, "Which one?"
Choosing the right type of pop-up camper can be quite a difficult task because you're not sure about how each one differs from the rest. You might not even be sure exactly what type of camper you really need. Well, you have come to the right place to have all your questions answered. Here are the 5 best pop-up truck campers.
1. BUNDUTEC WILD
The Wild is ranked as #1 by Truck Camper Adventure in 2019. While it is the heaviest on the list, it has the most to offer. The Wild includes a wet bath, along with a kitchen dinette and refrigerator, and lots of storage space on both sides of the lift-up mattress. The camper also includes a freshwater tank, grey water holding tank, and a water heater. This all-included camper goes for around $19,300 – a bargain compared to its rivals.
Video Overview: Bundutec Wild Walk About
2. PHOENIX MINI-MAX
Phoenix Camper said, "we took a mini-sized camper, and designed it to the max." The Mini-max includes a freshwater tank, grey water tank, and toilet. as well as a shower and water heater. This camper can be built to be compatible with any type of truck, and features can be added or removed for your convenience. The base price of a Mini-max is $37,000.
Video Overview: Stealthy-Mini Phoenix Pop-up Camper
> You may also like: How To Prepare Your Truck for Towing: 9 Important Tips<<
3. FOUR-WHEEL CAMPER HAWK
While this camper has fewer features, it makes up for what it lacks with plenty of storage space and its lightweight convenience. The Hawk is best suited for people who need more space, as it provides headroom for people up to 6ft and 6inces tall. You can also fit up to 4 adults in this spacious pop-up camper. The Hawk includes a freshwater tank and a grey water tank. It goes for around $19,900.
Video Overview: Four Wheel Pop Up Camper Walk Around | Hawk Model (2019)
4. OUTFITTER CARIBOU LITE 6.5
The Caribou Lite is the lightest camper on the list, due to the fact that it includes a freshwater tank, but it lacks a grey water tank. One of its best qualities is the queen size bed. It also includes a refrigerator and dinette, and you also have the option to add an outside shower and cassette toilet. Unlike the other campers, the Caribou Lite has a lifetime structural warranty. All for the base price of $16,700.
Video Overview: Outfitter Mfg. Composite Apex 8
5. HALLMARK MILNER 6.5
Last, but not least, the Milner has the essentials and the potential for several add-ons. Included are a queen-size bed, freshwater tank, refrigerator, and dinette, which can even be converted to another bed. Hallmark offers the option for a grey water tank, and even a cubby big enough for a portable toilet and an indoor shower. The Milner goes for around $26,900.'
Video Overview: Hallmark RV at Overland Expo 2013
While some campers can be customized to the specifications of your truck, it is always best to double-check if it is compatible with the truck you own. Some people look at the base price of the camper, while others look at what's included. Hopefully, this list helped with your decision about which pop-up camper to buy for your next adventure.