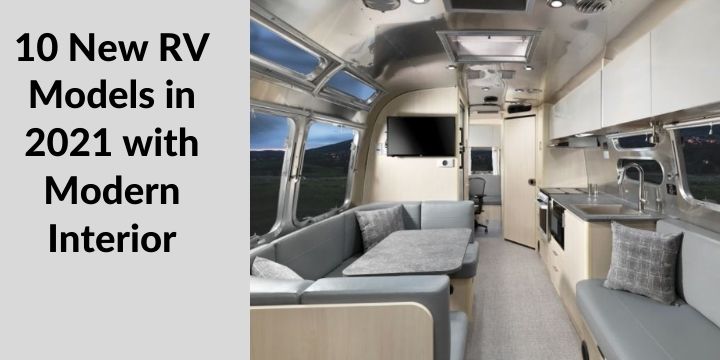 Modern RV Interior: 10 New Models in 2021
RV is an abbreviation for a Recreational Vehicle. It is a type of trailer or motor vehicle that has living quarters. They come in two kinds, where the motor homes can be driven without having anything to tow them, and trailers require another car to move them.
Also, people rent or buy RVs for temporary accommodation when traveling, and others use them as the primary residence.
Due to the vital benefits of these kinds of cars, individuals tend to prioritize their interior. New models of RVs in 2021 are designed with features that a camper or resident of the Recreation Vehicle will definitely like.
Most of them have proper lighting, and the modern interior is incorporated in up-to-date chairs, cabinets, flooring, kitchen, bathroom, shelves, living area, bed, and counter space.
10 New RV Models in 2021 with Modern Interior
#1 Alliance RV Paradigm
It is a fifth-wheel trailer made for full-time plus extended RVers. Alliance RV Parading has a great storage space that resonates with the permanent user. One of the most exciting features of this vehicle is a basement pull tray where you can transport objects equal to two Kayaks.
Also, the beautiful interiors of the Alliance Recreation vehicle include under-step shoe storage, a dishwasher in the kitchen, and a pull-out fireplace at the front of the entertainment center.
Finally, remember that you will relax in a dual recliner seat in the living room and sleep on a comfortable king-sized bed. Notably, it has combined high quality and luxury materials inside the vehicle to accommodate your needs and desires for a modern RV.
Video Overview: 2021 Alliance Paradigm 385FL Full Time Front Living Luxury Camper 5th Wheel Southern RV McDonough GA
#2 Sportsmen SE 281BHSE
When you walk inside a 281BHSE, you will find a space in the living area. Additionally, after cooking your delicious meal, you can head to a slide-out U-shaped dinette.
If you have a guest or two, they will enjoy sitting on the sofa with a 40" by 70" lower and upper double over bunk at the back of the couch. Its kitchen is spacious with a gas refer and a 3burner cooktop. 281BHSE by KZ Sportsmen has a large master bathroom with a modern shower, a sink, and a foot flush toilet.
In the front, there sits a master bedroom with a queen walk-around bed, closets on the sides, TV prep, and outside door entry.
Video Overview: 2021 KZ RV Sportsmen SE 281BHSE Bunkhouse RV Features | KZ RV Dealer in Grand Rapids, Michigan
> You may also like:45 RV Accessory Must-Haves for Your Travel Trailer<<
#3 2021 Jayco Greyhawk
Greyhawk model from Jayco owners is loved due to its ample space and comfortability. It is meant for both weekend warriors and all-time RVer. Note that it has an attractive modern Farmhouse interior design with five-floor plans.
You will enjoy the spacious kitchen with a legless dining table, a residential microwave, and a double-door fridge. Greyhawk can include a king-sized bed and a bathroom with a toilet and shower, depending on the floor plan you choose.
By upgrading your customer value package, a 24" LED TV is added to your bedroom together with an electric awning LED light.
Video Overview: Jayco 2021 Greyhawk 30X Class C Motorhome
#4 Vista 29A RV
If you plan to see your parents or national parks of your dream, this Recreational Vehicle will serve the purpose. You will experience comfortability when moving down the road or setting up a place to stay for the night. Bear in mind that this vehicle has driver and passenger seats that swivel to give you two extra seats when walking to the living area.
Also, the galley has a 2-door refrigerator, a microwave, 3-burner glass top range, pantry, and stainless-steel double sink. You will have fun while watching a 39" HDTV with speakers for audibility. There are USB ports placed in nightstands, dining area, and near the driver and passenger seats.
Video Overview: 2021 Winnebago Vista/Sunstar | Full Motorhome Walkthrough Tour | NIRVC
#5 Micro Minnie
Mico Minnie has features that RVers love. It has a kitchen with Ample galley space, a double door refrigerator, a cooktop, and a microwave. Additionally, there is an AV system, WiFi prep, and USB ports for connecting different devices.
It hosts a big mattress and windows to enable cross ventilation. Keep in mind that it has LED lights installed to ensure you take the fun outside with only a touch of a button.
Video Overview: 2021B Winnebago Micro Minnie 2108DS – New Interior & Exterior Updates!
> You may also like:Worst 5th Wheel Brands to Avoid <<
#6 Winnebago Hike
Winnebago Hike is always ready to go off-road. Also, the new model of 2021 has modern and attractive interiors that will please the RVers. Some of the designs inside this vehicle include contemporary styling, quality interior furnishing, and clean lines.
Remember that it is built with an outdoor adventurer in mind; thus, it has sporting features such as racks for bikes, kayaks, and any additional gear.
Video Overview: 2021 Winnebago Hike 171DB, 170S Trailer Breakdown | Winnebago Industries and Veurink's RV Center
#7 Coachmen Catalina Legacy Edition
Most RVers prefer a recreational vehicle with several plans options. Coachmen have this feature where you are free to choose the plan that fits your requirements. Also, it contains R7 fiberglass insulation throughout the RV.
It is built with a cambered structural steel I-beam frame and has a seamless alpha roof membrane. Notably, this RV has amazing salvaged light oak cabinets and a master bedroom with overhead storage cabinets.
Video Overview: Beautiful New Travel Trailer! – 2021 Coachman Catalina Legacy Edition 243RBS
#8 Keystone Montana
New Keystone Montana RVs have notable interior designs. It is designed with a travertine illusion ceiling, solar shades, and island lighting. Also, it has lighter, hand-glazed wood cabinetry, fascia backlit crown molding, and baseboards.
Keep in mind that it has easy to clean woven floors instead of a carpet around the dinette. Additionally, there is a sandstone solid surface countertop and a luxurious shower with built-in seating. In most cases, the RV offers grey furnishings and fabrics to match your style.
Video Overview: NEW Keystone [Montana] 3855BR Fifth Wheel | New Interior Color !
> You may also like:Gas vs Diesel For Towing a Fifth Wheel?<<
#9 Forest River IBEX
IBEX is a model suitable for those looking for a base camp to accompany them on their outdoor adventures. As you get inside this vehicle, you will find a six cubic foot refrigerator on your left. Also, instead of using public facilities while on a trip, you will use a full bathroom in the Recreational Vehicle.
For feeding purposes, you can use the two-burner cooktop to prepare something delicious. Its modern interior will keep you comfortable with the bedding, 15k air conditioner, and a wireless Bluetooth audio system.
Video Overview: IBEX 23RLDS by Forest River – 2021 model
#10 Fleetwood RV Discovery LXE 36HQ
Discovery LXE 36HQ has been redesigned for a modern look compared to the previous fleet of wood vehicles. Its appliances and fireplaces are standard, with heated porcelain floors in the front of the coach. A satellite system equips your three TVs, and a 100W solar panel offers renewable energy.
Additionally, the place is kept cool by two 15k BTU roof air conditioners and room for a third unit for faster comfort
Video Overview: Fleetwood RV Official – 2021 Discovery LXE 36HQ ? TOP TEN RV! ?
Wrap Up
If you want a new model 2021 RV, above is a list that will guide you in choosing the right vehicle according to your requirements. These Recreational Vehicles have modern interiors to make the inside of the place excellent for living or camping. Remember that you will reduce the cost and time you could incur by buying an RV and renovating it yourself.
> You may also like: 25 Best National Parks in the USA  <<