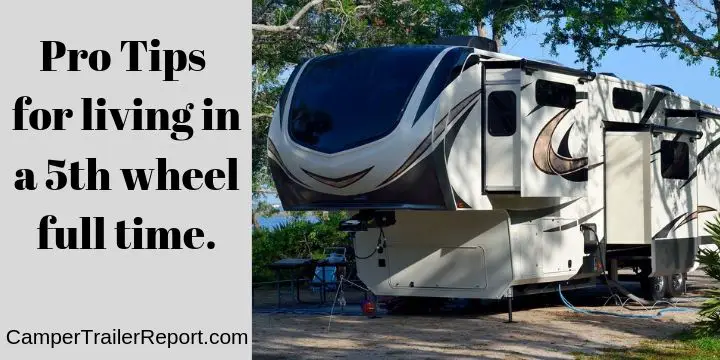 Pro Tips for living in a 5th wheel full time.
It is a true fact that living in a 5th wheel full time can be both physically challenging experience but it is a life-changing experience. People often quit their jobs, sell everything and travels across the country in order to live their dream. Living in a 5th wheel R.V is surely a dream life but it forces you to massively adjust your life. However, it can be really transformed.
However, there is good news for you that you can cope with this with the help of some tips:
1. Leaving your home and uncountable other stuff back
It is very hard for anyone to leave their home because they were raised there or living there for a long time. Uncountable memories are attached to the interior and atmosphere of your home. It is very emotionally painful for some people to leave their home behind but it is better for you to think the better side of your decisions and replace the negative thoughts with the excitement of future journeys.
2. Leaving friends and family
It is one of the most haunting issues for many peoples who want to live in the 5th wheel that they must leave their friends and family behind. You may feel guilty or sorry for your parents, friends, and relatives but you are living in the world of technology. Now you can video chat, text chat, email, s.m.s. or simply call your friends and family anytime. You should believe in the proverb that guilt is a worthless emotion.
> You may also like:45 RV Accessory Must-Haves for Your Travel Trailer<<
3. Fear of identity loses
You may be the CEO of a company or a teacher in a school but when you leave your home and your society you feel that you have lost your identity. It is okay to feel a little bit sad about it but it's time to find out who you really are besides your job-based identity. You will surely add some new dimensions to your life with these experiences.
4. Navigate loneliness and relationships
it is very possible that you might be lived in a large home around 2000 feet 2 and worked in an office but now you are living 250 feet2.if you are living with a partner then you can't be out of sight for more than 5 minutes. With the kids, it becomes more challenging because alone time, privacy and intimacy will be compromised.
Tips: communicate with each other and address the issue properly in order to avoid any conflict. You can join virtual groups that are dedicated to the nomadic and 5th wheelers. You can do projects that are related to traveling and lifestyle.
5. Adjust for physical space
Shifting to the small room is really a shock especially when you lived in a large house previously. However, you can go on vacation like early life.
Bottom line
In the brief, living in a 5th wheel full time can be challenging and sometimes frustrating but on the other hand, it is a life explore new places. It is a true fact that it requires some adjustments and lifestyle changes. However, you can easily overcome these problems and issue with the help of some tips and lifestyle adjustments.
> You may also like: 25 Best National Parks in the USA  <<