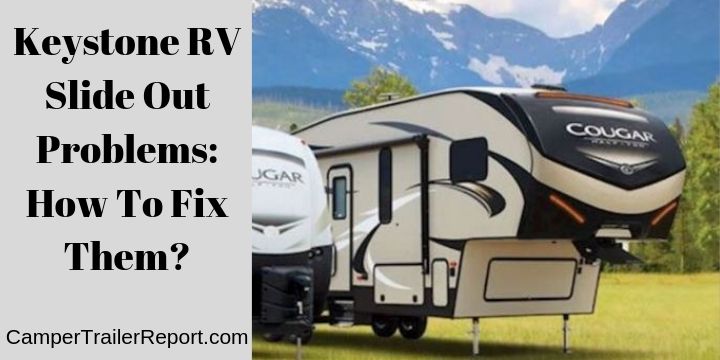 Keystone RV Slide Out Problems: How To Fix Them?
Ask every owner of a Keystone RV and they will tell you one of the issues they face is slide out issues. Encountering slide out problems when you least expect it can be very challenging particularly when it's happening to you for the first time.
Unfortunately, Keystone RV slide-out issues are very common and can occur anytime and this means you need to sharpen yourself on how you can handle Keystone RV slide-out problems whenever they occur.
There are very many slide outs issues that you may encounter on your Keystone RV, however, with the help of this article, you will understand what these problems are and how you can resolve them on your own.
Keystone RV Slide Out Problems: How To Fix Them?
1. INSUFFICIENT POWER.
Your slide relies on electrical power so as to extend or retract. This means that if there is no power it will not extend or retract.
Power should, therefore, be the first thing that you should suspect whenever you encounter issues related to your slide outs.
You slide outs power supply could be having issues and therefore it good you confirm this first before doing anything else.
Check whether there is a blown fuse, weak battery or bad wiring. To check whether your power supply has issues, make sure you test each and every component that constitute it.
Where you detect issues you can fix them and see if it works.
> You may also like:45 RV Accessory Must-Haves for Your Travel Trailer<<
2. FOREIGN OBJECTS.
You slide-outs can likewise get stuck in place due to the presence of foreign objects. Such issues are easier to resolve since they don't mean damage to your slide outs.
Whenever you encounter slide out issues, one of the first things you should do is to check whether there is something stuck between your RV's body and its slide outs.
If you find anything, you will need to remove it so as to resolve the slide-out issue. However, if you don't find any foreign object then the problem is somewhere else.
Video Overview: How To: Override Your Slide Out Mechanism
3. INSUFFICIENT LUBRICATION.
Your RV's slide-outs have very many moving parts and this means they need to have proper lubrication all the times so that they can move smoothly.
If you don't lubricate your slide-out mechanism, you will experience these issues in the future.
If you don't lubricate you slide outs properly, you might end up with worn-out rail system.
This will be very costly in the long run and to avoid make sure you always lubricate your slide outs.
Video Overview: RV Trailer / Camper Slide Out Fix
4. LEAKS.
Leaks can likewise occur and thus interfering with the proper functioning of your RV's slide out.
It is therefore advisable to check whether there are leaks whenever you encounter slide out issues.
This will help you to figure out where you slide out problems could be coming from.
If you are convinced that there is a leak somewhere, then you can add a brand new sealing solution. Just decide which sealant is right for you and replace.
Having gone through the above article, you now know which are some of the common RV's slide out issues and how to deal with them whenever they occur.
> You may also like:Worst 5th Wheel Brands to Avoid <<