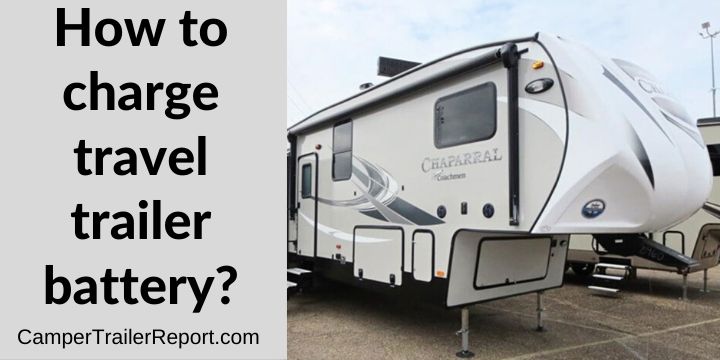 How to charge travel trailer battery?
You might be aware that your travel trailer has been designed with two reliable batteries. Which are the two batteries? Usually, we have a starter battery and house battery.
It is good to keep in mind that these batteries provide the necessary power to all the appliances in the trailer. Do you know that in most cases house batteries are arranged in a parallel manner? What does this mean? It simply means that your electrical appliances will not work if the charge goes low.
You might not have money to replace the battery. In that case, you should not worry about it. You can consider recharging your travel trailer battery. Why should you recharge your battery?
> You may also like:45 RV Accessory Must-Haves for Your Travel Trailer<<
This method has proved to be much affordable and less time-consuming. You will easily recharge your battery if you have the required tools on hand. With that in mind, you should check your battery voltage level with a simple multi-meter.
We have analyzed the most reliable ways to charge your travel trailer battery.
Video Overview: TRAVEL TRAILER BATTERY…CHARGING WHILE TOWING???
USING VEHICLE ALTERNATOR
How can you use the vehicle alternator? Every trailer has a charge line from the two alternators. What is the essence of this feature? It allows you to charge your travel trailer while still running.
What is required in that case? You need to have a 4-pin connection. What is the main function of the 4-pin connection? This is a reliable feature that provides you with running light functions. When do you need to use this feature? People prefer using them when the brakes or charge lines are required.
What is the problem with using a tow vehicle to charge your travel trailer battery? This method only works when your truck is connected. Also, people who have used it have claimed that it is quite slow when compared to other ways of charging travel trailer battery.
> You may also like:Worst 5th Wheel Brands to Avoid <<
RV POWER CHARGER
It is arguably the easiest method you can use to charge your travel trailer. Are you sure that there is a voltage regulator inline between the panels? With this feature, you will get a trickle charge from the panel.
The charge depends on the solar panel wattage. Where can you purchase trickle solar chargers? There are multiple vendors online. The challenge comes when looking for the best vendor.
You should look for reviews from customers who have purchased from the specific vendor. You should only pay for the charger if you are fully satisfied with its performance.
With solar charging panels, you don't have to rely on the shoreline or even readily available power.
RV POWER CONVERTER
Have you been looking for a reliable way to charge your travel trailer battery? This is the perfect method in that case. It has been gaining a lot of popularity with many trailer users for the last couple of years.
What is the best thing about this charging method? You will always be guaranteed of clean and efficient power when you use it. You will charge your battery within several minutes if you have a good converter.
> You may also like: Least-Visited National Parks: Why They're Worth a Look<<