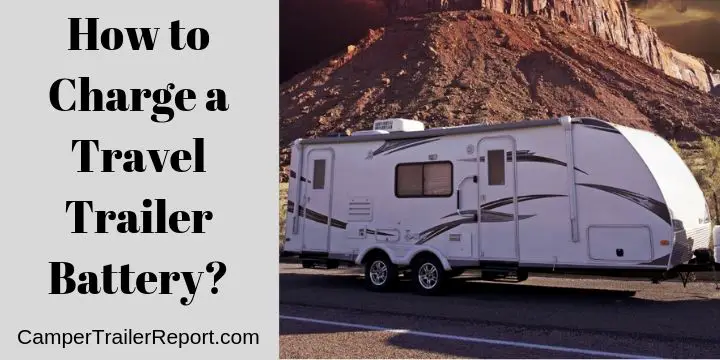 How to Charge a Travel Trailer Battery?
Do you know that your battery system is the heart of your recreational car? Usually, it is made of deep cycle batteries. These batteries have been designed in a unique way.
They have the ability to store a huge amount of energy that will keep all the appliances in your trailer running. These batteries are manufactured to last long. In fact, they can even last for five years.
Have you been wondering on how to charge your trailer battery? You are in the right place. We have thoroughly researched on how to charge trailer batteries.
ABOUT RV HOUSE BATTERIES
What does the typical house battery for RV compose of? In most cases, they are made of a deep cycle and 12V batteries. They can store up to 12V of electrical energy. Away from that, they have been designed for numerous discharging and recharging cycles.
What is the reason behind the deep cycle? They discharge very slowly when compared to the common engine batteries. Engine batteries deliver a quick burst of energy that cranks up the engine. This means that you can't recharge or discharge them.
Deep cycle's batteries are measured in Ah. What is the minimum capacity for recreational vehicles?  The most common range is Group 24 battery. It can deliver up to 70ah. With this type of battery, you will have the full freedom to build battery tanks with larger capacities.
You may also like:45 RV Accessory Must-Haves for Your Travel Trailer<<
Video Overview: RV Batteries What You Need To Know.
METHOD 1: USE ALTERNATOR
The charge line gives you the full freedom to charge your house battery. You can do this even when your engine is running. All that you need to have in that case is more than a 4-pin connection.
What is the role of the 4-pin connection? It mainly provides you with light functions. A 7-way travel trailer is mostly used when brakes and charge lines are required.
What is the problem with using the two vehicles to recharge the battery? The process is quite slow. In addition, it only works when the truck is running and connected.
> You may also like:Worst 5th Wheel Brands to Avoid <<
METHOD 2: USE SOLAR BATTERY CHARGER
For the last couple of years, this has become an extremely popular option more so to trailer owners. In that case, the panels will provide charge only if there is a device to regulate the available voltage.
The voltage will be regulated between the panels and trailer battery.
You will come across numerous assortments on the internet. It is very crucial to have these in hand even if you want to charge from your normal alternator.
Why are solar panels relevant in this method? You don't have to rely on show line connections or available power.
Video Overview: RV Basics Off Grid Tips & Tricks 12 Volt RV Battery Setup Knowledge Of Electrical System
METHOD 3: USING AN RV POWER CONVERTER
This is arguably the best way to charge RV batteries as for now. You simply plug in a power converter into an electrical outlet. Where do you find an electrical outlet? You might be having one around your garage.
It provides you with an extra clean and efficient power. With a reliable electrical outlet, you will be able to recharge your battery. In addition, a quality converter charger recharge batteries quickly.
> You may also like: 25 Best National Parks in the USA  <<