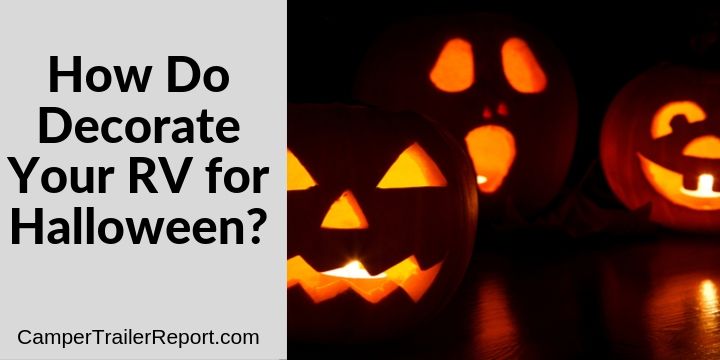 How Do Decorate Your RV for Halloween?
When the month of October approaches, you will see some crispy leaves start falling and feel the cool autumn breeze moving in the air.
While others may consider this time to pick out some kids' costumes, others will be much interested in decorating their RVs for Halloween.
This can be done as little as carving a pumpkin; you can consider going out all with light-up, among other ways. Either the way you choose to follow, herein are some creative ways to decorate your RV for Halloween.
To start with, you can consider just how you need your RV decked out it will be. The next thing to consider is the budget you will like to use for this project and also the number of items you will need maybe to store for the coming year.
> You may also like:45 RV Accessory Must-Haves for Your Travel Trailer<<
Space is a limiting factor for most RVers, so you should focus on RV decorations that can be stored easily for the following year or those that are disposable.
Your local dollar store, like for instance, the dollar tree and 99 cents store, should be your first stop for a cheap store or easy home-made décor.
In case your area lacks a good dollar store, considering a Walmart or any other local supermarket can be the best alternative for you.
Video Overview: 22 Halloween RV Ideas
You can also consider grabbing some cheap supermarket or nearby shop Halloween lights to turn the odd site real.
The lights can string up along your awning and all-around your site. For those who need easily reusable alternatives to these lights or some pinching pennies, there are plenty of small bright strings of Christmas lights you can consider to use.
> You may also like:Worst 5th Wheel Brands to Avoid <<
Follow up by making little pumpkins right from an orange construction paper and go ahead taping up between all these lights. You should look for little ones that don't get hot quickly so that you avoid dangers of fire breakups.
Another way of consideration in decorating your RV is by using the pumpkins. Get out some min or the medium-sized pumpkins and try carving out some beautiful jack o shaped lanterns and place them right around your campsite.
In case you reuse them in the future to come up with a home-made pumpkin pie for a function like Thanksgiving, you can consider hand painting them.
Video Overview: Decorating our Travel Trailer for Halloween | Full-Time RV Living
Follow up by getting a spider web package and other favorites of the harvest time like, for instance, bales of hay, the scarecrows, or also get other things that can provide out such a spooky approach like for example the witches, the goblins and ghosts.
For those who like going all out all times, they can consider setting up something like a cemetery just outside the RV with some little store-bought or home-made tombstones and other skeletons that have been packed well to bring out an effect.
Conclusion
These are some of the creative ways you can consider to decorate your RV for Halloween; incorporate them to have the best thing ever for you. Get through them, and you will find it all enjoyable.
> You may also like: 25 Best National Parks in the USA  <<