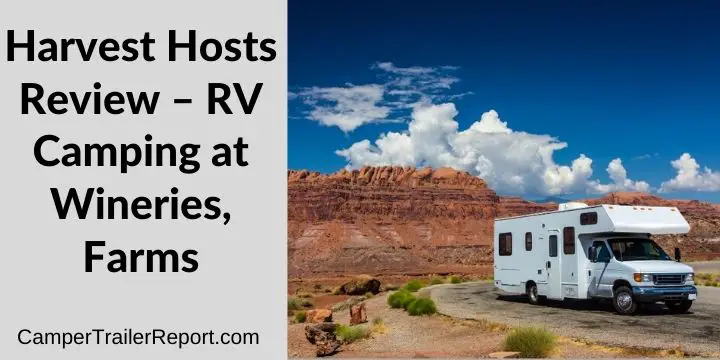 Harvest Hosts Review – RV Camping at Wineries, Farms
One of the best experiences is the visiting of vineyards and wine-producing countries, especially if you are a fanatics. If you want to upgrade your experience of visiting vineyards and wine countries, do it in an RV.
There is no better way to traverse wine regions while enjoying the beautiful sceneries of the countryside. There are thousands of other RVers experiencing the stunning locations that make unique and lasting memories.
Harvest host is one of the groups that join RVers around the country, allowing them to visit numerous networks of breweries, farms, museums, wineries and other various attractions. Joining Harvest hosts is easy; they offer membership programs where you pay an annual membership fee.
Members get the chance to be invited to visit and stay in hundreds of extraordinary locations all around North America. This is a brilliant opportunity to make new friends, create acquaintances, and enjoy the RVing lifestyle.
Video Overview: We stay at a Harvest Host and Share the Untold Truth | ZEPHYR TRAVELS – RV Lifestyle
Why Should You Become a Member of Harvest Host?
Who wouldn't want to wake up on a vineyard in California or a brewery in Florida? Harvest Host gives its members a chance to camp in over 1037 areas. These are 1037 opportunity to experience life away from the traditional stay at a hotel.
Instead of spending your night at RV camping grounds, harvest host keeps you open-minded. They present you with the chance to get a host from a local business in the area you are visiting. Each host is very generous and allows members to park on their premises.
With each host, you will receive a one of a kind stay. This ensures you enjoy your stay and enjoy your membership as well. Therefore, it is a good choice and very interesting to be a member of the harvest host to enjoy the privileges.
> You may also like:45 RV Accessory Must-Haves for Your Travel Trailer<<
How Does Harvest Host work?
With over 1200 hosts enlisted in their program, consisting if distilleries, farms, wineries, breweries, and other unique locations, members are spoilt for choice when it comes to where to stay. For $79 annually, get access to these hosts located as far as Canada and Mexico.
The location information of each host, such as coordinates, GPS, the maximum length of the RV, the number of parking spaces available, pet policies, and facilities found in the Harvest Host website. Membership begins on the day you join, and they offer their members a 100 percent money-back guarantee.
They also offer a membership package that gives members access to over 300 golf courses and county clubs for an extra $ 40 annually.
Harvest Host encourages its members to support their host's business by purchasing what they offer. A minimum of $ 20 is the suggested amount, instead of RVers opting to buy products from chain stores.
Harvest Host website also includes:
Photos of host locations
Comments from members
Video of locations submitted by members
They also have a mobile app for both iOS and Android devices. From the app, you can access all features found on their website like the trip planning feature where members can add hosts on their trip and refer to them later.
> You may also like:Worst 5th Wheel Brands to Avoid <<
Why You Should Choose Harvest Host?
Harvest Host has a referral program where a member earns $ 15 for each new sign up. New members referred by existing members are also not left behind. They receive a 15 percent discount off the membership fee when they join. They have excellent customer service regardless of whether you are a new or existing member.
Conclusion
So if you are want to experience all the hidden gems across the country, join Harvest Host. The bespoke locations of the main road will test your camping skills as well as your adaptation skills, while you have the time of your life.
This can also be very thrilling, especially to the lovers of outdoor camping and socializing. You get a good platform and opportunity to meet new members and friends with whom you can share new ideas. There is something magical about the space, and quite you will find at these hosts.
Why not join Harvest Host for $79 annually and revolutionize your concept of freedom? Your hopes cannot be disappointed as everything is more than explained here.
> You may also like: 25 Best National Parks in the USA  <<