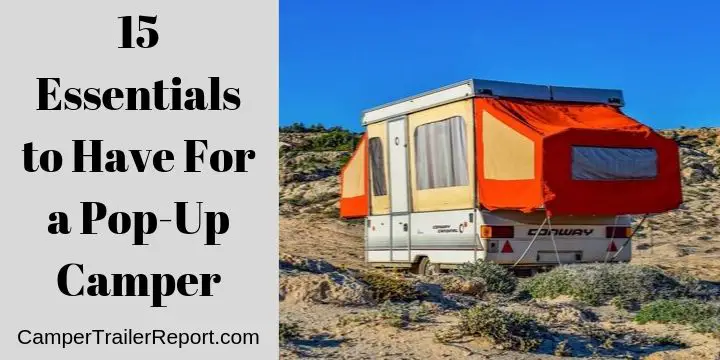 15 Essentials to Have For a Pop-Up Camper
A lot of people are investing in pop-up campers because they are affordable and offer a great RVing experience. However, since they provide limited space, you should be very thoughtful when buying essentials to use.
Normally, you should look for items that are either compact or collapsible to economize on space. Here are the 15 essentials to have for a pop-up camper
i. Portable generator
Since most pop-up campers do not have inbuilt generators, you should consider buying a portable generator to run your appliances especially if you have a refrigerator or an air conditioner. Look for a lightweight generator that's economical to save on costs.
View on Amazon
ii. Foldable chairs and table
With limited space, you need to have foldable chairs and a table for use while camping or boondocking. Since they are foldable, they will occupy a small space while still offering much-needed services.
> You may also like:45 RV Accessory Must-Haves for Your Travel Trailer<<
iii. Dehumidifier
The differences between the outside and the inside temperatures result in condensation inside the camper. Moist conditions can promote the growth of mold and mildew which can result in hiring costly mold removal services and at times lead to a health risk (allergies). To avoid all these problems, invest in a dehumidifier to remove all the moist air inside the camper.
iv. Storage containers
Collapsible storage containers can help you increase the space inside the tent trailer. With storage containers, you can safely store delicate products like food.
v. Surge protector
It is important to protect your costly electronic and electric appliances from electric surge by installing a surge protector. It is possible to experience faulty fluctuations at the camp and the only way you can guarantee safety is by installing a surge protector on your camper.
vi. DC battery
Although having a portable generator is must, you need a DC battery to power smaller appliances. However, since these batteries can be heavy, you need to look for a lightweight battery to avoid extra weight.
> You may also like:Worst 5th Wheel Brands to Avoid <<
vii. First aid box
You should have a first aid kit because you never know what might happen while camping. Ensure that the kit has the basic first aid items and all-important medicines.
viii. Leveling blocks
Leveling your pop up camper is very important and you should always have it leveled while camping. However, since pop up campers do not have mechanical leveling, you need to buy leveling blocks. Failing to level your pop up camper can cause your refrigerator to malfunction, make cooking and sleeping difficult and reading the water tanks can be a problem. Therefore, make sure you invest in leveling blocks when you buy a pop-up camper.
ix. A small heater
Pop up campers have thin walls which do not provide god insulation especially during the winter season. Ergo, buy a small heater to avoid freezing during the cold season.
x. Brake controllers
Safety is vital and investing in brake controllers is a must. The electric brakes on campers/trailers require brake controllers for reliability and safety. You can either install the brake controllers yourself or hire and RV profession for installation. The controllers are installed on the tow-vehicle.
View on Amazon
xi. Tire pressure monitoring system
Buy a small pressure monitoring system to determine the tire pressure before and while camping. This will help you know whether the tires have enough, insufficient or excess pressure.
xii. Wheel stabilizers
It is difficult to find a leveled parking slot while camping. Hence, buy wheel stabilizers to stabilize your camper while boondocking or camping.
xiii. Camper cover
Most people leave their campers outside due to insufficient storage space. It is advisable to buy a camper cover to protect the roof of your camper and prevent your camper from getting dirty.
xiv. Kitchen essentials
Everyone has his or her preferences and tastes. Make a list of the items you need for your kitchen depending on your budget, how long you camp etc. Some of the items you should include are pots, cans, glasses, bowls, and plates.
xv. General tool kit
Finally, while camping you may need several tools to accomplish certain tasks. While you are not at your home, you can buy a general tool kit for repair or urgency. A good tool kit should have items like scissors, torch, collapsible ladder, electrical wires, a small drill, tape, and a hammer.
> You may also like: 25 Best National Parks in the USA  <<