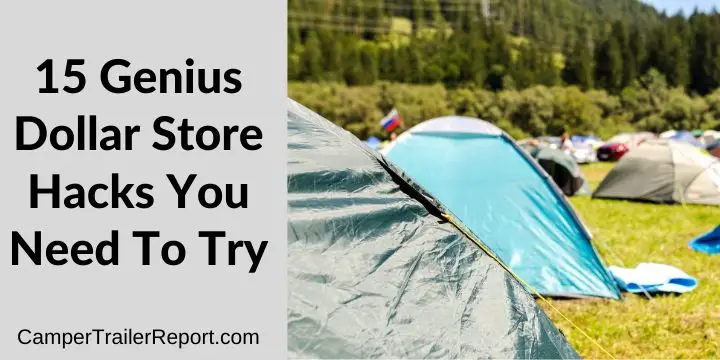 15 Genius Dollar Store Hacks You Need To Try
Camping is a much-loved activity for many people. It is amazing to be able to look at the sunrise, sunset, and even the stars at night.
Cooking dinner on an open fire and then enjoying s'mores with your family or friends can create some great bonding moments. Unfortunately, not everyone can afford to go camping or buy all the essential equipment.
Well, let's look at some great dollar store hacks for camping so it can become affordable for any budget.
1. A Water Jug and Headlamp- All you need to have to make a great lamp for your tent is a water bottle and a headlamp. The headlamp will illuminate the water and allow you to see through it lighting up the room. This gives you the same amount of light as your living room lighting system does.
2. Glow Sticks- It is hard to see where the tent stakes are at night so put a glow stick beside it. You can simply not walk where the glow sticks are and not trip on your tent in the middle of the night after going to the bathroom or getting in after having your fire.
3. Broom and Dustpan- You will probably be eating in your tent at one point or another so buying a broom and dustpan to sweep crumbs up and out of your tent would be a wise investment so you don't get bugs or even bears at your tent due to the food smells.
> You may also like:45 RV Accessory Must-Haves for Your Travel Trailer<<
4. 7 Day Pill Container- You can keep spices in here to season your meat while you are cooking dinner over the open fire.
5. Small Plastic Containers- You can make a mini smores set with these. Just pre-open your marshmallows, graham crackers, and chocolate and set them in the plastic container. This prevents your tent from smelling like food and attracting animals.
6. Garbage Bags- If you don't have a blow-up mattress you can fill garbage bags with leaves and sleep in it. This actually makes a pretty comfortable bed and it is much better than sleeping on the ground.
7. Foil Pan, Cooling Rack, and Charcoal- You can make your own grill to cook on with these lightweight components. It is much easier to go hiking with these in your bag than carrying a regular grill along with you.
8. Plastic Tool Box, Bandaids, Neosporin and other medical goods- You can make a pretty good and cheap first aid kit at the dollar store. This is a vital part of your camping trip because oftentimes people camp far from their home or any medical facility. If you have basic medical supplies it will make any accident that might happen a lot better.
9. Shower Caps- These can cover your plates of food so bugs or other animals can not get into it.
10. Rain Ponchos- These are a great supply to have on hand in case it starts raining and are often at dollar stores, so you can buy one for everyone camping with you at an affordable price. These can keep the rain off of you while packing your tent up or even just going to the bathroom in the middle of the night.
> You may also like:Worst 5th Wheel Brands to Avoid <<
11. Dish Soap and A Bucket- With a bucket and dish soap you can wash your dishes right away so you don't have lingering food smells, and you can pack your dishes up right away after you eat. Also, buy or bring a dish towel to dry them quickly.
12. Paracord- You can use it for so many things. You can use it as a clothesline so you can dry your clothes because while camping you never know when you will get wet. It could rain or you could step in a puddle. It could also be lifesaving if someone falls and you need to help them get back up. Just bring it because you never know when you will need it.
13. Water Bottles- Buying cheap water bottles is a great idea because you don't have to worry about losing it. There are many places to fill water bottles while camping and everyone needs water so they don't get dehydrated. You can even use paracord and tie the water bottle around your belt loop or daypack.
> You may also like:  15 Most Underrated National Parks in America <<
14. A bucket, a hula hoop, and a shower curtain- You can make a makeshift toilet out of these things. Put the shower curtain around the hula hoop, and then tie the hula hoop up to a tree with paracord, put the bucket under it when you need to go. You will also need to put a garbage bag in the bucket. This makes a great makeshift toilet so you don't have to run the bathroom at night or maybe there even is no toilet where you are camping.
15. A tarp- If you don't want the additional weight of a tent holding you down then use a tarp tent. There are many different configurations to make them listed online.
I hope this list helped you plan your camping journey and make it a little bit more affordable. In this overpriced world, there are still some things that are only a dollar that can go a long way and be extremely helpful while you are camping. If you have never camped you really need to try it. It is a great way to get in touch with nature, family, or friends.
> You may also like: 25 Best National Parks in the USA  <<