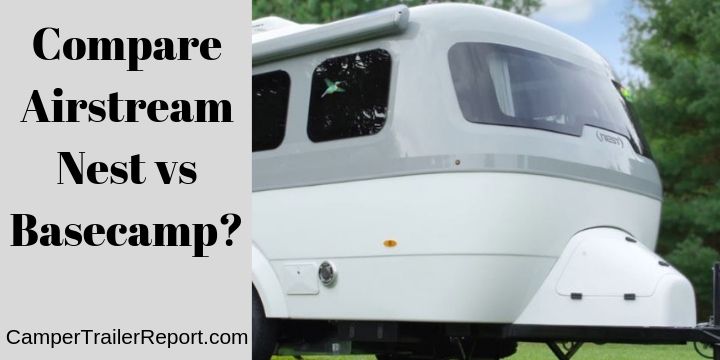 Compare Airstream Nest vs Basecamp?
The Airstream Nest is the first completely molded fiberglass travel trailer from Airstream. It is 16 foot in length and is placed somewhere between the Basecamp and the Sport. It is low-maintenance, easy to tow, and quite appealing visually. It has been designed by Nest Caravans, a company acquired by Airstream in 2016.
The Airstream Basecamp has a floor plan that allows you to bring a lot of stuff with you but is still light and small travel trailer. It is made from the riveted aluminum superstructure, with an aerodynamic shape and boasts of some cool features like temperature control, attachable rear and side tents, and more.
A Comparison Between Airstream Nest and Basecamp
If you are to compare airstream nest vs. basecamp, you can refer to the points here:
The Airstream Nest comes with two-floor plans, with the main difference in the sleeping and dining areas. You can select a fixed bed or a dinette in U-shape that converts to a bed. Both plans have a good kitchen, a full restroom, and lots of storage options.
The Basecamp has a bathroom, a kitchen, and a lounge area that can convert into a bed.
Both the Airstream Next and the Basecamp are towable with many mid-sized SUVs.
The Airstream Nest has a compact design ideal for weekend gateways, and the large wheels and steep departure angle of the Basecamp work well on road trips. The side skirts and wheel flares protect from damage by debris and gravel.
The Airstream Nest can fit a lot into the 16-foot space, with a full kitchen, a wet bath, a bed that can hold two people, storage options, and enough space to work, eat, or just relax.
The Basecamp has a restroom, and a convertible living area that transforms into a comfortable bed, so you can travel on the trails easily.
The Airstream Nest has both air conditioning and heating systems fitted. You can control the temperature as it suits you and takes a hot shower when you want to.
The Basecamp has optional air conditioning with a two-speed fan for cooling. In cold places, the one-in-all heating system heats the air and water both effectively.
Lights Controlled by Bluetooth
The Airstream Nest being a new-age trailer, allows you to adjust the LED lights using your smartphone or tablet with a convenient app. You can control the light levels, turn them on or off as well as adjust the colors if you are within the range of the Bluetooth.
The Basecamp provides no such feature.
The Airstream Nest has a full kitchen with a two-burner stove and cover that is foldable. You also have a refrigerator with icebox, sink, and microwave.
The 16U floor plan provides a countertop, while the 16B floor plan provides a removable table.
The Basecamp has a two-burner gas stove and foldable cover, as well as a refrigerator, microwave, and storage space.
Both the trailers are a little above 16 foot in length and a good option for going on trips.
> You may also like: 25 Best National Parks in the USA  <<
Related Questions:
How much does an Airstream nest cost?
The Airstream Nest is Airstream's first molded fiberglass trailer. The trailer is 16-foot-long, is simple to tow, needs low maintenance, and is well designed.
It has a base price of $47,234 and is priced slightly on the higher side, aimed at a high-end clientele. If you want a combination of ease of towing, comfortable staying conditions, and a charming look, then this is the model to buy.
How much does an Airstream nest weigh?
The Airstream Nest weighs 3400 pounds, and it is about 540 – 815 pounds heavier than similar models of other brands.
It is still easy to tow about and does not feel cumbersome or bulky when driving through twisting two-lane roads or crowded parking lots. So, the weight will not be a hindrance in any way.
Can a Subaru Outback tow an Airstream nest?
Despite the weight of the Airstream Nest, it is still possible for a Subaru Outback to tow it. In case, you find this difficult; you can always compare Airstream Nest vs Basecamp and opt for the Airstream Basecamp, which weighs almost 1000 pounds less than the Airstream Nest.
It has been manufactured to be able to accommodate sports wagons and small SUVs.
> You may also like:Worst 5th Wheel Brands to Avoid <<
How much does an Airstream Basecamp weigh?
In its range of travel trailers, the Airstream Basecamp is the smallest one from Airstream, with a different form and shape too. The Basecamp is 16'3" in length, 7' in width, and 8'6.25" in height (with the optional air-conditioning unit).
The weight of this small trailer is 2,585 pounds (With LP gas and the batteries), and it has a hitch weight of 410 pounds. You can load up to 915 pounds of water and gear into the Basecamp, up to its 3500 pound GVWR capacity. The trailer can fit into a standard automobile parking space, and if you have a tall enough garage, you can even fit it inside it.
Why are airstreams so expensive?
Airstreams are usually priced somewhere between $35,000 and $150,000. So, yes, they are rather expensive. The main reason behind this is because the body is made of Aluminum – a high quality, aircraft grade aluminum alloy that is riveted over a steel frame.
This layer is insulated, and an inner shell of aluminum is fixed from the inside. Apart from the cost, it also takes more effort to assemble its different parts from the manufacturer.
Airstream is a luxury and a comfortable brand and appeals to middle and upper-class customers, and the marketing approach is aimed towards this segment. Being a luxury brand, its price also is a luxury one.
Can a jeep pull an Airstream?
Jeeps are not really known for towing too much because of their short wheelbase. The smallest trailer that Airstream has is the Basecamp which weighs 2,585 pounds, and the Jeep can probably pull it or a maximum of 3000 pounds, which is what the Airstream Sport weighs. Any other model that weighs more will not be suitable for towing by a Jeep due to its low strength.
> You may also like:45 RV Accessory Must-Haves for Your Travel Trailer<<