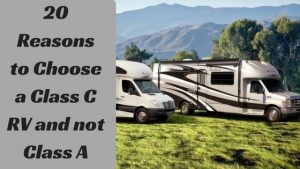 Class A vs Class C RV: 20 Reasons to Choose a Class C

The existing Recreational Vehicles ("caravan", motorhome or "camper van")in the market are broadly classified under class A, B, and C. It means a certain type may be better for you compared to another. Consequently, here are 20 differences between Class A and Class C RVs.

More sleeping space
With class C RV, there is a bunk situated over the driver or passenger seats which would offer you more space for sleeping when you need that rest.
Multiple Exits/Entrances
The class C motorhome comes with three options, the passenger door, and the driver's door and also in the living area in the middle there is a door. The multiple doors offering convenience and are also important for safety purposes.
Location of the Gas/Brake pedal
While for class C RV the gas/brake pedals are located where you would usually expect them to be, for class A the pedals are tilted to your right-hand side. During the first few times, you drive a Class you will find this frustrating.
>> You may also like:45 RV Accessory Must-Haves for Your Travel Trailer<<
Price
Typically the worth of a Class A motorhome starts from around $50,000 to $100,000 and the price can go up to a million dollars or even more. A Class C caravan is available from between $50,000-$80,000. For the same length of the two classes, the Class C value will be cheaper and is therefore popular.
Protected from anterior impact accidents
A class C motorhome has an enormous hood and engine located at the driver's front. When an accident happens, the engine will drop and the large crash box situated ahead of the driver will serve to minimize the possible impact and protect both the driver and of course the passenger. Let not the hugeness of the class A RV fool you that it is safer.
Fuel Efficiency
Since every rig is not the same, it is harder to quantify this but going by the people who own the two types of RV, they seem to agree that type C is better for fuel-efficiency. The gas mileage for type C is slightly better, 2 or 3 miles for every gallon range.
Weight
When you compare the same sizes of Class C and Class A, they will weigh approximately 14,000 pounds and 17,000 or 18,000 pounds respectively.
>> You may also like: Worst 5th Wheel Brands to Avoid <<
Engine Access
The location of the engine in class C in the front is comparable to the normal Chevy/Ford automobile. When you simply lift the hood you will be at ease with the look of everything will and they are easily accessible. For class A, accessing the engine area is a nightmare as it can be accessed partly through the dog home located inside the home and in the front.
Built to be lower or closer to the ground
Class C is lower or closer to the ground both in the perspective of the driver and from the coach's bottom. When you drive class C RV, the feeling is comparable to when you are steering a truck and the clearance is the same.
Stable and not easier to roll
Since class C is built in a manner that is very stable, it will not be easier for it to roll or fall over especially when navigating a tight corner.
Find a campsite is easier
That is because of the relatively small size of class C compared to class A and you know that campsites on national/state grounds have cut-off point.
Airbags
Class A vehicles have no airbags making them less safe compared to class C which has airbags like a regular vehicle.
Seeing ahead of the vehicle is easy
The forward-facing part of the class A RV is chopped flat, thus you seeing directly what is in the front is not possible, and the windshield is longer. A class C is nearer to the ground enhancing the view of what is ahead of you.
The driving area is easier to cool
The windshield of Class C is just like that one of a normal truck and therefore on a day that is hot it is easier to uniformly cool. While the enormous windshield of Class A is visually appealing, on a day that is hot it tends to turn the cabin into an oven.
Less wind drag
That is because of the ceiling height being lower in class C RV making it safer as an abrupt breeze of wind can be dangerous to the vehicle(swaying) and driver.
Finding mechanics is not a problem
Since accessing the engine of type C is easier and the parts are cheaper, there are a number of mechanics that can be found.
Tighter turn radius
The turning radius of class C beats that of class A and that is because of the turning of the motorhome itself is tighter and the bringing forward of the wheelbase.
Easier to tow
That is when you break down and that is because of its relatively small weight.
In conclusion, the many advantages associated with class C is enough reason for you buying or renting it even if there may be drawbacks. It would be nice if you would
contribute the number 19 reason below.
Related Post: First Time Travel Trailer Owner Tips, Beginner's Guide.
Related Questions:
What is the difference between a Class A and a Class C motorhome?
Size: This is the first easily noticeable difference between a Class A and Class C motorhome. Class A is built on a commercial truck or bus and is considered to be the largest motorhome measuring between 21 ft to 45 ft.
On the other hand, a Class C motorhome is built on large vans or trucks and is between 21 ft to 35 ft in length.
Fuel efficiency: Class A motorhomes have a higher fuel consumption rate considering their massive size compared to class C motorhomes which have a lower fuel consumption rate because of their smaller size.
Cost: This will depend on whether you buy a new or a used motorhome but generally, Class A motorhomes are more expensive than Class C motorhomes because class A motorhomes are larger and are built for luxury.
Class C motorhomes are cheaper because of the size. Also, the cost of maintenance is higher for Class A motorhomes compared to Class C motorhomes.
Driving: If you have never driven a long vehicle before, you'll need to practice before driving on highways.
This is because both Class A and Class C can prove a bit difficult to handle. Class A motorhomes are the most cumbersome to drive considering their large size.
They are tricky to drive through narrow roads and sharp corners and finding a large enough parking spot can be hard.
Class C motorhomes are more comfortable to drive through narrow roads and sharp turns because of their smaller size.
Features: Class A has more features compared to Class C because of its larger size. They both have a kingsize bed, a fridge, a kitchen and, a big living room but most Class C motorhomes do not have washers and dryers. Class C also provides an extra sleeping area above the cabin.
Video Overview: RV Class A, B, and C Differences | La Mesa RV
What motorhome gets the best gas mileage?
Comparing the two motorhomes, Class A and C, show that class C has the best gas mileage.
Fuel consumption is however determined by a few factors such as your weight load and if a car is being towed.
Class A consumes more fuel because of its larger size compared to Class C. If we compare all the three classes, class B has the best fuel consumption rate.
Video Overview: Diesel Class C Motorhomes or Gas Class C RVs: Motorhome Reviews
What is a Super C motorhome?
Super C motorhomes feature a larger chassis than the regular Class C motorhomes.
They are diesel featured trucks such as the Ford F-550 chassis. Their diesel-based engines give them great horsepower and towing power.
Super C motorhomes are slightly more expensive than Class A motorhomes. They have a bigger frame which allows for a larger home much like the one offered by Class A and they can tow up to 20,000lbs.
Video Overview: Biggest and Baddest Motorhome on the road! Showhauler Super C!
Is there a size limit for RV in national parks?
The average length permitted in most packs is 27ft. However, each park has it's set regulations on the length of RV allowed into their pack. Some national packs can allow up to 40ft long RV's.
How are motorhomes measured?
The length of a motorhome is normally measured from the front bumper to back bumper. The width is a little more complicated as you have to measure with the slides in and with the slides out.
Video Overview: RV Size Limits for State and National Parks
> You may also like Gas vs Diesel For Towing a Fifth Wheel?<<