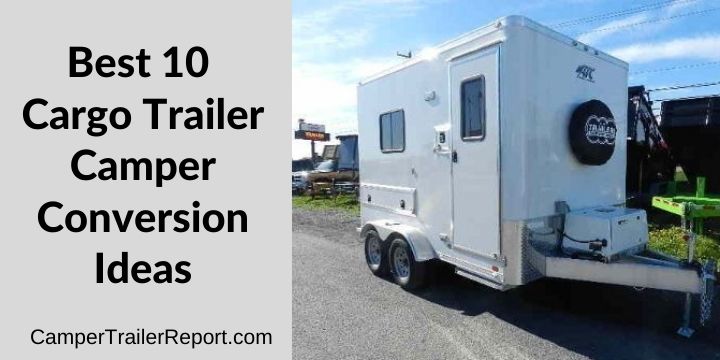 Best 10 Cargo Trailer Camper Conversion Ideas
Purchasing a used or new retailer can be more costly than you may think. Besides, many individuals choose to save money in today's world and successfully convert any empty cargo trailer to something beneficial and personalized camp.
You might not have any idea of where to begin in cargo trailer conversion. Don't worry, because we have reviewed the below effective and affordable cargo trailer conversion ideas.
1. 6*12 stylish and cute design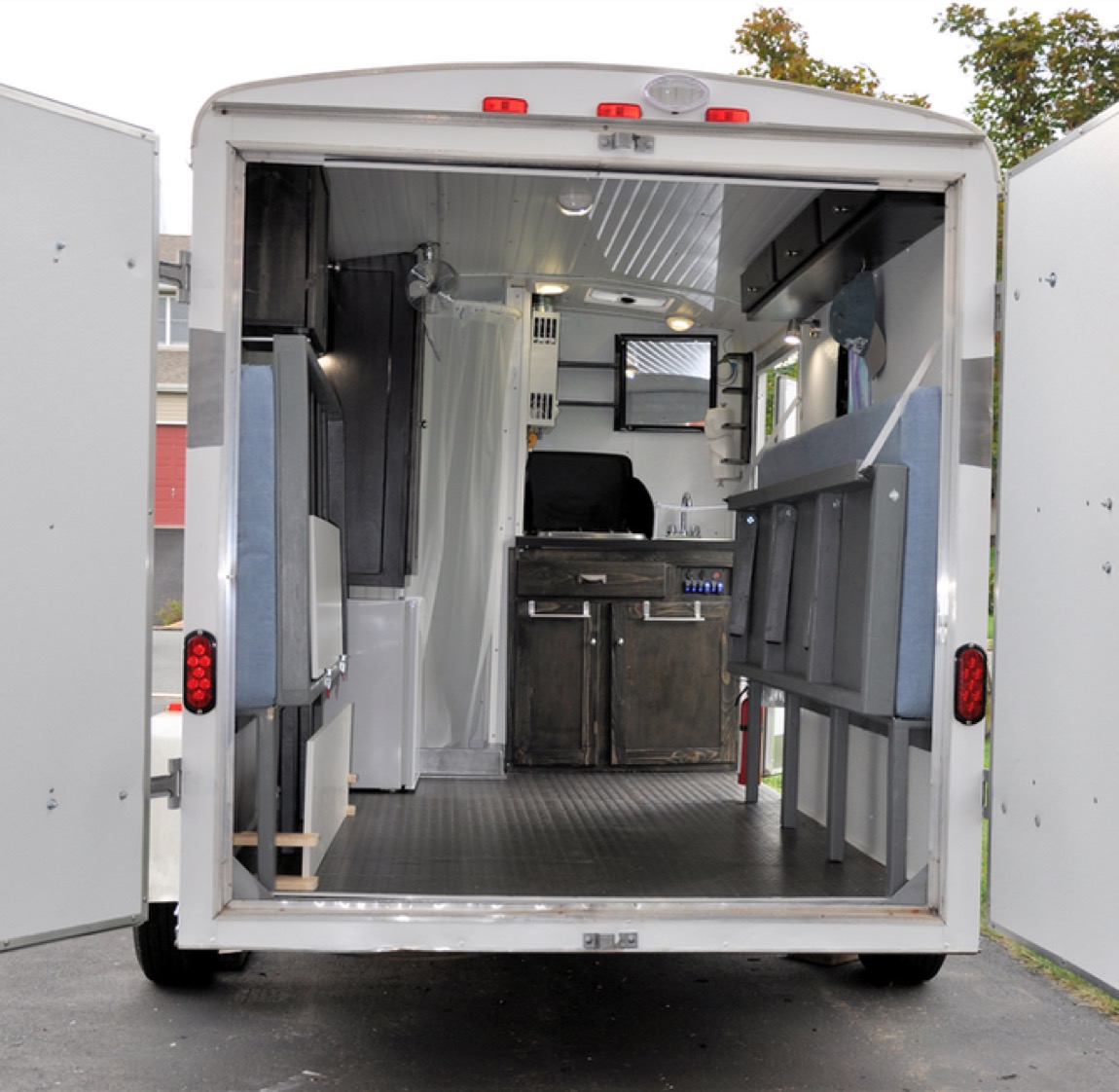 This is a stunning cargo trailer conversion idea. The conversion embraces a propane grill, onboard composting toilet, and cozy bunk. Also, the rig is beautifully wired for solar and got adorable LED illumination on its exterior. You will love how it will look out and inside everything made practical and simple.
2. Module enclosed cargo trailer camper
This specific enclosed trailer is simple but got real luxury. Create a cabinet and bed which might be removed to utilize the trailer like a regular hauler. Also, make it simple to be packed as a camper again for any camping trips.
> You may also like:45 RV Accessory Must-Haves for Your Travel Trailer<<
3. Stealthy toy cargo trailer conversion
This cargo is built on spacious 104 sq. feet. This is specific 100 percent built with 1000 watts of solar panels. Further, it is built on a durable toy hauler that can suit a four-wheeler inside or motorcycle. You will love how the bed lowers from the ceiling and seating folds away to the sides.
4. Ed's man best camp on wheels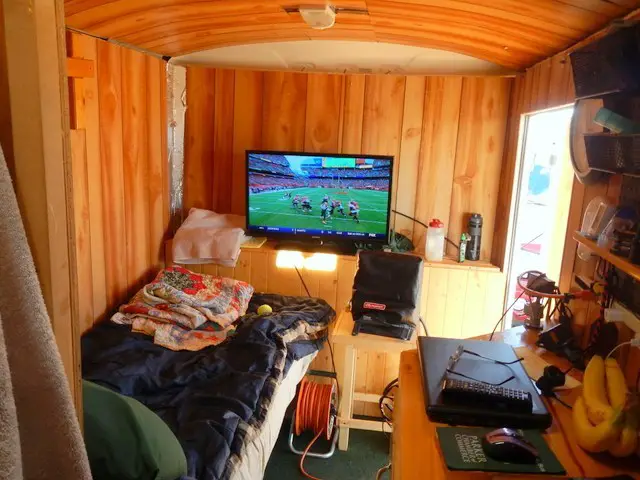 This cargo trailer conversion is effective and simple. It is built with enough storage, using premade baskets and shelves for lining the walls. Also, it embraces adequate squire footage for keeping your television. The clean edges and open space offer the users many scopes to get creative with their interior.
5. An engineering masterpiece conversion idea
This is an 80 squire fee camping trailer, which you bring with you anywhere. The idea allows the user to install convertible furnishings, innovative where you can transform this space from a bedroom to a beautiful dining room or living room in a few and simple steps. Also, it's got plumbing facilities, an onboard toilet, and a microwave.
Video Overview: Cargo Trailer Camper Conversion | TIME, DIFFICULTY and COST
6. 7*16*7 load trailer transformation walkthrough
You will love this trailer camp feature, which is "walkthrough," especially if you want to do urban or full-timing camping. The manufacturer created durable glass tiles for creating a charming kitchen counter and shower. This is a homey and cute build for you and your family.
> You may also like:Worst 5th Wheel Brands to Avoid <<
7. 20-foot wholly aluminum cargo trailer conversion
It took almost a decade to finish this conversion, but you love the awesome finish it has. The camper is created with amazing touches in the dining area, which folds out your way and slide to different organizations. Further, it has a regular door, push windows and toilets is perfect.
8. A cozy cabin cargo trailer conversion ( perfect for off-grid camping)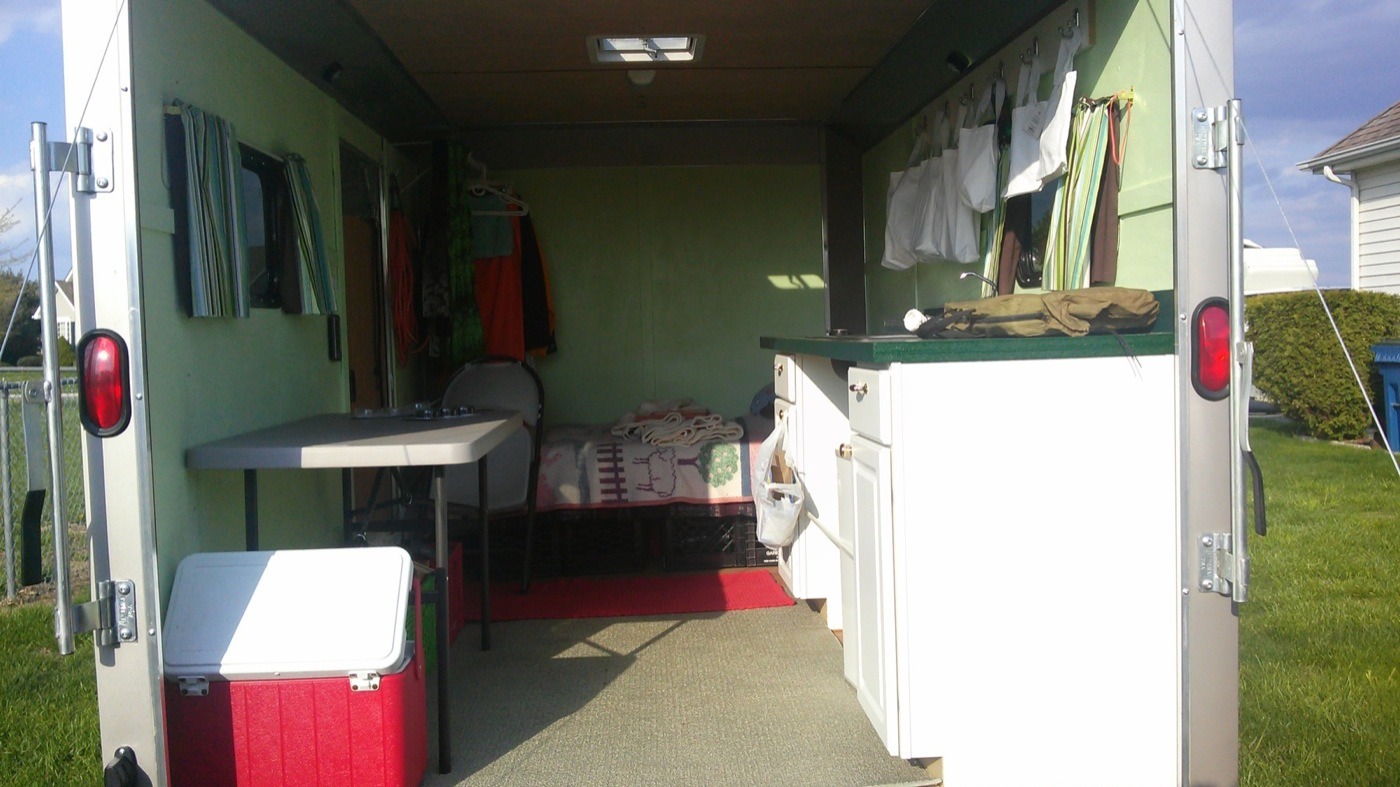 If you want to camp without any hookups, this is the best option. It is built with a portable toilet and a beautiful kitchen. Also, this conversion features simple gravity plumbing and a propane-run active Coleman stove. You will like the big bed at the back raises directly to the roof, and seating where sides raise in murphy style, leaving big open floor space.
9. A utility trailer built for escapades
The manufacturers of this camp increased the storage with the best narrow cabinet. Also, they built amazing flip-up tables alongside the rig, meaning you can eat your meals, maintaining enough space between meals. All around, this the best cargo trailer camp, with wooden kitchen counters and a fantastic closet.
Video Overview: 7×14 Cargo Trailer Camper Conversion Finished (Tiny house?)
10. Brian Roger's best 2007 trailer cargo conversion
Along with its spacious interior space, you get you will be able to save hauling room to bring with favorite adventure accessories. Also, the teal paint inside is very attractive and durable. Further, it has innovative storage benches and embraces a three-burner active propane stove.
Conclusion
Now you have the best cargo trailer conversion ideas which will meet your desires and expectations. We have selected simple, affordable, and top-rated conversion ideas for you.
>> You may also like: Least-Visited National Parks: Why They're Worth a Look<<