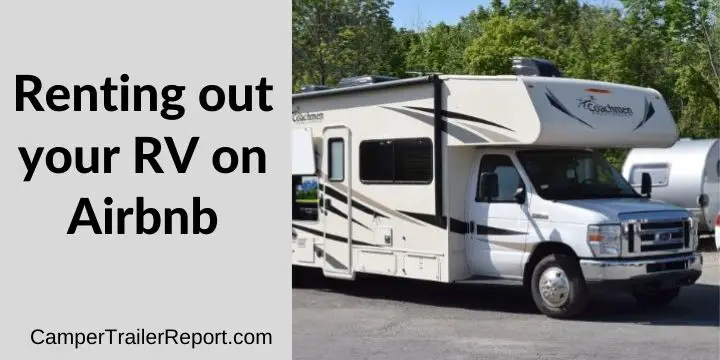 Renting out your RV on Airbnb
Buying an RV is never an easy decision because you need to consider several factors. Many people feel that RVs cost too much money, yet they aren't used often. We all know that the value of your car decreases every year, which is never a good thing to think about.
What options do you have if you want to ensure that you get the most from your RV? Well, have you considered renting it out? Now, we all know that you can visit Airbnb.com and rent out your home for a few bucks. However, can you rent out an RV on Airbnb?
Airbnb.com allows rental owners the privilege of listing their RVs. What this means is that rental owners on Airbnb.com can select the RV/Campers option, and have their vehicle listed. Doing this ensures that you make some extra money on the side while getting you access to the Rving community.
> You may also like:45 RV Accessory Must-Haves for Your Travel Trailer<<
RV rentals on Airbnb
Everybody will tell you that Airbnb is the place to go when looking for renters and rentals. Its user-friendly website has grown exponentially over the years and expanded globally. There are several charming and unique living places that you can find at Airbnb.
Airbnb has you covered when you need to rent out your basement, houseboat, yacht, train, or even plane. The option of renting out RVs makes it possible for so many RV owners to make some money and recover the initial buying cost.
Video Overview: Rv business (Sold my RV) AND can you rent an RV on Airbnb?!
Renting out the RV
The beauty of renting out your RV on Airbnb is that you get a non-saturated market full of potential customers. When you live in an outdoor-centered or scenic location, then you might make a lot of money renting out your RV.
Recently, families have started the popular tradition of bonding together on camping trips and expeditions. Such families will need access to an RV to make the most of their bonding experience. However, understand that you don't have to rent out your RV if you are uncomfortable with the idea.
Below is a step by step procedure to help you rent out your RV on Airbnb.
Go to Airbnb.com and click on the 'Become a Host' option
Fill in the necessary details, including your country, type of property you are renting, and the space amount that it has.
You can then proceed to create an account, which is entirely free.
Ensure that you read the 'Before You Join' catalog to give you an idea of what the entire facility and community are about.
Proceed to the 'What Kind of Place' and select the 'Unique Space' option. You can then click on the Camper/RV option from the drop-down menu.
Select the amount of space you have, whether you are listing as an individual or company, and whether it is to be used primarily for guests.
Fill in all the information about your RV, including rooms, beds, and bathrooms.
Put in where your RV is located so that renters can find it easily. This is especially important when you live in a rural area.
Select the other amenities that are available in your RV, such as dishwasher and washing machine.
Conclusion
Renting out your RV on Airbnb ensures that you make constant earnings depending on your location. Ensure that you give a detailed description of your RV to attract more clients. You must ensure that you provide the right information in your listing.
> You may also like:Worst 5th Wheel Brands to Avoid <<