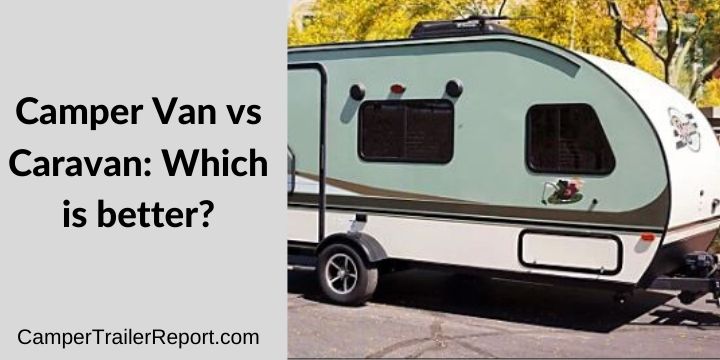 Which is better between a Camper Van and a Caravan?
Do you love camping or road trips? If you do, you will either have to rent or buy a recreational vehicle. Most people are not sure what to go for, especially when buying.
Do camper vans and caravans have differences? pros and cons of each? Between the two, which should I choose? These are some of the questions most road trip enthusiasts ask themselves, and the choice can be determined by many factors like budget, family size, travel style, and the time of the year.
This article will help you make up your mind because we will determine the pros and cons of each in different aspects.
1. Budget
When it comes to the question of cost, caravans are the cheaper option. However, even though caravans are cheaper than camper vans, you will have to factor other additional costs.
For instance, you need to have or buy a car that's capable of pulling the caravan. Therefore, the cost of the car depends on the type and size of caravan you are buying.
Additionally, you will have to include the tow bar, which costs between £200 and £400. If you have a large family and you don't want additional costs, buying a larger model of camper van is the better option.
> You may also like:45 RV Accessory Must-Haves for Your Travel Trailer<<
2. Freedom of exploring
When you visit the wild, it is natural for campers to have the eagerness to visit local places, fun areas, and sceneries. With a caravan, you will have exploration freedom because you can set up your camp in one locality and use the car for sightseeing, have fun, and create memories.
However, if you want to explore a greater area, you will have to decamp because you cannot leave your items far behind. On the other hand, a camper allows you to hit the road, only stopping at overnight stops (mostly in campsites).
Even though you can take a detour while on the road, your budget might take a hit. Also, since most camper vans are large, it is hard to access some of the places a car can reach/go.
> You may also like:Worst 5th Wheel Brands to Avoid <<
3. Camp setting
A camper van is easy to set up because you need to drive to your pitch and turn off the engine.
However, caravans need some attention when setting up.
Firstly, if you are not experienced in parking or reversing the long caravan into a pitch, you can have a hard time doing it.
Secondly, unhitching the caravan and making sure it is stable and flat is not a joke!
If you don't like doing anything at the campsite, a camper van is an ideal choice.
However, if you can manage to set up a caravan with ease, you are good to go.
Video Overview: Camper Van vs Caravan – which is better?
4. Storage
Caravans are easier to store because they are smaller than motorhomes. Smaller caravans can be detached and reversed into the garage by hand.
Motorhomes are usually bigger, and they don't fit inside the garage. Ergo, they will have to take much space in your driveway for months!
5. Driving conditions
Driving a motorhome is easier because you don't have to tow (like in caravans). But, getting used to driving large motorhomes can take time, especially if you have a manual.
Towing, reversing, maneuvering, hitching, and unhitching a caravan takes more time, energy, and practice.
We all have different preferences and choices, depending on several factors. Therefore, it is not easy to choose between a camper van and a caravan.
However, if you consider all the factors discussed above, it is easier to make the right choice.
> You may also like: Least-Visited National Parks: Why They're Worth a Look<<