10 Best RV Destinations in the United States
Road trips and RV destinations are a sure way of making memories. If you are reading this, you have come to the right place to explore your adventure options. This list was compiled for you the 10 best RV destinations in the United States. These destinations are a perfect fit for a family adventure, individual or having fun with your friends.
1. Zion River Resort
Zion River Resort is an RV and campground found in Utah. It is a few minutes away from Zion National Park. If you are planning a trip that involves camping, this resort should be useful as a place to relax after an adventure in the park. It has enough space to fit various sizes of recreational vehicles.
You will be treated to marvelous views of the mountains and the Virgin River. Apart from Zion Park, you can also tour the Bryce Canyon National Park, Cedar Breaks Monument, and Grand Canyon North Rim. Among the activities to enjoy here there are biking, hiking, and camping not forgetting its internet connection for posting photos online instantly.
About amenities, the destination provides clean, properly maintained facilities. It has cabins, restrooms, a fully furnished 2-bedroom suite, a community kitchen, restaurants, grills, washing machines, pools and sauna, a social hall, tent sites, gift store, and dog areas. There a mining sluice, playgrounds for kids with a shaded area, and propane refill service.
2. Yellowstone National Park
This is one of those parks where you would want to stay for more than a day. There is too much to experience and see here. Nature trails, Mammoth hot springs, geysers at Old Faithful, a Grand Canyon, there is too much to explore. This park has great scenery and views that will make you gaze and appreciate the beauty of nature. At Yellowstone Lake, you have the option of fishing, rafting or boat rides. In a nutshell, this park has something to offer everyone.
Video Overview: Top Things to See at Yellowstone National Park
3. Redwood National Park
Redwood National Park boasts of harboring the tallest redwood trees in the world. Located in Northwestern California covering over 110,000 acres, the rain forest consists of river-ways, oak trees, a 40-mile scenic coastline, and much more beauty. It is an amazing place to go for walks when the weather is convenient.
Watch the sun rise and set with beautiful views as its rays cut through the trees. Redwood has four campgrounds including one at the beach (Gold Bluffs) and backcountry sites for camping. You can also go hiking if you like on the Fern Canyon Trail. The park allows you to walk with leashed pets; you have no reason to leave your dog at home alone. If you are lucky, you might see Douglas-fir, grey whales, Roosevelt elk, blacktail deer, and black bears.
4. Crater Lake National Park
The scenery at Crater Lake National Park in Western Oregon is breathtaking. If you enjoy skiing and snowboarding, this park should be on your list of areas to consider going. It has fantastic sheer cliffs and two islands. Out of the catastrophe of a volcano erupting 7,700 years ago, came the deepest lake in the US and the ninth deepest across the world.
It has a protective rim that bars rivers from flowing into the lake, meaning melting snow and rain fill it. Go for walks in summer on the loop road or hiking on the Cleetwood Cove Trail. Take a boat ride to Wizard Island if you want to see the clear, blue waters of the lake. The two campsites, backcountry campgrounds, and Crater Lake Lodge are your accommodation options.
5. Grand Canyon National Park
If erosion formations and different geological colors and structures excite you, then you must consider this as your RV destination. This park offers donkey rides, rim to rim hiking and whitewater rafting. It's among the most popular destinations in the US.
> You may also like:45 RV Accessory Must-Haves for Your Travel Trailer<<
6. Blue Ridge Parkway
Famously known as 'America's Favorite Drive', this drive has amazing rugged views of the Appalachian highlands, breathtaking vistas, biking, hiking trails, camping sites, and picnic sites. Be sure to confirm whether the place is open before choosing this place because it can be closed during some seasons.
7. Colonial Williamsburg
There is too much to see and too much to learn here. A history tour will make understanding and enjoy history. If you want to experience history in the present times, this is a good destination for you.
8. Durango RV Resort
This resort is superb. Very serene and well maintained, friendly staff and many on-site activities to choose from. This place fuses old fashioned service and new amenities to give you the best experience ever.
9. The Shady Dell RV Park
As the name suggests, this is a shady park with vintage trailers. It's a great place to take a trip down memory lane. Depending on your taste, you can rent a boat or car to transport you back into history. It's accurate to say this is one of those RV destinations that do not necessarily require an RV because you will have an RV experience in historical style.
Video Overview: The Shady Dell Vintage Trailer Court
10. Rivers Edge RV Park
River Edge is found at the south area of Pigeon Forge, Tennessee. It offers a contemporary experience, unlike the previous parks with nearby grocery stores, shops, restaurants, shops, malls, and music shows. Walk or ride the Fun Time Trolley to these places. The RV park has 175 beautiful campsites and is minutes away from the Great Smoky Mountains and Gatlinburg.
Have a good time in the deep, heated pool, play with your children at the playground, or go fishing in Pigeon River. Regarding amenities, this park has restrooms, RV service on site, showers, internet connectivity, and laundry, among other things.
Here is the list of 10 Best RV Destinations in the United States: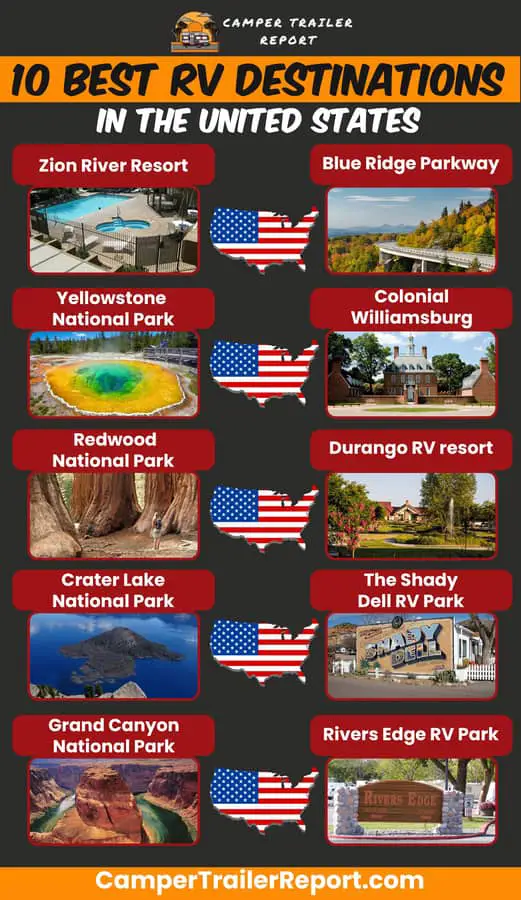 Share this Image On Your Site
> You may also like: 12 Best Waterfront RV Campgrounds: You Need to See. <<