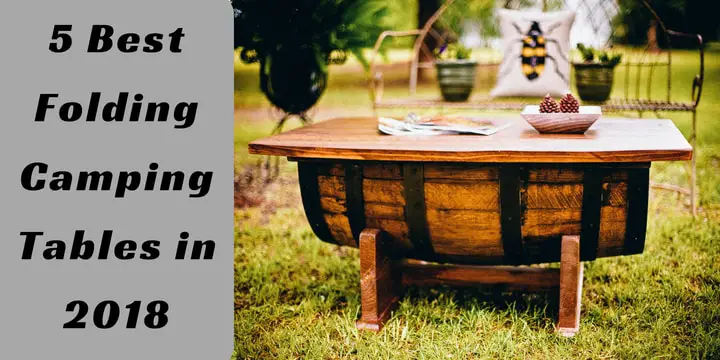 5 Best Folding Camping Tables on The Market
When camping, many people prefer to bring a few conveniences of modern life. Although there are people who do not prefer them. Nevertheless, camping tables are considered a few of those luxuries that are the basic essential when going camping or staying a day or two out in the wild.
The camping tables are a very essential and important item for everyone to dine under the stars in the wild. The camping tables are very easy to pack as they have foldable features. The best feature of a camping table is that they do not take much space and are easily stored during the transit.
They are easy to transport, which is the basic category of folding camping tables. As folding camping tables are easy to transport, it is understood that they are easy to carry to and from the campsite and are very light weighted.
The folding camping tables in 2018 have many new features that help a lot with holding the basic kitchen utensils. The extra features in the latest camping tables including expandable table space and attached seating are mainly available in the market. These features of a folding camping table more convenient.
A nature lover and an outdoor addict will surely appreciate a top-shelf table. Follow this article and have a look at the best folding camping tables that are offered on the market.
> You may also like: 15 Campfire Games for Adults And Kids. <<
Camco 51695- Best Camp Table for Primitive Camping
Simple design and even simpler usage -that is the best way to describe this product. It is available in darker and brighter colors. It is easily portable and transforms into a flat surface when you fold it. Therefore it fits perfectly into limited spaces. The use of this product is very wide. Besides camping, you can use it in every outdoor activity that you can list. The product is stable and gives reliable support to your PC or tablet. Testing its durability is not necessary: it is proven as strong against UV rays, waterproof and the color doesn't fade. The tabletop dimensions are 18″ x 15″ and the height and the height is "19.5".
Coleman Pack-Away 4-In-1 Table- Best Camping Table for Dining
If you are planning to spend a night out in the wild, but you still want to make it sort of posh and romantic, this is what you should go for. This table consists of two smaller tables that you can arrange at your will. If you put them side to side you will get a wide buffet table and you can put a bit into a square as well. It's white in color and has an interesting crab-like pattern. It is durable but still not convenient to directly put hot objects on it.
> You may also like 12 Best Waterfront RV Campgrounds: You Need to See. <<
Coleman 2000020277 4- Best Outdoor Kitchen Table
If you want a bit of your kitchen in the outside world, this table will be just what you were looking for. It has a flamboyant laminate top. Just as the previous one, it has two separate tables that can be firmly locked together. The legs are leveled so they do not become shaky and you can also adjust their height. The frame is made of aluminum which contributes to durability. You can easily carry it with yourself because it has a self-contained frame.
Best Choice Products 55 in Portable Roll-Up Aluminum Camping Picnic Table- Best Accessory Camping Table
You can build this one in a few minutes thanks to the elastic cords/ It is, however, easily folded down into a compact shape that makes the table easily movable from place to place. it is perfect for camping and any sort of outside use because the aluminum is super resistant. The material also makes the table easy to keep clean and shiny and you get an additional bag where you can pack it.
KingCamp Ultralight Compact Folding Camping Aluminum Table with Carrying Bag, Two Sizes – Best Small Camping Table
This is a small but sturdy table whose triangular aluminum structure makes it stable. Speaking of aluminum, this material makes the folding table so much better than the wooden ones and resistant to any weather that you can face outside. The table is so tiny that it can go into your backpack, but you still have a bag included with the product so you can move it wherever you want.
OUTRY Lightweight Folding Table with Cup Holders, Portable Camp Table- Best Small Camping Table on a Budget
Not only is this product sold at a reasonable price but you also get extras with it. It has 4 bottle holders for sizes M and L. The tabletop is made of nylon but the frame is made of aluminum alloy which makes it pretty strong in any weather condition. Just as with the previous ones, a carrying bag is included for you to bring it to an unforgettable camping experience.
Outdoor Compact Folding Camping Table is one of the latest product of "GCI Outdoor." Following are the features of this folding camping table
Lightweight
Aluminum camp table
Tailgating
Seats for two for dining can also be used as a side table Full-sized table, fold compactly and telescoping leg design 18 x 19.9 x 23.8″ inches weighs 4 pounds. When camping folding tables are mainly used as cooking stations. The outdoor foldable tables help with the camping, grilling, outdoor parties.
The tables mainly have camp grill or stove along with collapsible soft-shell sink and storage rack, which make cooking on a campsite, convenient and easier. The collapsible soft-shell has drain too for the dishes. The steel frame of the table is easily foldable with the one-piece "powder-coated steel". The latest tables have slim-fold technology in them.
Video Overview: Trekology Aluminum Camping Table Review
> You may also like: First Time Travel Trailer Owner Tips, Beginner's Guide. <<
The features that make the folding camping tables best in the market are the extended three plastic "fold-out side" table, aluminum countertop collapsible sink, wine storage rack and space for lantern hanging with a telescoping pole. These features of a folding camping table more convenient.
The three side tables have extra space for the stemware holders beverage holders, a paper towel holder and hooks to hang the tools used for cooking. Buying this table is a lifetime investment, as it holds enough space for cooking and working on the campsite.
Video Overview: Outdoor Compact Table Review: Coleman folding table 
The latest folding camping tables are environment-friendly tables. The table can easily hold up to 48 pounds which is also heat-resistant. The folding camping table gives the ideal space for grilling or for using the stove. The best feature of the table is that they have a soft-shell sink, which helps to drain easily.
Video Overview: Coleman 6-in-1 Camping Table 
The drain also has a folding capability. The folding camping table is easy to use, open, close and setup. The table has a convenient cook station with extra storage. It is a portable folding outdoor cook station. The folding camping table is easily available on e-Bay and Amazon with a price range of $90 $136. The price range mainly varies by the size and capability of storage of the table. Manufacturer's limited lifetime warranty. These sites have the best price and size range of the folding camping table with best features.
> You may also like:45 RV Accessory Must-Haves for Your Travel Trailer<<