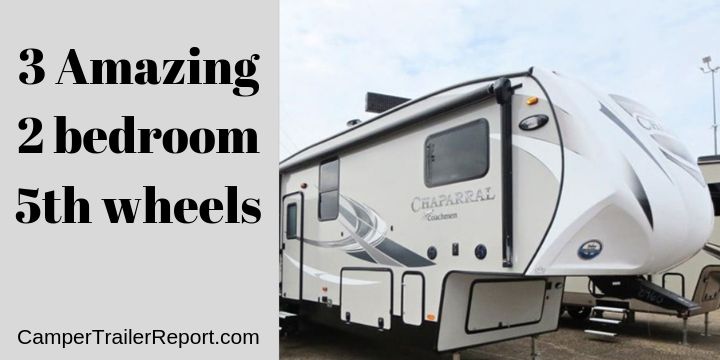 5 Amazing 2 bedroom 5th wheels
An RV or trailer trip is something quite enjoyable. Whether you are just going to the encampment for the weekend or you are traveling across the country. The fact is that you are in for an exciting activity.
Here are some of 2 bedroom 5th wheel reviews.
2 bedroom 5th wheels trailers are just great since they have more than enough room for ideal for a big group.  Space is essential, and thus, the majority of the families prefer their trailers to have two bedrooms. A second bedroom does not just give the parents some privacy away from their kids, but it makes the kids to even enjoy their freedom without feeling like the parents crowd them.
The fifth Wheel falls into two categories of floor plans.  All of them are either a bunkhouse Fifth Wheel or a front living style Fifth Wheel. They are best for those people who require a lot of space.  Therefore you will not feel confined or overcrowded together in a tiny area. Fifth Wheels are the best, especially for prominent families, since they have plenty of rooms. They as well create privacy.
Video Overview: 2018 Columbus Compass 377MB 2 bedroom Luxury 5th wheel @ Camp-Out RV in Stratford
A large living area
Their bigger size offers you as well as your family an ideal space that you will require for maximum convenience and comfort. It is the finest for those families with children or to someone fond of hosting guests. The large living area will allow you and your kids have the privacy that you both need and desire without losing your togetherness space. Its unique and smart layouts make it highly functional. All together, they are beautifully designed and make the most of the time used on both outsides and inside of the trailer.
Video Overview: 2018 Sabre 31BHT Luxury 2 bedroom 5th wheel Trailer with Bunks @ Camp-Out RV in Stratford
Storage space
A two-bedroom fifth wheel has adequate space for you and your family that will be enough room that will accommodate everyone's stuff. This consist of camping accessories, food, electronics, clothing, as well as other comfort items such as books, blankets, among others.
> You may also like:45 RV Accessory Must-Haves for Your Travel Trailer<<
A fully functional kitchen
Fifth wheels come with a functional kitchen ideal for a long trailer trip or camping weekend. Some of the kitchens include appliances like a fridge and a microwave. The kitchen is big enough to go well with families.
Video Overview: 2018 Forest River Riverstone 39RKFB Bath & Half Luxury 5th Wheel Walk-Around Tutorial Video
A full-sized bathroom
A big bathroom is above all important. Even though you are camping anywhere, you are comfortable on the fact that you have a sink, a toilet, a vanity, and a shower, and possibly even a tub should you go for that option.
Generally, a 2 bedroom 5th wheels will make sense, especially if you are planning to spend a long time while in your RV. Regardless of whether you are planning to go full-time or several months road trip, it is the best for you and above all if you have a family. 2 bedroom 5th wheels will give you an excellent towing experience as well as a comfy living experience. Even though the 2 bedroom 5th wheels are likely to be expensive, they are much better off since they are comfortable and private. They are costly for a reason since 2 bedroom 5th wheels give the best service for permanent living in an RV.
> You may also like:Worst 5th Wheel Brands to Avoid <<