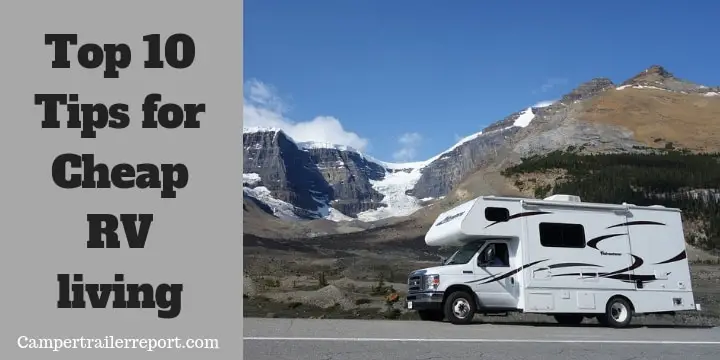 Top 10 Tips for Cheap RV Living 
Living your life on the road and going wherever you want sounds fun right? RV living is the in thing right now, you get to easily change locations and get away from pesky neighbors whenever you want. It's the minimalistic way of life. But living small may sometimes not equal to saving money, so here are the top ten tips for cheap RV living.
Avoid Eating Out
Eating out can be expensive. The best way to save on food while living on the road is to cook and heat up food. You can visit the local Farmers' Market in the area and buy food from them. Home cooked food, or in this case, RV cooked food is always more nutritious and cheaper. Leftover food can be heated up the next day for lunch, avoiding wastage.
Save on Fuel
Let's face it, fuel is expensive. You can save a few dollars by staying at one location for a month or two. This also gives you an opportunity to explore the area more and be able to explore areas that you wouldn't have noticed if you stayed in the area for only a few days.
Work while you Camp
Did you know you can earn a salary by work camping (working while you camp)? You can ask the camp manager to trade working for a free campsite or salary.
Be Handy
Did you know that if you can fix your own RV then you can probably fix someone else's RV and make easy money? Make sure you keep a basic set of tools with you.
Deactivate your Cell Phone
You do not want to be incurring cell phone bills while you are on the road. So how do you communicate with your loved ones? You can use your deactivated cell phone to connect on the Wi-Fi and send texts and emails. If you are in one place for some time, you can use US mail for communication.
Install Solar Power
Electricity bills can be expensive. Installation of solar power may be expensive but will save on costs in the long run.
Bulk Up
Shopping in bulk ensures you don't run out of essentials while on the road. Shopping in bulk might be tricky because of the limited storage space, but with a little organizational skill, you can hack this.
Bank the Old Fashioned Way
Because your phone will be deactivated most of the time while you are on the road, you'll need another way of accessing your funds. Before embarking on the minimalist lifestyle, make sure you open an account with a bank with branches wherever you plan to go.
All You Need Is a Safe, Comfortable, Dry Place
You do not need a mobile hot spot, the newest and biggest motor home or a satellite dish, etc. As long as you have access to restrooms, you are good to go.
Stay Fit
You do not want to be battling lifestyle diseases while out on the road. Staying fit doesn't mean that you have to have a gym membership. You can still work out in the comfort of your RV or go for walks. Make sure you eat healthy meals too.
Conclusion
RV living is a fun, simple lifestyle that doesn't have to be expensive. I hope that these tips will help you cut down on costs.