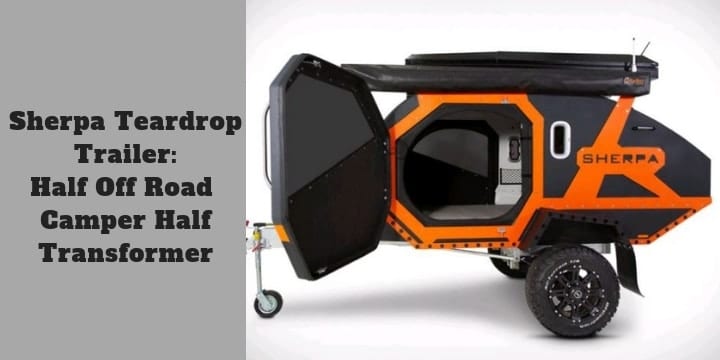 Sherpa Teardrop Trailer: Half Off Road Camper Half Transformer
Sherpa Teardrop trailer is one of its kind. This BRS teardrop trailer was designed in Australia. The trailer is one of the different trailers that has ever existed. It was made to be lighter and more affordable compared to other trailers. This trailer is fit for a family camping out.
Sherpa has been classified as one of the mini-hybrid trailers. The trailer comes with an Alu-Cab tent. When you are looking at the tent, you may think that it is a pop-up roof rather than a roof tent at the top of the trailer. The roof tent is removable which makes the trailer even to stand out more.
This Sharp teardrop trailer is made in orange like transformer shape. It has several accessories on it. Another thing that is standing out on the trailer is the fact that it has several doors. The trailer also has several other accessories as well.
Is the Sherpa Trailer a worthy off-road Camper?
To any family who is thinking of camping out, Sherpa trailer is the thing for you. It has a unique feature for a family camper. The tent roof is in such a way that you can open it if you need more space for the head. If you have kids accompanying you for the trip, you can use the space at the roof tent to keep them as they sleep. These spaces come with a mosquito net. It has three windows with each window equipped with a drain stopper.
At the bottom of the roof is a gazebo which usually pulls out. This will cover you from hash weather that you may experience during the trip. It has another door that will help you get into the main compartment. The lower tent part also has a big window which will give you the best view while camping. This window gives you an opportunity to cover it with a curtain that will not allow light to penetrate in case you are sleepy.
On the opposite side of the window is a bog storage place. This space can be used for all the things that you want to carry with you while on a trip be it the cooking items, or bikes or rackets. At the back is a credibly large space for your kitchen. It can hold all your kitchen stuff and the right bit is that it has a built-in sink.
What's inside the Sherpa trailer? Show me the money!
This Shaper trailer has 2x power outlets. This will give you the best comfort need whether you want to watch TV or continue with your office work. It comes with night fans that will keep you warm in case of a cold night. You also have enough space for your beds.
The only unclear thing about this trailer is the cost. The sellers on unveiling the price to those are willing the willing buyers.