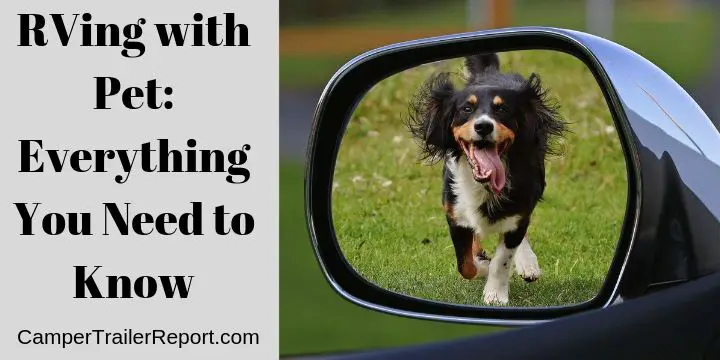 RVing with Pet: Everything You Need to Know
Trips are fun. Especially road trips. The sights to see, new people to meet, the open road, the possibilities are endless. An open road vacation is even better with your favorite four-legged companion by your side.
One of the most common and popular ways to embark on these adventures is by traveling by R.V. It is super comfortable and is basically your home on wheels. It is also much easier to travel with pets in an R.V, however, there are a few things to keep in mind when doing so. This is the ultimate guide to RVing with our furrier family members.
The Heat:
One of the biggest concerns is heat. While on your trip, you will, at some point, likely need to leave your pet in the RV, which is fine, however, you should leave the vehicle, and the air conditioning, running. This is not fail-proof though and there should be some type of backup in place. A temperature monitor is relatively cheap and will alert you if the temperature gets too high. Remember, after less than 30 minutes in 70-degree weather, your RV can reach temperatures of 100 inside. These dangerous temperatures can result in heatstroke, seizures, coma,  or even death.
Safety:
Safety is another thing that you'll need to factor in. A leash or a harness is imperative. When exploring, your pet should be leashed at all times and while the RV is in motion, your pet should be kept contained. Seat Belt harnesses are made for pretty much any pet and work quite well keeping your pet secure while you are driving, a crate is another option. An accident with an unrestrained pet can end in serious injury, not only to your precious four-legged family member but also to any humans present.
Video Overview: RV LIFE WITH PETS
Microchip/Pet I.D:
In a perfect world, all pets would be microchipped. Microchipping is a simple, and fairly inexpensive, procedure where a small chip is implanted subcutaneously under the skin, typically in the back of the neck or 'scruff'.  This chip is then able to be read by a special scanner and provides important information such as owners name, address, and phone number. Although not as effective as a microchip, you can also purchase a pet I.D tag. There are kiosks at places such as Walmart and/or Petsmart, where you can print out a tag, with pertinent information, within minutes.
Proof of Pet Parenthood:
In addition to microchipping, it is always a good idea to have physical proof of ownership. In the case of someone picking up your precious furball and claiming them as their own, a picture of the said pet, as well as documentation of ownership by your pets' veterinarian, may go a long way in the dispute. You can also request that this documentation includes a description of your pet, which would likely help in proving ownership.
> You may also like: 25 Best National Parks in the USA  <<
Medical:
Many pets might have a tough time with anxiety, especially if this is to be their first trip. Another possibility is motion/car sickness. There are a lot of pets (and people for that matter) that suffer from car sickness. Some of the symptoms of car sickness in animals can include:
Extreme or excessive drooling
Whining and whimpering
Yawning (more than usual)
General unease
Vomiting/gagging/dry heaving
Whatever the situation, you should speak with your veterinarian about useful medications. Your veterinarian may prescribe anti-anxiety medicines as well as medications for nausea and vomiting. There is also an abundance of home remedies for both ailments, such as peppermint treats, essential oils, and using an e-collar (those annoying cones that go around the neck of the pet). All of these have been shown to help ease anxiety or nausea. Be sure to inquire about your options during your pets pre-trip check-up.
Pet Necessities:
Leash/ Harness: Even cats (or especially cats) should always be on a leash or be harnessed.
Portable/Collapsible bowls
Crate or carrier
Doggy bags (to pick up waste)
Food, treats, freshwater
Bathing tools
Litter box and scented litter
Vaccination records (most campgrounds or RV parks will require this)
In the end, a road trip with your favorite companion can make it that much more special but detailed planning, and taking certain precautions, is going to be necessary. It can be the perfect bonding opportunity and an amazing chance for you and your pet to explore the great outdoors but should be done with safety in mind. Safe and happy travels!
>> You may also like:45 RV Accessory Must-Haves for Your Travel Trailer<<