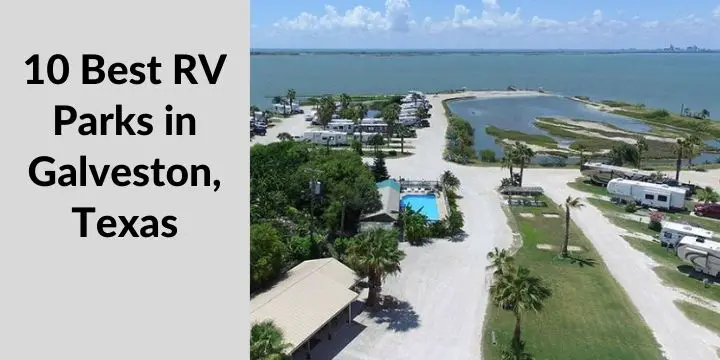 10 Best RV Parks in Galveston, Texas
RV Parks are great places for recreational vehicle owners to vacation and explore. These RV camping grounds provide lots of entertainment and fun. They make a great family or couple getaway. If you're familiar with Galveston, Texas you'll know that this place is a resort community.
Galveston is located on a barrier island and many people frequent the RV parks all year round. Here are 10 of the best RV parks in Galveston, Texas for you to enjoy.
The Stella Mare RV Resort
Stella Mare RV Resort is positioned in the middle part of the Galveston area. This RV resort provides a scenic view of the Gulf of Mexico, and it provides lots of room for your RV. Your family can enjoy a pool and if you have pets, they're welcome there.
Stella Mare also provides children with fun things to do during your visit. You'll also get to use some amenities such as showers, full hookups, restrooms, and WiFi. Former guests say the staff is very professional and that you don't have to wait to start enjoying your vacation.
Video Overview: RV Trip to Galveston Island TX | Stella Mare RV Resort | RV Texas
Dellanera RV Park
Dellanera is located next to the ocean. People who visited this place say that they could back their RVs up close to the Gulf of Mexico. They could even hear the waves crash against the beach while they sleep.
This RV park isn't overcrowded and it offers practical comforts. They provide a laundry facility and they also have a strong cell reception area.
They have a big walking loop for guests to enjoy. They also have a pond that lies on the other side of the beach area. The park isn't normally crowded which means that guests will usually have lots of room to enjoy their visit.
Video Overview: RV Campsite Beachfront on Galveston Island TX, Dellanera RV Park Review 2020
Jamaica Beach RV Resort
If you can't make it to Jamaica for your next vacation, you should at least travel to Jamaica Beach RV Resort. This RV Park is located in Galveston near a beach area. You can sleep in your camper, or you can sleep in one of the many cottages located at the resort.
There are plenty of amenities and it only takes 5 minutes to reach the beach from the cottage area. Jamaica Beach has the look and feel of a real tropical paradise. It provides a great setting that could trick people into believing they really are in a tropical paradise.
Video Overview: Jamaica Beach RV Park in Galveston Island.
> You may also like:  Why America's Most Popular National Parks Need to Be on Your Bucket List <<
Galveston Island RV Resort
The Galveston Island RV Resort is a step above your regular RV campsite. This particular resort area has a protected area for birds and its own pizza shop. They provide shuttles to retail destinations within Galveston. Two of the best features of this resort are the hot tub and its lazy river attraction.
Guests can go fishing (catch-and-release) and there are plenty of other things to do to keep people busy. Dogs and cats are welcome at the resort and guests will have basic amenities to make their stay more relaxing.
Video Overview: Galveston Island RV Resort Getaway.
Sandpiper RV Resort
The Sandpiper RV Resort has a lot of perks for guests to experience. There is a kitchen, theater, and card room situated at Sandpiper. The park is also close to Stewart Beach and the Historic Pleasure Pier which are 2 popular destinations in Galveston.
There is an infinity-edge swimming pool that is the "gemstone" of this resort area. Once you interact with this pool, you'll see why it's so great. You'll be provided with full amenities at Galveston RV Park including a picnic table and a concrete covered patio.
Video Overview: Sandpiper RV Resort
Galveston Island State Park
Galveston Island State Park should not be confused with the Galveston RV Park. They're two different places with some similarities but with lots of differences. Galveston Island State Park is designed for nature lovers. It is located on the western side of the island.
Activities such as biking, fishing, and hiking are some of the activities available in this area. They even have a fish cleaning station and a launching area for canoes and boats. This park doesn't allow pets and it doesn't have WiFi. So, if you travel here be prepared to live off the land and to experience nature to its fullest.
Video Overview: Galveston Island State Park Campground Tour | RV Texas
> You may also like: 25 Best National Parks in the USA  <<
Galveston RV Resort & Marina
Galveston RV Resort and Marina has a lot of plant and animal life available for guests. This RV resort is located next to Offatts Bay. This is a popular place in Galveston where people can swim, fish, or just sit and relax in the sun. They also provide a seafood restaurant and a boat ramp. The Galveston RV Resort and Marina also has many standard amenities, and it is a great alternative to other RV sites.
Video Overview: Galveston Bay RV Park and Marina video
Tiki Tom's Extended Stay RV Community
Tiki Tom's Extended Stay RV Community is designed for long-term guests. They do allow short-term guests to stay as well. However, the rates are suited for people who plan on being in the Galveston area for a very long vacation. This RV site provides lighted peers, a fish cleaning station, wetlands, and lots of fishing. This place is considered an angler's paradise. Tiki Toms has lots of amenities including WiFi and laundry. This is a great place for any group that wants to get away from home for some time.
Video Overview: TIKI TOM'S RV PARK Texas
Bayou Campground
This campground is situated near Galveston. It provides guests with a short trip over to the Galveston area to purchase goods and items. You can also fish or simply enjoy nature. The features provided for your RV are great and you can find many things to do at Bayou Campground once you arrive.
Video Overview: Cypress Black Bayou Campground RV Loop | Benton, Louisiana | Our Favorite Local Campground Tour
Bay RV Park
Bay RV Park is located just outside of Galveston. This park is a standard RV spot with basic amenities. However, what makes it so special is that it is an extremely popular RV site in Texas. People come from all over the state and other parts of the country just to visit.
The atmosphere is usually charged but it's not wild and crazy. Park rules are enforced but people continue to have lots of fun once they arrive. Guests also find it fun traveling between Galveston to the beach or driving into Houston for some fun in the city. Bay RV Park provides visitors with the perfect place to relax and to get out to enjoy the sites in Texas.
Video Overview: Galveston Bay RV Resort and Marina 4K Drone Video
> You may also like:  Why America's Most Popular National Parks Need to Be on Your Bucket List <<