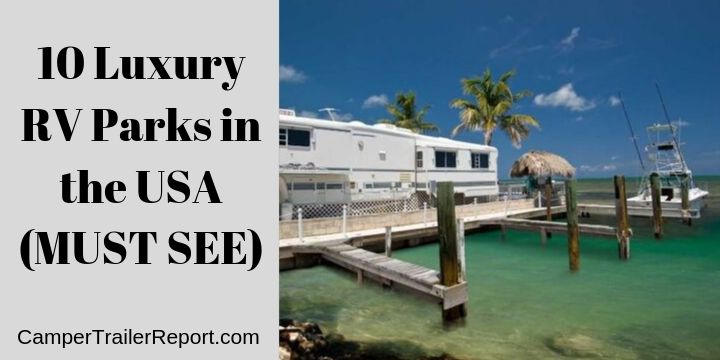 1. Bella Terra RV Resort (Foley, Alabama)
This RV Resort is a marvel for those who love water. It has its own lake that is stocked with fish. Here, you will have the catch-and-release fishing, a Jacuzzi as well as a dry sauna. In addition, the resort is situated just minutes from the Gulf Coast's white sandy beaches.
Video Overview: Bella Terra RV Resort
2. Wanderlust RV Park, Eureka Springs, Arkansas
This park is a 46-acre property positioned on a scenic point, overlooking a deep vale. This place is great for viewing sunsets. It is filled with trees; shrubbery, flowers, and the park usually attract birds, deer, as well as other wildlife.
Video Overview: The Wanderlust Q&A Chat ?? Full Time RV Life, Wanderlust Traveling, Van Camping & Cheap RV Living
3. Zion river resort
This resort is just a few minutes from Zion National Park in Utah. It is situated beside the Virgin River and encircled by beautiful sights of the painted mountains.
Zion River Resort has unique facilities such as its own mining sluice, thus you can extract your own gemstones there! The Resort as well offers daily activities for the kids free of charge.
Video Overview: Zion River Resort RV Park and Campground
> You may also like:  Why America's Most Popular National Parks Need to Be on Your Bucket List <<
4. Aztec RV Resort
This resort is located in Fort Lauderdale, FL. It is a gated community that provides all the retreat and individuality you will require.
Aztec RV Resort has two lighted tennis courts, two heated pools, a fully operational clubhouse, and a volleyball court and business center.
In addition, there is an available caretaker service and these are only several of the on-site services. Each lot has a confidential feel, with hedges as well as trees.
Video Overview: Aztec RV Resort – 414 Aztec Blvd #414 Margate, FL
5. Mountain Falls Luxury Motorcoach Resort
The resort is located in the Lake Toxaway region of the Blue Ridge Mountains of Western North Carolina. It is well known for incomparable scenic views of lakes, mountains, streams, parklands in addition to its wonderful climate.
It offers many services such as a game room, pickleball courts, poolside grill and state of the art fitness. With tailored lot options like coach cottages and built-in open-air living spaces, these lots are certain to impress!
Video Overview: Mountain Falls Luxury Motorcoach Resort Review
6. Solstice Motorcoach Resort
It is located in Mesquite, NV and it is regarded as the most lavish RV site in the southwest. Its fitness facilities, pet parks, a bocce ball court a putting green along with onsite activity advisors make this place a wonderful place to be.
7. The Shady Dell
The Shady Dell is the best place especially for those looking for a unique experience since the place is distinct from anything else on the open road.
Revive the early days of road-tripping in among their vintage RVs. The scenery is true 1950s kitsch, tailored to delight and entertain.
Video Overview: EPIC Motel made of Vintage Trailers! The Shady Dell!
8. Normandy Farms Family campaign Resort
Normandy Farms is situated deep in the woods between Cape Cod and Boston. It is the leading destination for families in the whole world. Activities in this park are continuous, disc golf, a bike park, shuffleboard and dog park, private yoga classes among others.
> You may also like: 25 Best National Parks in the USA  <<
9. Blue Water Key RV Resort
BlueWater is a first-class resort, with the harbor sites having private docks and decks scenery with different shrubbery, tropical plants, and trees.
Among the unique key features of Bluewater is that it is not a profit-making company, thus putting every profit back to its foundation and services.
Video Overview: Bluewater Key RV Resort Video
10. Petoskey RV Resort
This resort is located near Bay Harbor, Traverse City. It offers a scenic view of the equestrian center, 9-hole putting course, pools and spa, a tennis court, and a packed clubhouse with theater. It has a lot of the greatest attractions in Northern Michigan.
> You may also like:  15 Most Underrated National Parks in America <<